Our Happy Place - Yours Too, We Hope

---
---
A heartfelt message from your newsletter editor

Let me tell you a story that will be quite familiar to anyone who's ever typed anything on a computer:

Last night, I was working on the newsletter most of the afternoon, and trying to finish it up after closing. Just as I was doing literally the last paragraph, my little finger hit one wrong key, and POOF - the whole thing was gone. It's such a frustrating feeling!

I texted the boss and told her, expecting to stay another couple of hours so that I could re-do the whole thing. But that's not what she did. Instead, Caryn told me that my well-being was more important, and that we would just take care of it tomorrow. I realized as I drove home that this is why Yarnivore truly is Our Happy Place.

I want you, our customers, community, and friends, to know that we care about you, just as my boss cares about me. YOU are more important than yarn or sales figures or fun patterns or nifty needles or anything else in the shop. We have been blessed to be able to hug customers when they've lost someone they loved, to laugh with them over a silly thing that happened, and to rejoice over news of a new birth. We love seeing your faces come through the door. You are our people. I know that I speak for the entire Yarnivore staff when I say that we truly care about YOU. Each and every one of YOU. (Yes, even Moses cares, but don't tell him I said so)

Thank you for trusting us with your knitting, crochet, and other yarny needs, but thank you most of all for being part of our community, and for continuing to help make Yarnivore not just YOUR Happy Place, but OURS.

-Wendy


---

---
Shop News


Classroom Upgrade
Everyone loves our classes, but we are the first to admit that the chair situation has been, well, less than optimal. Not any more. We've got new seating and a new, fresh look for our classroom! Stop by and check it out!


Featured Pattern & Yarn
Most of us think of nettles as just weeds, but they're not! Nettle actually makes a lovely bast fiber that feels a lot like linen, but is softer and more delicate. Plymouth has put the nettle fiber to good use in their Nettle Grove yarn! A blend of cotton, silk, linen, and nettle, this yarn feels like Mother Nature's love in a yarn form!

Wendy designed these adorable mitts and made them from Nettle Grove for her granddaughter and herself. They're a little challenging, but they knit up fast and can be worked two-at-a-time! Frippery Mitts, $5 on Ravelry or in shop!

New Stuff & Restocks

We know you love local artisans as much as we do, and especially when they bring us beautiful handmade crochet hooks like these from Ashley Leither Designs!
Other shipments we've received:
-Notions: Chiaogoo and Knitter's Pride knitting needles, and - double-ended crochet hooks!
-Theodora's Pearls: Cotton Candy and Auxanometer XL (double-yardage) skeins
-Alpaca Yarn Company: Kindred Spirits (two yarns in one package) and lots of new spinning/felting fiber/fluff!
-Magazines: Sept/Oct Handwoven is here - the cover is full of purple and teal



---
HOLIDAY COUNTDOWN!
Days until Christmas: 161
Days until Hanukkah: 138
---
Helpful Hint of the Week

Did you get a BIG "yarn barf" when you pulled your yarn from the center of the ball? No worries! Find the end, and hold that so you won't lose it, wind the rest in a figure 8 around your thumb and forefinger, then go ahead and stuff it back inside of your ball! No muss no fuss!


---

Beginning Rigid Heddle Weaving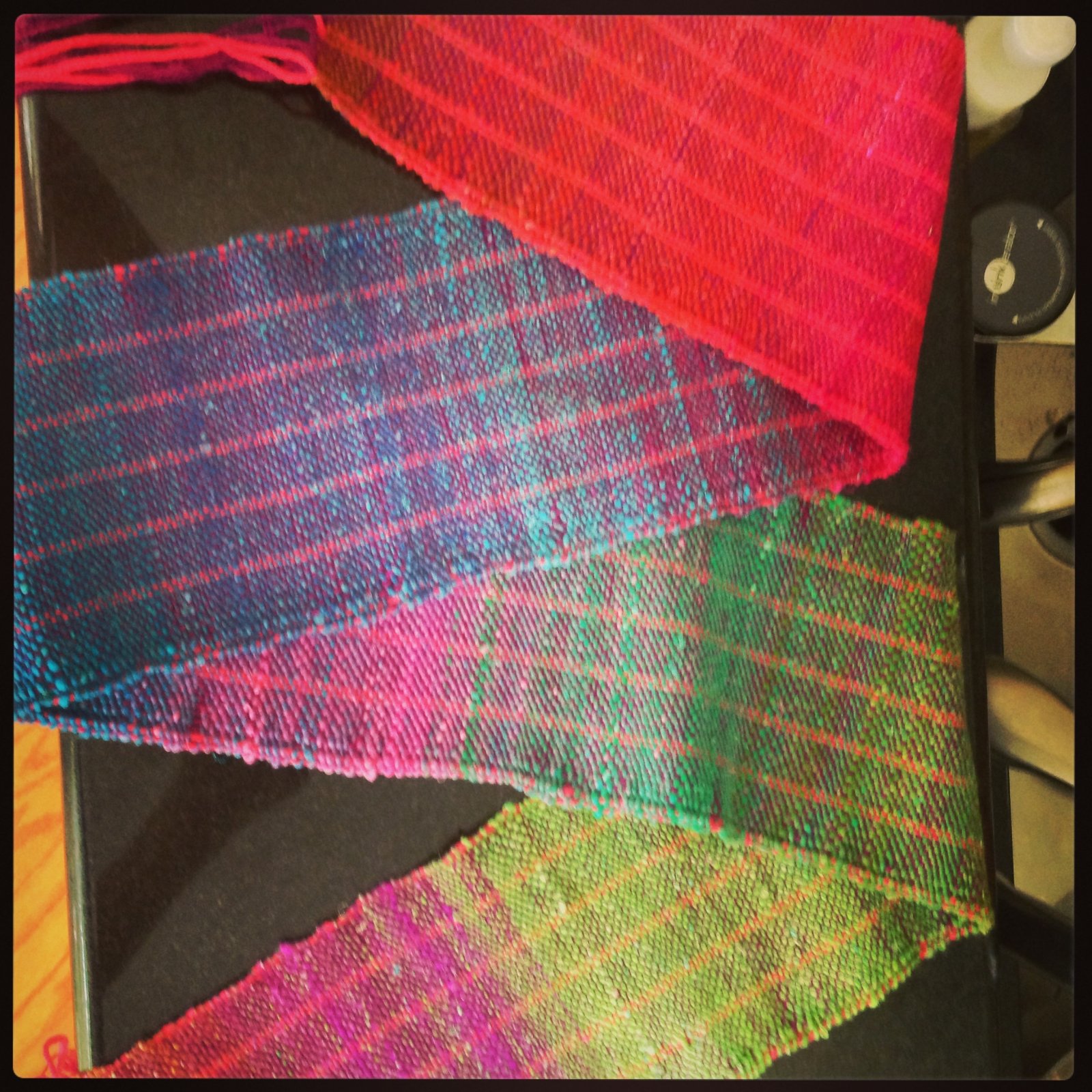 Saturday, July 21 from 10 am-4 pm, $48
Craft: Weaving
Teacher: Debbi
Learn the basics of weaving on a rigid heddle loom. We'll cover weaving terminology, direct warping, winding and managing shuttles, achieving a balanced weave and basic finishing techniques. As time allows, we'll discuss weaving drafts, yarn choices for weaving, pattern planning and alternate methods of warping.

One 6-hour session

---
Basic Top-Down Beanie

CHRISTMAS IN JULY!

Tuesday, July 24 from 6-8 pm, $18
Craft: Knitting
Teacher: Wendy

Want to make a hat long enough to pull down over your eyes? Or maybe you prefer one that barely touches your ears? In this class, you'll learn to start a hat from the top with an i-cord (or an optional hanging loop), and work in any gauge to make a hat that will fit anyone in the family - exactly the way they like it. You'll also learn to work with double-pointed needles and a VERY stretchy way to bind off!

No gauge swatch needed!

One 2-hour session

---

Thursday, July 26, 2018 from 6-8 pm $18
Craft: Knitting
Teacher: Wendy

You know you love Wendy's tips and hints and wish she could help you with every project! Well, now she can! Bring your projects and we'll all learn together from each other's challenges. Make your knitting look professional and lose all your fears!

One 2-hour session




---
Weaving - Finishing Techniques


Saturday, July 28 from 10 am-noon, $18
Craft: Weaving
Teacher: Debbi

Now that you've woven a perfect piece, how do you finish it? In this class, you'll learn to take your piece off the loom and finish it in a variety of ways including twisting fringe and braiding fringe (3- and 4-strand braiding). You'll also learn wet-finishing techniques to give your weaving a perfect finished hand and drape.

Please bring a piece that's ready to come off the loom or a piece you've taken off but don't know how to finish. No additional supplies required.

One 2-hour session
---
Do you understand the basics of weaving? Want to learn more about how yarn choice affects your woven fabric? This class teaches you how yarn thickness and color can be used to create an interesting fabric without any complicated techniques.

Prerequisite: Beginning Rigid Heddle weaving or equivalent (must be familiar with direct warping a loom and weaving)

One 4-hour session


---
Needlefelt Holiday Ornament
CHRISTMAS IN JULY!

Sunday, July 29 from noon-2 pm, $18
Craft: Knitting
Teacher: Wendy

Needle felting uses super sharp barbed needles to turn loose wool into thick fabric, which you can shape as you go. In this fun class, you'll learn to make a felted holiday ornament, and decorate it with some simple embroidery stitches!

One 2-hour session




---

Sunday, July 29 from 3-5 pm, $18
Craft: Knitting
Teacher: Wendy

Dropped stitches, purling when you wanted to knit, unwanted increases, decreases, and yarn overs – we've all done them at some point in our knitting. Learn how to fix these mistakes and overcome your fear of ripping down and ripping out!

Supplies are provided!

One 2-hour session



---
We absolutely do not EVER want to spam you. If you don't want to get this newsletter, then we will take you off the list. No problem. No questions asked. There's an unsubscribe link below, or you can just call us.

If you want to read our full privacy policy (it's pretty fun to read, actually), click here - or scroll to the bottom of any page on our website to read it again.
---
Contact Us: https://www.yarnivoresa.net/ yarnivoresa@gmail.com 2357 NW Military, 78231 (210)979-8255