Skip Navigation
Website Accessibility
Can you fly with needles?

---
---
Get ready for Yarn Crawl!
Okay, we have been thinking about Yarn Crawl since last year's Crawl ended, but now we're almost ready for this year's Crawl!

You can now jump to the head of the Passport line and order your passport ONLINE! Passports are $15, including tax, and available here! If you want us to ship your passport to you once it arrives, you'll have to purchase shipping here. If you don't purchase shipping, your passport will be held for you at Yarnivore to pick up when they arrive (early September).

What's Yarn Crawl? Follow this link for all the details!


---
Shop News


Featured Pattern & Yarn
This breezy, short-sleeve cardi can be worn over a long-sleeved t-shirt to provide a little extra warmth in cool spring weather, or could be worn over a tank top or cami in warmer weather. Pip is a FREE pattern by Alison Green found at knitty.com).
Yarn recommendation? We like the yarn the designer used - Berroco Medina, a long-color-run cotton/rayon blend that feels gorgeous and will keep you nice and cool!

New Stuff & Restocks
The new Interweave Knits is here! This is our favorite knitting mag by far.
Other goodies we've gotten in this week:
-More Furls crochet hooks and yarn bowls
-Cascade Heritage in popular colors
-Restocks of Mauch Wool Roving for our spinners and felters
-Hotcakes and Colorspun from Plymouth
-AND MORE!

OOPSIE
We apologize - last week's newsletter gave the wrong date for the Kid's Top-Down Sweater Class. It's actually starting THIS coming Sunday, August 12 at 3 pm! We're very sorry!
---
HOLIDAY COUNTDOWN!
Days until Christmas: 140
Days until Hanukkah: 118
---
Helpful Hint of the Week

Can you take your needles/hooks on an airplane? For flights within the US, the answer is YES! Here is a page from the Transportation Security Administration saying that knitting needles, crochet hooks, sewing and embroidery supplies are allowed through security. HOWEVER - these rules only apply to US flights or flights originating in the USA. If you're traveling abroad, please check with the airline to see what will and won't be allowed on foreign flights.


---

Six Month to Be a Better Knitter (SiMonBeBeK)

Our Advanced Knitting Class!
First Session starts Tuesday, August 7 from 6-8 pm, and continues first and third Tuesday through Janurary
Cost: $183
Craft: Knitting
Teacher: Wendy



THERE ARE TWO SEATS LEFT!
Every week, you'll learn a new knitting technique as well as learning to read charts, choose colors, pick up stitches, sew invisible seams, and more!

Techniques you'll learn include
Texture Patterns: Embossed Knitting, Cables, Brioche, and Lace
Colorwork: Fair Isle/Stranded knitting, Intarsia, Stripes, and Mosaic knitting
Fancywork: Shadow/Illusion Knitting, Brioche, Multidirectional Knitting, and Entrelac

Twelve 2-hour sessions



---

Wednesday, August 8, 15, & 22 from 6-8 pm, $48
Craft: Knitting
Teacher: Wendy

Learn to make socks from the toes up, so you always have enough yarn to cover your feet! This worsted weight sock is thick and warm, perfect for wearing around the house, or as a boot sock. You don't need to have any sock knitting experience.

You'll also learn to knit in the round using the magic-loop method in this three session class.

Three 2-hour sessions





---
Thursday, August 9 & 16 from 6-8 pm, $33
Craft: Knitting
Teacher: Wendy

Learn the basics and get yourself knitting! In this class you will learn how to cast on, knit, purl, and bind off. You'll also learn how to combine knitting and purling to create different stitch patterns and textures, common knitting terms, and the basics of reading a pattern.

Two 2-hour session

---
Knitting Workshop


TWO SESSIONS COMING UP:
Sunday, August 12 from noon-2 pm, $18
Tuesday, August 28 from 6-8 pm, $18
Craft: Knitting
Teacher: Wendy

You know you love Wendy's tips and hints and wish she could help you with every project! Well, now she can! Bring your projects and we'll all learn together from each other's challenges. Make your knitting look professional and lose all your fears!
One 2-hour session
---
Knitting: Top-Down KID's Sweater!
Sunday, August 12, 19, & 26 from 3-5 pm, $48
Craft: Knitting
Teacher: Wendy

There are lots of baby sweater patterns and lots of women's sweater patterns, but not much for kids and teens! In this class, you learn to make a top-down raglan sweater that will fit the kids in your life perfectly! You'll also get tips on altering the sweater as the child grows. Works for kids from toddler through pre-teen sizes!

Three 2-hour sessions



---
Yarn Tech


Tuesday, August 14 from 6-8 pm, $18
Craft: Knitting, Crochet, Weaving - or any yarn craft
Teacher: Wendy

Ever wonder why some yarns work for one kind of project and don't work at all with another? Confused by the dizzying array of fibers, textures, and colors? This is the class for you!
For both knitters AND crocheters, this class will help you choose the right yarn for each project, so that you save time and money and get the most bang for your yarn buck!

One 2-hour session



---
Beginning Rigid Heddle Weaving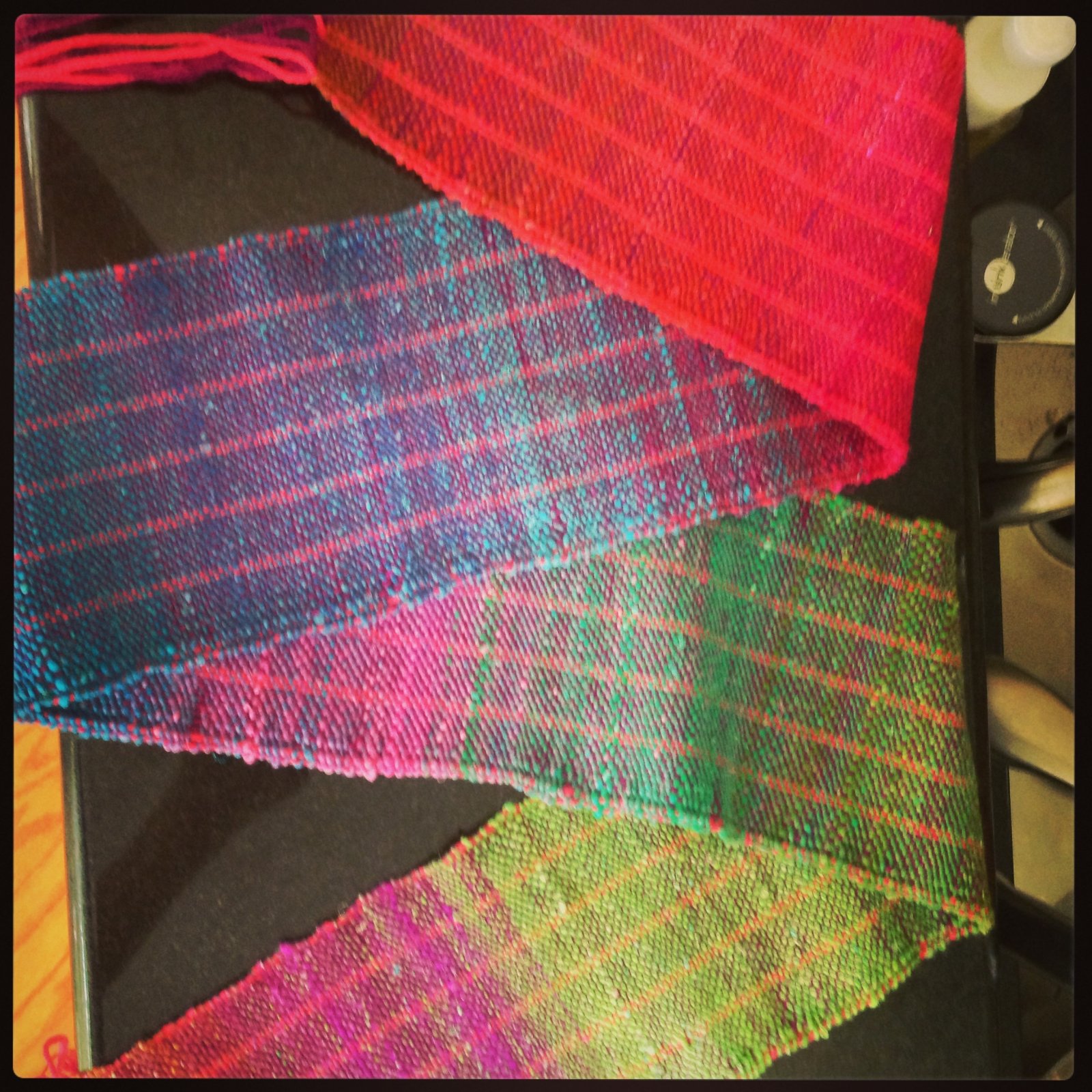 Saturday, August 20 from 10 am-4 pm, $48
Craft: Weaving
Teacher: Debbi

Learn the basics of weaving on a rigid heddle loom. We'll cover weaving terminology, direct warping, winding and managing shuttles, achieving a balanced weave and basic finishing techniques. As time allows, we'll discuss weaving drafts, yarn choices for weaving, pattern planning and alternate methods of warping.

One 6-hour session




---
Knitting Fair Isle Colorwork


Sunday, August 19 & 26 from noon-2 pm, $33
Craft: Knitting
Teacher: Wendy

This gorgeous style of color knitting is traditional in MANY parts of the world, from Turkey & North Africa to Northern Europe! It's much easier than it looks. Wendy will teach you how to work with two colors at once while you make this beautiful hat!

Two 2-hour sessions









---
We absolutely do not EVER want to spam you. If you don't want to get this newsletter, then we will take you off the list. No problem. No questions asked. There's an unsubscribe link below, or you can just call us.

If you want to read our full privacy policy (it's pretty fun to read, actually), click here - or scroll to the bottom of any page on our website to read it again.
---
Contact Us: https://www.yarnivoresa.net/ yarnivoresa@gmail.com 2357 NW Military, 78231 (210)979-8255