A Bit of Crafty Chaos!

---
---
Upcoming Trunk Shows!

We have two fun trunk shows coming up - both on Saturday, August 25:
Crafting My Chaos
Dyer and bagmaker Becky (website) makes gorgeous yarns - we're especially in love with her gradients! She also makes whimsical project bags featuring everything from classic quilt fabrics to Texana and Batik to Science and Superheroes! She'll be here with her wares Saturday, August 25 from 10 am to 4 pm.
Turtle Looms
Experienced weavers and complete beginners alike will love these hexagonal pin looms handmade right here in Texas! You weave with one continuous thread, making hexagons super quickly and easily. Learn to weave in 5 minutes. What to do with your woven hexagons? Check out their Pinterest page to see all the cool projects! They'll also be here on Saturday, August 25, starting at noon.
Check out their blog, too - it's very fun!
---

---
Shop News

Passport Pre-Order
Passports for the Yarn Crawl are available online. Some customers were having trouble with purchasing them online, but we believe we have that solved, so go ahead and click over to this page to buy your 2018 Hill Country Yarn Passport (and shipping, if needed).


Featured Pattern & Yarn
Make a top in mere hours? WHAT!? Yes! We found this cute tank top that knits up in only 6-ish hours! It's cute and fast and sleeveless. Perfect for San Antonio! The Billow Tank Top is available in-store or on Ravelry for only $5.50.

Try making it with a bulky yarn like Forget Me Not— a softly textured 100% cotton yarn that not only provides the perfect amount of texture so light and so soft, but also imparts a natural-looking, semi-matte finish to garments that look effortless. An unforgettable color palette including natural, baby, and fashionable hues.

New Stuff & Restocks
-Addis are restocked, including Flipstix, Ergonomic Crochet Hooks, Lifeline Interchangeable Cables, and of course— circs!
-Forget-Me-Not — a new yarn from Plymouth (see the write up above)
-Ashford spinning and weaving gear, including fringe twisters, bobbin winders, warping thread, SampleIt loom and accessories...
-Notions— scissor sheaths, sock blockers, shawl sticks, wooden crochet hooks, yarn cozies (little socks for your ball of yarn)...
-AND MORE!


---
HOLIDAY COUNTDOWN!
Days until Christmas: 134
Days until Hanukkah: 111
---
The Tip Jar

We're changing the name of our Helful Hint feature! Welcome to The Tip Jar, where we give you ideas to help make your knitting, crochet, and weaving better and easier!

Todays' Tip: Got fuzzy mohair or angora that needs unraveling? Put it in the freezer! The cold temperatures make the scales on the fiber lay flatter so that they slide apart more easily!


---

Tuesday, August 14 from 6-8 pm, $18
Craft: Knitting, Crochet, Weaving - or any yarn craft
Teacher: Wendy

Ever wonder why some yarns work for one kind of project and don't work at all with another? Confused by the dizzying array of fibers, textures, and colors? This is the class for you!
For both knitters AND crocheters, this class will help you choose the right yarn for each project, so that you save time and money and get the most bang for your yarn buck!

One 2-hour session



---
Beginning Rigid Heddle Weaving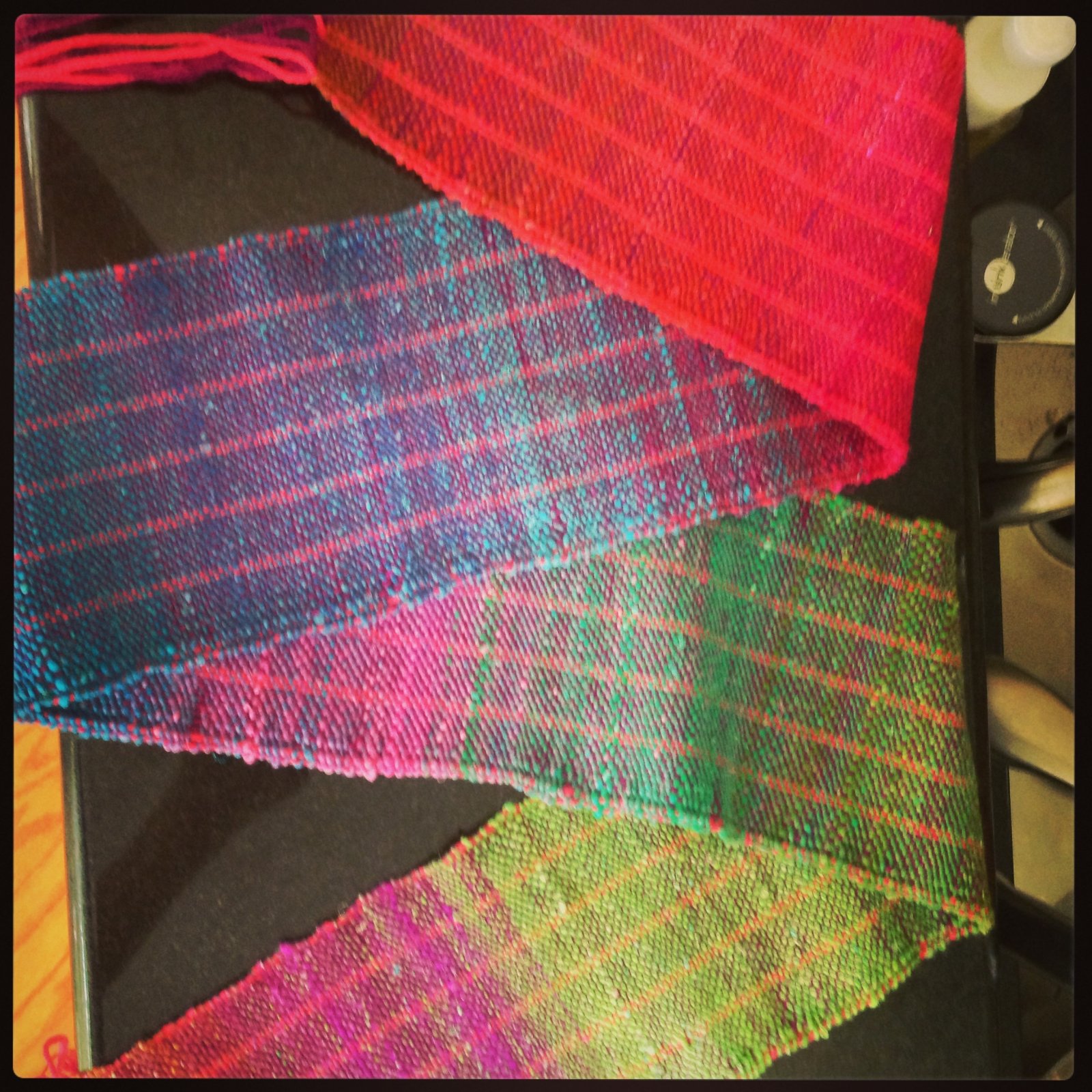 Saturday, August 20 from 10 am-4 pm, $48
Craft: Weaving
Teacher: Debbi

Learn the basics of weaving on a rigid heddle loom. We'll cover weaving terminology, direct warping, winding and managing shuttles, achieving a balanced weave and basic finishing techniques. As time allows, we'll discuss weaving drafts, yarn choices for weaving, pattern planning and alternate methods of warping.

One 6-hour session




---
Knitting Fair Isle Colorwork


Sunday, August 19 & 26 from noon-2 pm, $33
Craft: Knitting
Teacher: Wendy

This gorgeous style of color knitting is traditional in MANY parts of the world, from Turkey & North Africa to Northern Europe! It's much easier than it looks. Wendy will teach you how to work with two colors at once while you make this beautiful hat!

Two 2-hour sessions









---

Monday, August 20 & 27 from 6-8 pm, $33
Craft: Knitting
Teacher: Wendy

Learn to do intarsia in the round while you make a cute color-blocked baby hat! You'll also learn a beautiful and stretchy invisible cast-on. This class is also a prerequisite for the Argyle Sock Class!

Two 2-hour sessions






---

Thursday, August 23, 30, & September 6 from 6-8 pm, $33
Craft: Knitting
Teacher: Wendy

In this class you will learn to increase and decrease, to knit in the round, to read a knitting pattern, and some fun new stitch patterns. FREE patterns are included for a hat, a baby blanket, felted coasters and more. By the end of class you will have a finished hat, knit seamlessly in the round!


Two 2-hour session







---
Saturday, August 25 from 10 am-noon, $18
Craft: Weaving
Teacher: Debbi

Now that you've woven a perfect piece, how do you finish it? In this class, you'll learn to take your piece off the loom and finish it in a variety of ways including twisting fringe and braiding fringe (3- and 4-strand braiding). You'll also learn wet-finishing techniques to give your weaving a perfect finished hand and drape.

Three 2-hour sessions




---
Saturday, August 25 from 1-5 pm, $33
Craft: Weaving
Teacher: Debbi
Here is a fun twist on simple plain weave. You'll get started weaving four spa cloths with looped texture. In almost no time, you'll be weaving gifts for friends, family and be sure to weave some for yourself!

Three 2-hour sessions
---
---
We absolutely do not EVER want to spam you. If you don't want to get this newsletter, then we will take you off the list. No problem. No questions asked. There's an unsubscribe link below, or you can just call us.

If you want to read our full privacy policy (it's pretty fun to read, actually), click here - or scroll to the bottom of any page on our website to read it again.
---
Contact Us: https://www.yarnivoresa.net/ yarnivoresa@gmail.com 2357 NW Military, 78231 (210)979-8255