Are You Ready to Crawl!? We are - almost

---
---

Gas up the car and plan your route!


New Yarnivorous Mascot
Are you wondering what this year's new creature is? Well, we can't show you online yet, BUT... The window painter has been in and our Violet-Eyed Yarnivore is ON the window. If you want to see, just stop by!

Our Yarn Crawl Patterns are at the printer - what can we tell you? Well, all we can do now is "drip" small hints. One pattern "pours" from your ankles and the other "melts" down your neck. And, as always, one is knit and one crocheted. We hope you'll enjoy the way these patterns "go with the flow." ;) Both patterns are free to Yarn Crawlers, and will be for sale to non-crawlers after the Crawl is over. We think they'll make a big "splash."
Yarn Crawl Tips
Put your contact information on the big blue card (the one that gets stamped) so that if you lose it, we can return it to you!

Save all the shops' addresses in your GPS ahead of time and plan your route, including stops for food.

Decide on a budget and, if you need help sticking to your budget, take cash. Now's a good time to go to the bank and turn all that change you've been saving into bills, too.

Print some address labels to save your fingers when filling out prize-drawing slips. You can get the label-paper for under $5 at the office supply store, and it will have an online template that you can use to create your address label. Or just call the copy shop and have them make a sheet of address stickers for you.

We suggest using the weekends to travel to the out-of-town shops and going to your local shops after work on weekdays.

Stay hydrated and take some snacks! Yarn Crawling is hard work!


Reminder - We DO NOT wind yarn during Yarn Crawl!
If you will need yarn wound, please come by the shop and get it taken care of no later than Thursday! We'll be putting the winder away when we close Thursday night.
---
This Weekend's Yarn Crawl Events
Friday, October 5


The Yarn Crawl kicks off at Yarnivore with a double trunk show: Crafting My Chaos with hand-dyed yarn and handmade project bags, together with Bluebonnet Crafters and their Turtle Looms!

Note: There will be no official Friday Night Cravings this Friday



Saturday & Sunday, October 6


Blue Mule Fibers and Kyla's Lab will bring their trunks FULL of gorgeous hand-dyed yarns!

Monday, October 7
If you have the day off work for the Columbus Day holiday, why not hit up more yarn shops?


---
---
Shop News

We're down to only a handful of Yarn Crawl Bags! If you want a passport with a bag, come by soon, because once the bags are gone, they're gone.

Featured Pattern

Scheepjes Whirl: This delicious gradient yarn from Scheepjes (we say it "sheep-yuz", but aren't sure we're right) comes in 12 scrumptious color ways made from a blend of 60% cotton / 40% acrylic to produce projects that are lightweight and breathable. Unlike other gradient yarns, Whirl has a generous twist to enable speed while working the yarn and to help prevent splitting.
The beautiful drape of this yarn makes it perfect for shawls, accessories, garments and stylish home décor projects. Whirl has a unique twisted plied section, which gives it a characteristic 'flavor' all of its own!
This Extra Large yarn cake holds an enormous 1000 meters of softly color-changing yarn, more than enough for a large shawl or wrap. Each color change is carefully tied in an optimum way to ensure the knot can be discretely hidden within your stitches!

This fun blanket is a perfect use for Scheepjes Whirl - Retrograde Crocheted Blanket by Shelby Shea. This pattern is available FREE as part of a Crochet-A-Long until November 15, and available for purchase after that. Strike while the iron is FREE!

New Stuff and Restocks

-Shawl Sticks and Stitch Marker necklaces
-Ashford silk merino top for our spinners
-Catona - a fingering weight cotton in stunning solid colors
-Della Q organizers and small bags
-LOTS of Buttons
-Malabrigo Rasta in solid colors
-Peppervine Pottery yarn bowls


---
HOLIDAY COUNTDOWN!
Days until Christmas: 85
Days until Hanukkah: 62
---
The Tip Jar
We love to use highlighter tape to keep track of where we are on the pattern, but sometimes the tape gets greyed from picking up bits of ink on the paper. Solution: Put your pattern inside a sheet protector and put the highlighter tape on that. Perfect, crystal clear tape for the whole project!


---


Wednesday, October 3 from 6-8 pm, $23
Craft: Knitting
Teacher: Wendy

Dropped stitches, purling when you wanted to knit, unwanted increases, decreases, and yarn overs – we've all done them at some point in our knitting. Learn how to fix these mistakes and overcome your fear of ripping down and ripping out!

One 2-hour session




---
Knitting: Get GAUGE!


Thursday, October 5 from 6-8 pm, $18
Craft: Knitting
Teacher: Wendy

If you want to make ANYTHING of a predictable size, you HAVE to get gauge. We'll learn the right way to make a gauge swatch, methods to ensure that your gauge swatch gives you reliable results, and the difference between row gauge and stitch gauge. This is ESSENTIAL for anyone who wants to improve their knitting skills.

One 2-hour session
---
Knitting Workshop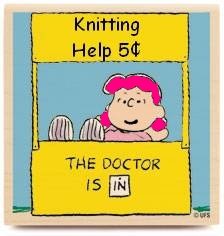 Wednesday, October 10 from 6-8 pm, $33
Craft: Knitting
Teacher: Wendy



You know you love Wendy's tips and hints and wish she could help you with every project! Well, now she can! Bring your projects and we'll all learn together from each other's challenges. Make your knitting look professional and lose all your fears!



One 2-hour session





---
My First Socks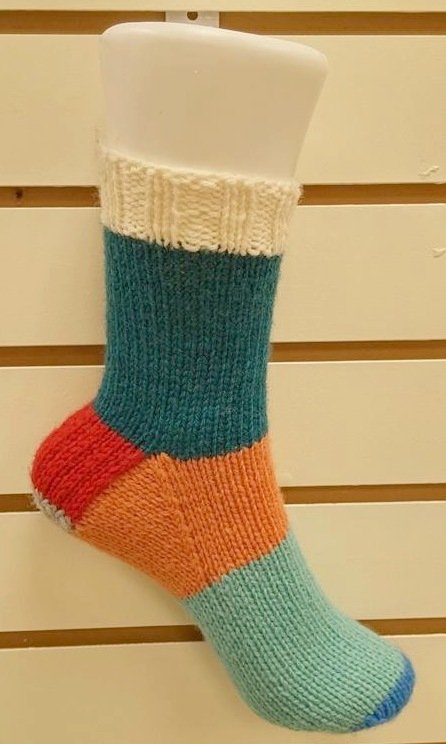 Thursday, October 11, 18, & 25 from 6-8 pm, $48
Craft: Knitting
Teacher: Wendy
Warm your toes with this class! Learn about the parts of a sock and the skills needed to make a perfectly fitted sock from cuff to toe.
Three 2-hour sessions








---
Intermediate Knitting

Monday, October 15, 22, & 29 from 6-8 pm, $48
Craft: Knitting
Teacher: Wendy

In this class you will learn to increase and decrease, to knit in the round, to read a knitting pattern, and some fun new stitch patterns. FREE patterns are included for a hat, a baby blanket, felted coasters and more. By the end of class you will have a finished hat, knit seamlessly in the round!

Three 2-hour sessions







---

Make & Take: Pom-Pom Halloween Ornaments


FREE CLASS!!



Sunday, October 14, drop in anytime between noon and 5 pm
Craft: Pom-Poms
Teacher: Wendy

Make a scary Halloween Ornament! Choose from Spider, Bat, Ghost, or Jack-O-Lantern and take your new ornament home to decorate your favorite haunts!

No knit or crochet experience needed! Anyone can do this!

No need to sign up - just drop in and grab a seat as they become available!


---
---
---
We absolutely do not EVER want to spam you. If you don't want to get this newsletter, then we will take you off the list. No problem. No questions asked. There's an unsubscribe link below, or you can just call us.

If you want to read our full privacy policy (it's pretty fun to read, actually), click here - or scroll to the bottom of any page on our website to read it again.
---
Contact Us: https://www.yarnivoresa.net/ yarnivoresa@gmail.com 2357 NW Military, 78231 (210)979-8255