Skip Navigation
Website Accessibility
Knotty Solutions!

---
---

Last week, we talked about why knots show up in your yarn. This week, we'll talk about what to do about them - and incidentally, how to join in a new piece of yarn.

You can just knit or crochet the knot in - but that's usually not the best idea. Knots, even knots like "the magic knot" create hard places in the work. Knots are hard, yarns are soft. This means that even if the knot stays tied (and they often don't), the knot will act like a pebble in a shoe, rubbing and eroding the yarn. Eventually, the knot can wear the yarn completely through.

First step for both knitters and crocheters is to cut off the knot. This will mean that you now have to join as if joining a new ball. Here are Wendy's favorite ways to join invisibly without knots:

Joining for crochet - work until about 6-8" of yarn remains, then work the next stitch up until two loops are remaining on your hook. Pull a loop of the new yarn through the last two loops, making sure to leave 6-8" of the new yarn. This is a nice stable join and won't require any extra work on remaining rows. You can weave in the ends later, or crochet over the ends now to tuck them in.

Joining for knit - work until 6-8" of yarn remains. Tuck this end, and 6-8" of the end to-be-joined under your non-yarn-holding hand (so that you're holding the yarn and needle together). Pick up the yarn-to-be-joined in your normal yarn-holding hand, and knit or purl the next stitch. Work a few more stitches, then tie the two ends together in a temporary bow at the back of the work. This spot will be loose on the next row. Work a few rows further, then undo the bow and weave in the ends so that they cross each other and close the gap.
---
---
Shop News


Featured Yarn and Pattern
Aren't these Spring Swing Socks adorable? We love their subtle little bit of lace, that doesn't seem to fight the stripes in the yarn. Try it with the Uneek Sock - a hand-dyed, self-striping, matching sock kit! Identical twin stripes without any work, so you can concentrate on the sock pattern!


Lenny Mud
Ceramics to suit your fandom! Whether you need a mug that says "I crochet so I don't choke people" or a yarn bowl that you make "Stranger Things", our new Lenny Mud ceramics have you covered! Their mugs are BIG - they hold 16 oz of caffeinated goodness - and their bowls are, too. Stop by and check them out!


---
Use a contrasting yarn to easily count and keep track of rows. Lay a strand of contrasting yarn over the work as you knit or crochet the next row, then flip it back across every 2-10 rows (whatever number works for you) to mark your progress. It will make a line of fake "stitches" coming in and out of your fabric, making it easy to see how many rows you've worked.


---

Intermediate Knitting



Tuesday, March 19, 26, and April 2 from 6-8 pm, $48
Craft: Knitting
Teacher: Wendy

In this class you will learn to increase and decrease, to knit in the round, to read a knitting pattern, and some fun new stitch patterns. FREE patterns are included for a hat, a baby blanket, felted coasters and more. By the end of class, you will have a finished hat, knit seamlessly in the round!

Three 2-hour sessions






---
Double Knitting


Wednesday, March 20 & 27 from 6-8 pm, $33
Craft: Knitting
Teacher: Wendy

Get the look of Intarsia without the mess! No bobbins, no need for dozens of strands of yarn! Just awesome patterning and double-layered fabric.

You'll larn to make a reversible potholder or scarf with a tapestry-type design that will appear with reversed colors on the other side. You'll also learn an "invisible" cast-on and bind off!

Two 2-hour sessions




---
(Not Your) Grandma's Slippers


Thursday, March 21 & 28 from 6-8 pm, $33
Craft: Knitting
Teacher: Wendy

Do you remember these slippers from back in the day? I think everyone's Grandma made them. The old-fashioned version is garter stitch and ribbing knitted flat, then sewn up with seams at the back of the heel and the top of the foot. Wendy's new and improved version is just as quick and almost as easy, but done with NO SEAMS so that the foot stays happy and comfortable for an entire day of hanging out in your pajamas. You can even wear them to bed for soft fluffy bed socks.

Pom-poms optional ;)

Two 2-hour sessions


---
Beginning Rigid Heddle Weaving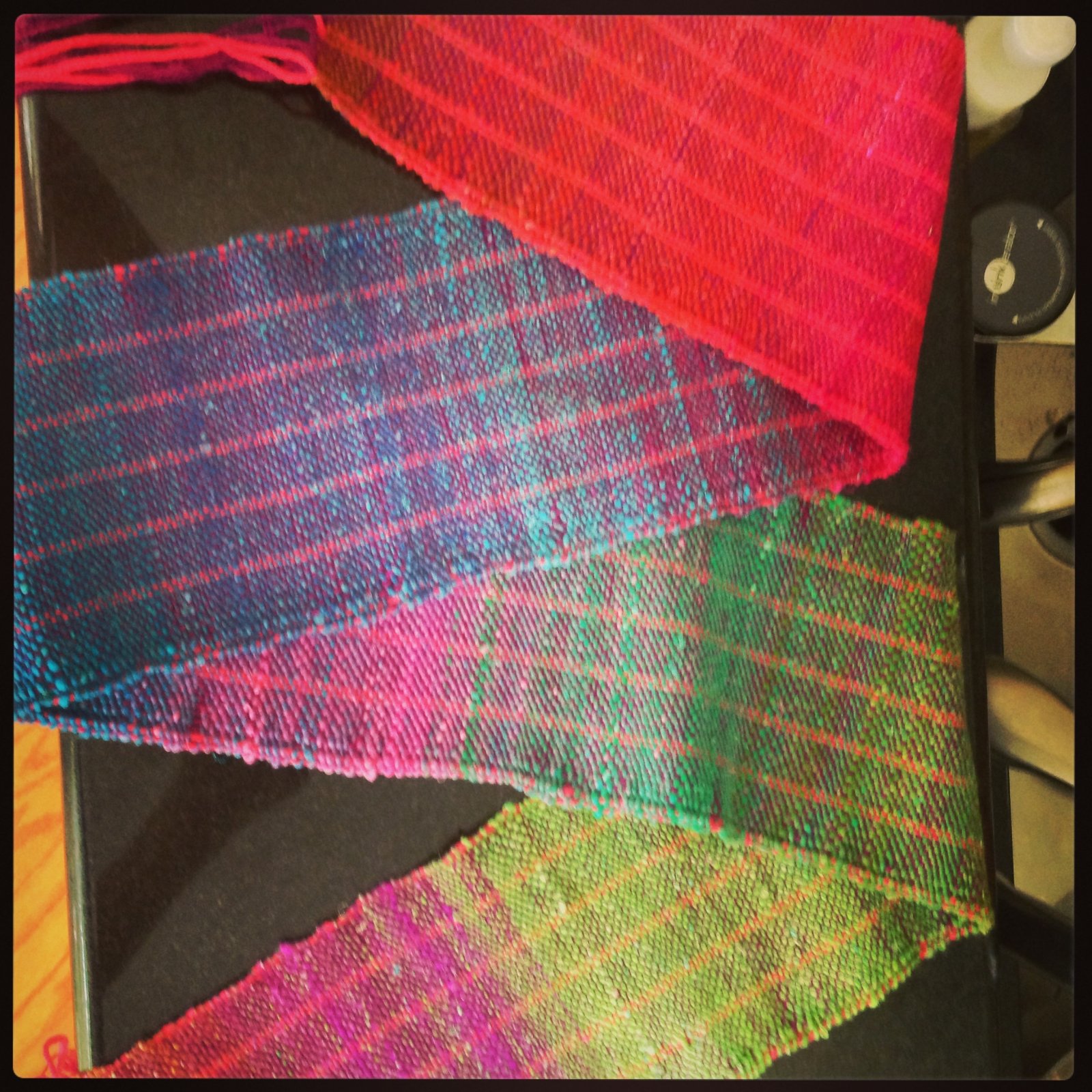 Saturday, March 23 from 10 am-4 pm, $48
Craft: Weaving
Teacher: Debbi

Learn the basics of weaving on a rigid heddle loom. We'll cover weaving terminology, direct warping, winding and managing shuttles, achieving a balanced weave and basic finishing techniques. As time allows, we'll discuss weaving drafts, yarn choices for weaving, pattern planning and alternate methods of warping.

One 6-hour session




---
Faux Ikat Weaving


Saturday, March 30 from 1-5 pm, $33
Craft: Weaving
Teacher: Debbi

Here is plain weave with a difference - make your piece look like you hand-painted the entire warp! In this class, you'll learn to indirect warp, winding the warp in a special way on the warping board to cause the colors to pool together.

One 4-hour session




---
We absolutely do not EVER want to spam you. If you don't want to get this newsletter, then we will take you off the list. No problem. No questions asked. There's an unsubscribe link below, or you can just call us.