Choose the Right Substitute

---
---
You've found the perfect pattern - you're in love! But you look and look for the yarn and it's discontinued. Or it's out of your price range. Or it's a fiber you can't or won't work with. What do you do?

You would think substituting yarn would be straightforward - it calls for worsted, so get something worsted. But it's not that simple. Yarn categories (see HERE for the Craft Yarn Council's current yarn weight guide) are ranges, not absolutes. For example, worsted weight (size 4) yarn can be anywhere from 200-250 yards per 100 gram ball; DK can be anywhere from 240-280 yards per 100 gram ball. Notice anything? Yes, they OVERLAP. Not only that, but the Craft Yarn Council system is only a GUIDE, so yarn companies can call it anything they want.

So what's the better way? Go by the yardage per 100 gram ball, and try to stay within about 10% of that number. And if possible, stay with a similar fiber type.

For example, let's say your pattern calls for Rowan's Calmer Cotton-blend yarn, which is discontinued. First, look up Calmer on Ravelry to see its yardage. It was made with 175 yards per 50 gram ball, so you want to look for a match to that weight, preferably also in a plant-based yarn (plant-fibers are usually denser than animal fibers). So, you're looking for something that's 175ish yards in 50 grams, or 350ish yards in 100 grams.

Thankfully, your favorite yarn shop lists the yardage on all the shelf tags, so you look for small balls/skeins with 175ish yards or bigger balls/skeins with 350ish yards.

Ah-ha! We've found one over in the DK area - Modern Cotton DK by Berroco is 335 yards in 100 grams! Close enough! You have your substitute!

Confused? No worries! We're more than happy to help! We find substitutes for people all the time.

Good luck and Happy Yarning!


---

---

Shop News


Featured Notion
Do you sometimes just need help remembering what an ssk decrease is? Or maybe how to do a front post single crochet? Or how to join in a new yarn? Pocket Guides to the rescue! These little booklets have all the quick references you need to keep your project on track!

Yarnivore's First Ever Crochet-a-Long
Sign-ups are open for the crochet-a-long on the Sea Breeze Blanket in June. CAL Leader Beate will guide you through this beautiful pattern either on Wednesday or Sunday afternoons!

Upcoming Events
May 16-19 - Cre8tive Escape to Fredericksburg with Ann Budd
May 25 - Lone Star Arts Trunk Show!


---
Did you know that we have guides available on how to make proper gauge swatches for both knitting and crochet?

Here are the links: Knit Swatching, Knit Garter Stitch Swatching, Crochet Swatching


---

Intermediate Knitting



Tuesday, May 14, 21, and 28 from 6-8 pm, $48
Craft: Knitting
Teacher: Wendy

In this class you will learn to increase and decrease, to knit in the round, to read a knitting pattern, and some fun new stitch patterns. FREE patterns are included for a hat, a baby blanket, felted coasters and more. By the end of class, you will have a finished hat, knit seamlessly in the round!

Three 2-hour sessions






---
Easy Breezy Summer Tee-Zee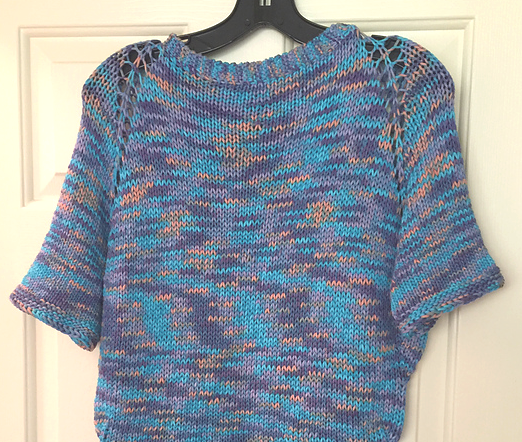 Wednesday, May 15, 22, & 29 from 6-8 pm, $48
Craft: Knitting
Teacher: Wendy

Knit something breezy and comfortable for the summertime, and get a simple intro to top-down knitting with this fun class. You'll also learn to graft garter stitch for the neckline, and you can choose your sleeve length – cap sleeve, short sleeve, or elbow length. Also a good refresher if you've tried top-down knitting before. Looks really cute in either solid or variegated yarns.

Three 2-hour sessions




---
Toe-Up Socks: Knit and Fit the Foot First!


Thursday, May 16, 30, & June 6 from 6-8 pm, $48
Craft: Knitting
Teacher: Wendy

Learn to make socks from the toes up, so you always have enough yarn to cover your feet! This worsted weight sock is thick and warm, perfect for wearing around the house, or as a boot sock. You don't need to have any sock knitting experience. Make them look fancy, if you like, by using a self-striping yarn, like we did for the pair in the photo! (Also, if you hate swatching, these are the socks for you!)

Three 2-hour sessions






---
Beginning Rigid Heddle Weaving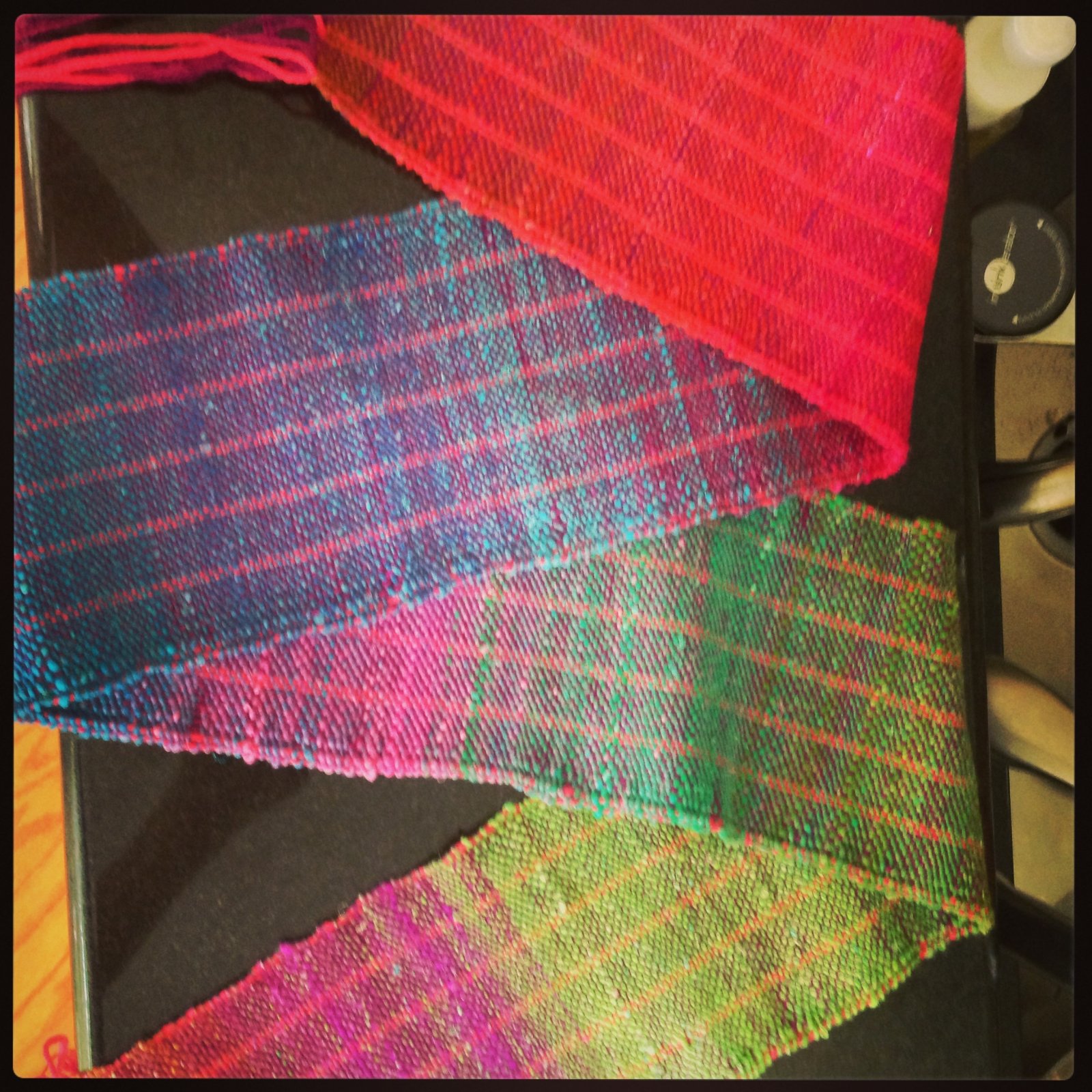 Saturday, May 18 from 10 am-4 pm, $48
Craft: Weaving
Teacher: Debbi

Learn the basics of weaving on a rigid heddle loom. We'll cover weaving terminology, direct warping, winding and managing shuttles, achieving a balanced weave and basic finishing techniques. As time allows, we'll discuss weaving drafts, yarn choices for weaving, pattern planning and alternate methods of warping.

One 6-hour session




---
Knitting Workshop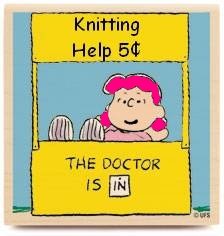 Each session is $18
Upcoming sessions:
Sunday, May 19 from noon-2 pm
Sunday, June 2 from 3-5 pm
Monday, June 17 from 6-8 pm
Craft: Knitting
Teacher: Wendy

You know you love Wendy's tips and hints and wish she could help you with every project! Well, now she can! Bring your projects and we'll all learn together from each other's challenges. Make your knitting look professional and lose all your fears!

One 2-hour session




---
Weaving: Finishing Techniques


Saturday, May 25 from 10 am-noon, $18
Craft: Weaving
Teacher: Debbi

Now that you've woven a perfect piece, how do you finish it? In this class, you'll learn to take your piece off the loom and finish it in a variety of ways including twisting fringe and braiding fringe (3- and 4-strand braiding). You'll also learn wet-finishing techniques to give your weaving a perfect finished hand and drape.

One 2-hour session


---
Weaving: Intermediate - Log Cabin

Saturday, May 25 from 1-5 pm, $33
Craft: Weaving
Teacher: Debbi

Log Cabin is another color-and-weave structure (plain weave with color interest). Although it is a simple tabby weave with no pick-up stick or finger manipulation, it has the look that your weaving is… well… woven! There are lots of fun variations of log cabin to achieve different effects. You'll also learn to warp your loom using a warping board rather than a warping peg.

One 4-hour session


---
We absolutely do not EVER want to spam you. If you don't want to get this newsletter, then we will take you off the list. No problem. No questions asked. There's an unsubscribe link below, or you can just call us.