BIG NEWS! And FULL Online Private Lessons!

---
---
BIG NEWS to lift us all up!

Although we remain (very) cautious, it looks like Texas is taking itty-bitty steps toward normal. One of the first steps, announced by Governor Abbott, is retail-to-go (curbside pick up). Beginning 4/24/20. Yarnivore will have semi-regular hours for curbside: Tuesday-Saturday 1-5. This way, you can order online and pick up at your convenience. (If these hours don't work for you, email us at YarnivoreSA@gmail.com and we'll set an appointment.)

Again, we are still being careful - several of our staff have compromised immune systems, as do many in the fiber community. Because of this care, we have limited staff available, so we appreciate y'all understanding!

We continue to add items to the website: recent additions are indie dyed yarns and interchangeable needle sets. If you can't find something, email us and we'll make it a priority to upload it!

If you need to reach us, you can email the store - Wendy & Caryn are answering email from home (YarnivoreSA@gmail.com). Wendy is also leading tutorials on Facebook and offering Online Private Lessons (scroll down for more info)!

If y'all are making face masks and are ready to drop them off, You can drop them off during our newly established hours (Tu-Sa 1-5, beginning 4/24) or email us to arrange a meet up. We've already received several batches and given them (sometimes within the same hour) to an ER doctor who shares with other ER and ICU docs. This is why we LOVE the fiber community!

Many thanks for your concerns about our financial state! There is no doubt that COVID19 will be a financial hit, but we're confident we can make it through this. To paraphrase Stephen Colbert, we do this for you, but we also do this with you.
Be well, be safe, be kind!
-Caryn & the Yarnivore crew

---
Shop News
Featured Pattern & Yarn
I don't know about you, but I have now not worn shoes for almost a month. The best thing about Staying Home and Staying Safe is Staying Barefoot! But sometimes I miss having a bit of style on my feet. So here's a cute crochet pattern to decorate your tootsies while staying footloose: The Peace & Sunshine Barefoot Sandal by Kathy Barnes! It's a FREE pattern with a simple idea - a medallion for the "upper" and a toe loop and ankle strap to keep the "sandal" on!


What yarn? Any washable worsted weight yarn will do. We suggest Universal's Clean Cotton Multi, an eco- and budget-friendly yarn made from reclaimed fiber (leftovers at the mill).


---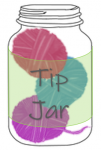 The Tip Jar
Do you love the Long-Tail Cast On? So do we! What many don't realize is that the Long-Tail CO has a very definite right-side and wrong side, and your projects will have a more professional finish if the right-side of the cast on matches up with the right-side of the pattern. If your pattern starts with a wrong-side row, then you don't need to make any changes, but if it starts with a right-side row, we suggest either skipping the first row (just this once) or doing a purl row before you begin your pattern.

---
Online Private Lessons
Help is here! You're not alone anymore

Here's what beta-testers said:
"This worked so much better than I thought it would"
"The screen-sharing is so helpful!"
"I love that I can have a lesson even from Terlingua"

Want to get a Private Lesson for yourself? All of our currently available slots are visible on the Yarnivore Calendar. Go to this page to find all the tech requirements and learn how to schedule YOUR Online Private Lesson! Wendy has so far shown online students how to: do a proper gauge swatch, figure out what size pattern you need, substitute yarn, un-knit and fix mistakes in LACE, pick up dropped stitches, do a picot bind-off, and MORE.
She can even show you how to navigate Ravelry and other resources using the screenshare function.
Ready to try it? Go here for instructions, then go to the calendar to see what times are available.
---

All classes and in-person private lessons are currently on hold, due to the San Antonio & Bexar County joint Stay Home/Work Safe order.
To keep up with our efforts and real time announcements, please follow us on social media:
Facebook - https://www.facebook.com/yarnivoresa/
Instagram - https://www.instagram.com/yarnivoresa/
Twitter - https://twitter.com/YarnivoreSA

If you have a question for one of our teachers, you can email us at yarnivoresa@gmail.com.
You can also email Wendy with knitting or crochet questions at wendy.yarnivore@gmail.com or contact her through her Facebook page - https://www.facebook.com/Wendy.at.Yarnivore/
---
We absolutely do not EVER want to spam you. If you don't want to get this newsletter, then we will take you off the list. No problem. No questions asked. There's an unsubscribe link below, or you can just call us.