Not JUST because Caryn (or Diane) loves purple

---
---
Using fiber crafts to heal divisions

Yarnivores practice a variety of crafts and come from all walks of life. We think our differences are what makes our fiber community such a rich, vibrant tapestry. Somehow, though, the US seems to be a hotbed of arguments over our differences right now. Y'all know that we don't usually talk politics (as in, ever), but we're making an exception for the Violet Protest because it's not about politics, really. It's a reminder to see past labels and appreciate each other. The Violet Protest also celebrates all forms of fiber crafts, which is right in our collective sweet spot.

The Violet Protest is a public effort to send 50 hand-made violet/purple textile squares to each and every member of Congress in support of these core American values:

• Respect for the other
• Citizenship
• Compromise
• Country over party and corporate influence
• Courage
• Candor
• Compassion
• Creativity

Whether we knit, crochet, quilt, or embroider all 26,750 of these squares — through this social action, and from every corner of America; we as makers of all political persuasions, believe we can employ our willing spirit and our talents to contribute to healing divisions that threaten our country. ​This collection of textile squares will be first displayed at Phoenix Art Museum, in the Spring of 2021, before they are sent to the new ​117th Congress by late 2021.

Focused on the values we hold dear as Americans, rather ​than partisan politics, the color violet symbolizes the literal combination of red and blue, long held as symbols of our nation's differing ideologies. Our common goal is to send a physical message of friendly protest through this colossal visual expression to demonstrate that if we as citizens are ​willing ​to come together, so then must our elected officials.

Thanks so much to the Fiber Artists of San Antonio for telling us about this cool activism opportunity!

Be well, be safe, be kind!

-Caryn & the Yarnivore crew


---
Shop News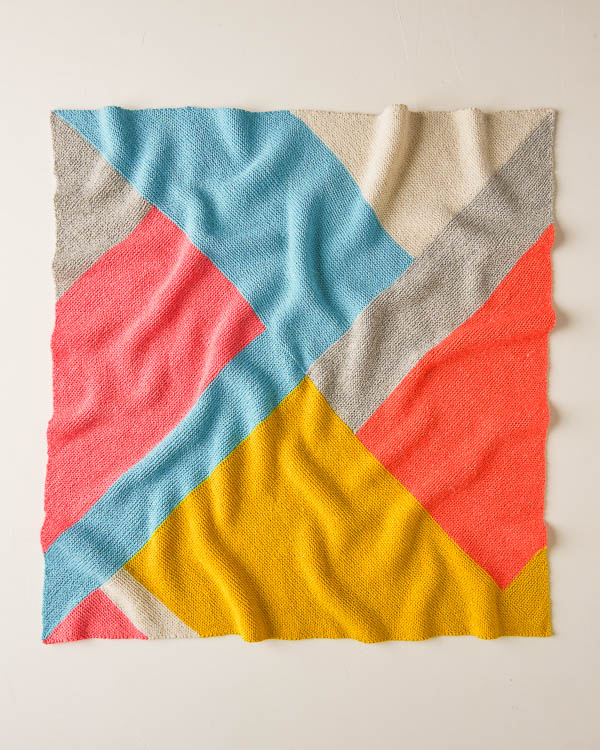 Featured Yarn and Pattern
Simplicity Spray is an excellent choice for afghans, children's wear, and anything else that gets daily use. This machine washable wool blend feels like butter in your hands while knitting, but is a true "work horse" of a yarn.
We think it would be STUNNING in Purl Soho's Puzzle Blanket! This blanket is much easier than it looks - it's all garter stitch, along with some picking up stitches and decreases! You can even knit it up using any worsted or heavy-DK yarn - even leftovers!

Hours this week - New, see the changes!
11-5 Monday-Saturday
Noon-5 Sunday
Private Lessons can be scheduled outside of regular hours at the discretion of the teacher.
As always, online and curbside sales remain available.

Private Lessons
In-store and online private lessons are available! Please call us at 210-979-8255 to schedule a lesson!

---

The Tip Jar

Keeping your multi-colored projects from bleeding into each other:

If you're planning a colorblock project (where there are several colors in blocks), test for colorfastness by soaking just one color of yarn at a time and see if the water changes color. If they don't bleed, you're golden!

---

All classes are currently on hold, due to the San Antonio & Bexar County joint Stay Home/Work Safe order.
To keep up with our efforts and real time announcements, please follow us on social media:
Facebook - https://www.facebook.com/yarnivoresa/
Instagram - https://www.instagram.com/yarnivoresa/
Twitter - https://twitter.com/YarnivoreSA

If you have a question for one of our teachers, you can email us at yarnivoresa@gmail.com.
You can also email Wendy with knitting or crochet questions at wendy.yarnivore@gmail.com or contact her through her Facebook page - https://www.facebook.com/Wendy.at.Yarnivore/
---
We absolutely do not EVER want to spam you. If you don't want to get this newsletter, then we will take you off the list. No problem. No questions asked. There's an unsubscribe link below, or you can just call us.