It's Holiday Crafting SCRUNCH Time!

---
---
Tools make great gifts and gift cards ALWAYS fit!

Need splurge-worthy ideas for your favorite crafter? How about Cocoknits' Maker's Keep, Row Counter and Stitch Markers? The Maker's Keep is a one-size-fits-all (yes, really) slap bracelet that has a magnetic face to attract all your metal bits and bobs. It can hold the translucent row counter, any metal stitch markers, tapestry needles, sewing pins, paper clips, or other household doodads. The Maker's Keep comes in a variety of colors, including Tangerine, Chartreuse, and Hibiscus. Need something to organize your notions? How about Meori foldable boxes? They are available in mini and large, singles and doubles, with inserts and without, and even in a toolbox-shaped hobby box. Use them as a gift or as the gift wrap for crafty items.

If none of those sound quite right, Yarnivore also sells gift cards! You can purchase online and print yours out or send the digital copy to the lucky crafter. You can also purchase in-store; choose whichever method works best for you. Did you know that Yarnivore can record the gift certificate under the recipient's name when you purchase in-store? We do this so that we can find the certificate in our records, just in case the recipient misplaces their certificate. If you're buying online, we can still find the transaction, we just need to know the name of the buyer.

Be well, be safe, be kind!

-Caryn & the Yarnivore crew


---
HOLIDAY COUNTDOWN




Days until Christmas: 11




Days left in Hanukkah: 4
---
Shop News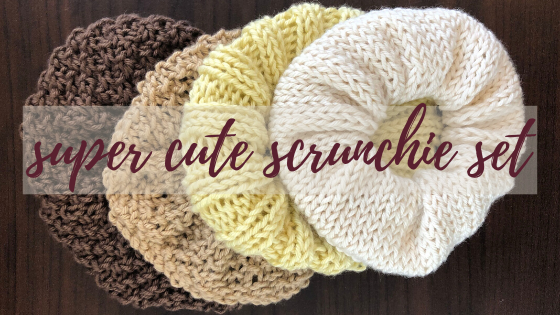 Featured Yarn and Pattern
It's gifting CRUNCH TIME. Or should we say "SCRUNCH" time!? These scrunchies are super cute, take only small amounts of yarn, and will knit up in plenty of time for gifting! The Super Cute Scrunchie Set by Holly Beemer is $4 on Etsy for an ad-free version, or FREE on atyarnslength.com if you're okay with some ads. If you don't have enough scrap yarn in the right color, you could use the Catona Minis (if you're ordering online, tell us what color you prefer and we'll try to honor your request). Easy, cute, fun, and QUICK!

Hours this week
11-5 Monday-Saturday
Noon-5 Sunday
Private Lessons can be scheduled outside of regular hours at the discretion of the teacher.
As always, online and curbside sales and online lessons remain available.

Private Lessons
In-store and online private lessons are available! Please call us at 210-979-8255 to schedule a lesson! Wendy and Nancy M. are both available to help you with your projects!

---

The Tip Jar
Our Wendy spent the entire last week with her left wrist in a brace due to tendonitis - NOT fun, especially as gifting deadlines approach.

If you find yourself with a painful or sprained hand or wrist, here's what to do:
1. REST!!! No knitting, no crocheting, try to not even hold your phone in that hand.
2. Brace it! You can find inexpensive wrist braces at most drugstores, but if you find that you get frequent bouts of tendonitis or other wrist pain, you may want to splurge on lighter-weight hi-tech wrist braces. Wendy wears a brace at night when she feels the slightest twinge because she's very susceptible to wrist injury.
3. Temperature treatment! Use an ace bandage to hold an ice pack (or bag of frozen peas) on the outside of your brace. Only ice for 24 hours. Afterwards, a heat pack can help relieve pain.
4. Compression! Use hand-eez gloves under or instead of the brace to help bring down swelling. Make sure you don't wrap it tight enough for your fingers to change color.
5. Elevate it as much as possible! Hold your braced wrist over your heart whenever possible. A sling really helps with this.
6. If the pain lasts longer than 3 days without improvement or 6 days WITH improvement, SEE A DOCTOR.

Wendy is feeling much better now. Today is her first day with no pain, though she still plans to wear the brace at night for a week or two.

---

All classes are currently on hold, due to the San Antonio & Bexar County joint Stay Home/Work Safe order.
To keep up with our efforts and real time announcements, please follow us on social media:
Facebook - https://www.facebook.com/yarnivoresa/
Instagram - https://www.instagram.com/yarnivoresa/
Twitter - https://twitter.com/YarnivoreSA

If you have a question for one of our teachers, you can email us at yarnivoresa@gmail.com.
You can also email Wendy with knitting or crochet questions at wendy.yarnivore@gmail.com or contact her through her Facebook page - https://www.facebook.com/Wendy.at.Yarnivore/
---
We absolutely do not EVER want to spam you. If you don't want to get this newsletter, then we will take you off the list. No problem. No questions asked. There's an unsubscribe link below, or you can just call us.