Skip Navigation
Website Accessibility
Heckin' Heaps O'Hearts!

---
---
Let Your Love-Light Shine

A few ideas for Valentines Day
Merriam-Webster defines love-light as the 'radiance of affection'. What better way to spread the love than making something for your Valentine? How about giving your (anatomically-correct) Heart – by Kristin Ledgett, free at Knitty.com or declaring Love is Love, Actually – by Kim Firth, about $5.70 in-store/Rav/designer's website. Given today's weather, we're thinking of making the heart into a small heating pad by filling it with walnut shells or a fabric bag of rice. If you love crocheted amigurumi, Valentin (Rav link) by Anisbee Anisbee – free in-store/Rav is a bunny holding a heart, use up your scrap yarn and share some love!

Make your Valentine presentation special by enclosing a poem for your loved one. Here are some Valentine Poems suggested by Google.

Be well, be safe, be kind!

-Caryn & the Yarnivore crew

---
Shop News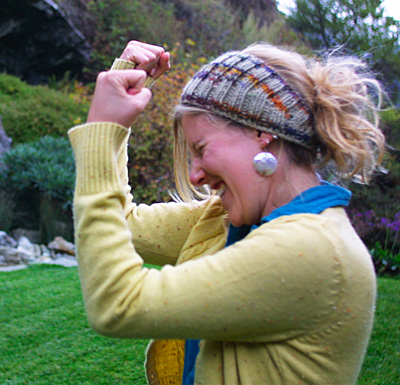 Featured Yarn and Pattern
We're recently restocked with Hedgehog Sock, so we went looking for fun patterns that you could do with it, and we came across an oldie that we still love! Calorimetry

by

is still one of the most popular patterns EVER on knitty.com, and for good reason! It's a "hat" that buttons around your head, leaving room for your bun, ponytail, jaw clip, or other bulky hairstyle. Its ribbed design looks good on all heads regardless of gender. Best of all, it's a really fast and easy FREE pattern!
Hours this week
11-5 Monday-Thursday, Saturday
Noon-5 Sunday
Private Lessons
In-store and online private lessons are available! Please call us at 210-979-8255 to schedule a lesson! Wendy, Dawn, and Nancy M. are all available to help you with your projects! Private Lessons can be scheduled outside of regular hours at the discretion of the teacher.
---

The Tip Jar
If you need a super-jumbo stitch marker for projects with giant needles or yarn? Use hair elastics! You can use the regular closed covered hair elastics as huge knitting ring markers. The ones with balls on the end work great as removable stitch markers for fat yarn crochet.
---

All regular classes are currently on hold until we can safely seat up to 6 students in the classroom. We'll let y'all know when we can offer them again. Until then, we're offering most of our class material in private lessons.
To keep up with our efforts and real time announcements, please follow us on social media:
Facebook - https://www.facebook.com/yarnivoresa/
Instagram - https://www.instagram.com/yarnivoresa/
Twitter - https://twitter.com/YarnivoreSA

If you have a question for one of our teachers, you can email us at yarnivoresa@gmail.com.
You can also email Wendy with knitting or crochet questions at wendy.yarnivore@gmail.com or contact her through her Facebook page - https://www.facebook.com/Wendy.at.Yarnivore/
---
We absolutely do not EVER want to spam you. If you don't want to get this newsletter, then we will take you off the list. No problem. No questions asked. There's an unsubscribe link below, or you can just call us.