Skip Navigation
Website Accessibility
Boing! Boing! It's Spring!

---
---
Spring is in the Air

"It was one of those March days when the sun shines hot and the wind blows cold, when it is summer in the light and winter in the shade."
– Charles Dickens
Spring sprung over the weekend! Although someone forgot to tell the weather (who'da thunk we'd be in the 50s this morning?), we're still thinking of warmer temps. After all, the redbuds are blooming and the birds are singing. Caryn even has a bird's nest in her garage with four little eggs in it.

Want to crochet your own wee hummingbird? Click the photo above to purchase the pattern on Etsy!

Now that spring is here, are you ready for Easter? It's just around the corner (4/4) and we can help you fill up your baskets. Even non-crafters will love the Zipit pouches and boxes in various sizes. Some of the designs are colorful and some are whimsical, like the dino and unicorn styles.

For crafters, you can toss in a tiny pair of Tacony Scissors or a Snail tape measure (they're cuter than they sound!). If you need a basket, think about a multi-purpose bag, like Maika's Lunch Totes. We like these for medium sized projects and tools (Nancy has also used her to carry a pie...because pie can be lunch?). Meori's Foldable Boxes in the mini size would make a handy basket. They come in single or double, or large or grocery tote sizes. If you'd like to use an actual basket, how about the Bolga Basket in shopper or oval sizes?

Need help filling a crafter-style Easter basket? Just ask! We can come up with all kinds of fun and colorful items to customize a yarner's basket.

For those who want to let the crafter pick, you can purchase a gift card online or in-store. You can check out online and then print or email the card to the lucky crafter.

Be safe, be well, be kind!

-Caryn & the Yarnivore crew

---
Watch Out for Counterfeits
A warning from ChiaoGoo...

There have been several confirmed cases of counterfeit ChiaoGoo Red and Blue Shorties interchangeable sets (Item #s: 7230-M & 7230-S) that were recently sold on Amazon by unauthorized resellers through Amazon's "Fulfilled by Amazon" ("FBA").



While bearing the ChiaoGoo logo and appearing very similar to our authentic products, these counterfeits have very poor quality, far below their usual high standards. To learn how to identify these fake ChiaoGoo products, go to

www.ChiaoGoo.com/Counterfeits

.

If you want to make sure you're buying the real thing (with ChiaoGoo and other craft brands), try to purchase only from reputable yarn shops, especially local brick and mortar shops. If you must purchase online, look for dedicated yarn shops, that are authorized retailers.

---
Shop News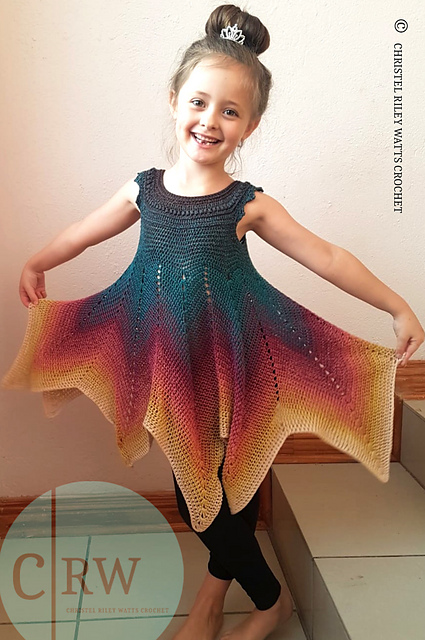 Featured Pattern & Yarn
Are you ready for spring? We love cotton and bamboo for this time of year! How about the Abigail Fairy Dress (Rav link) in Whirl? This crocheted top/tunic/dress ($4.40 on Rav or in-store) is written for kids to adults. Check out our adult version in the shop!

Hours
11-5 Monday-Thursday, Saturday
Noon-5 Sunday
We'll be CLOSED on Easter Sunday, April 4!

Private Lessons
In-store and online private lessons are available! Please call us at 210-979-8255 to schedule a lesson! Wendy, Dawn, and Nancy M. are all available to help you with your projects! Private Lessons can be scheduled outside of regular hours at the discretion of the teacher.


---

The Tip Jar

Have you ever knitted a swatch and forgotten what size needle you used? Try this trick: Before you finish knitting the swatch, make a series of yo, k2tog (yarn over, knit two together) to correspond to your needle size. Swatched with a US 7? Repeat "yo, k2tog" 7 times, then finish. You'll know your needle size by counting the holes. For half sizes, make an extra hole in the border or on another row.
Crocheters - This trick can be modified for hooks if you use the metric size of the hook. For example, a US H hook is 5mm. Substitute a chain-space a decrease for a yarn over.
---

All regular classes are currently on hold until we can safely seat up to 6 students in the classroom. We'll let y'all know when we can offer them again. Until then, we're offering most of our class material in private lessons.
To keep up with our efforts and real time announcements, please follow us on social media:
Facebook - https://www.facebook.com/yarnivoresa/
Instagram - https://www.instagram.com/yarnivoresa/
Twitter - https://twitter.com/YarnivoreSA

If you have a question for one of our teachers, you can email us at yarnivoresa@gmail.com.
You can also email Wendy with knitting or crochet questions at wendy.yarnivore@gmail.com or contact her through her Facebook page - https://www.facebook.com/Wendy.at.Yarnivore/
---
We absolutely do not EVER want to spam you. If you don't want to get this newsletter, then we will take you off the list. No problem. No questions asked. There's an unsubscribe link below, or you can just call us.