Skip Navigation
Website Accessibility
Socks for Smiles

---
---
Socks for Smiles
Put your needles where your heart is!
One in seven hundred babies are born with cleft lip and/or cleft palate (an incomplete closure of the upper lip and/or roof of the mouth). This gap can interfere with feeding and nutrition, speech and language development, and even difficulties with breathing or hearing.

Austin Smiles, a non-profit organization that offers surgical and other supportive care to children with cleft lip/palates and their families in Texas and in Central and South America, is seeking help from knitters and crocheters to help raise funds for these life-changing surgeries.

In their words:

This new initiative gives our wonderful yarn community the opportunity to provide their tangible support for Austin Smiles - hand-knit goods to help our clients feel loved and supported. At this time, we are preparing for a sock drive as part of the 35th Anniversary Celebration Gala for Austin Smiles. Each pair of adult socks will be included in one of our fundraising baskets for funding donations.

Who: Lovely yarn enthusiasts
What: Adult sized handmade socks, hats, gloves, or mittens. machine washable
When: 10/8 - 10/17
Where: Participating local yarn shops

Custom-made Austin Smiles Enamel pins will be given on a first-come, first serve basis for contributors.

Be safe, be well, be kind!

-Caryn & the Yarnivore crew


---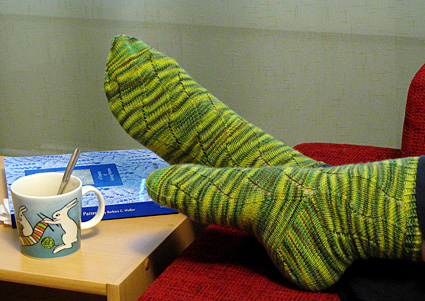 Featured Pattern & Yarn
Today we're featuring some lovely washable sock yarns suitable for the Socks for Smiles project (see article above for more). One of our favorite places to find sock patterns is KNITTY! They have dozens of fantastic sock patterns for absolute sock beginners to advanced knitters looking for a challenge - all of them absolutely FREE. Shown at right: Sunday Swing by Kristel Nyberg.
Here are some of our favorite yarns for projects like this:
-Regia Pairfect, with a bright yellow divider color that makes it easy to make identical twin socks
-Happy Feet Splash - truly happy colorful yarn in, well, splashy colorways
-CoBaSi - a wool-free sock yarn made with natural fibers including cotton, bamboo, and silk
-Bamboo Pop Sock - another wool-free stretchy sock yarn, available in solid colors, too!

Upcoming Trunk Show!
Chaos Fiber is coming back to Yarnivore! We love their yarns, patterns, and bags so much, and we know you're going to love them, too! They'll be here on Saturday, July 17 for your shopping pleasure.

Beginning Rigid Heddle Weaving Classes
Debbi's back and that means monthly Rigid Heddle Weaving classes have returned. This month's class is this Saturday and YES there are still openings! Reminder - masks are required for all classes and private lessons.


Hours - We're open 7 days a week!
11-5 Monday-Saturday
Noon-5 Sunday


Private Lessons
In-store and online private lessons are available! Please call us at 210-979-8255 to schedule a lesson! Wendy, Dawn, Moses, and Nancy M. are all available to help you with your projects! Private Lessons can be scheduled outside of regular hours at the discretion of the teacher.


---

The Tip Jar

If you're doing a project on REALLY big needles/hooks - 10 mm or larger - you will quickly find that it's quite hard to find stitch markers that will fit on these huge needles. Thankfully, both the beauty, hardware, and office supplies areas of the grocery store have just what you need! For closed ring markers, grab a pack of wrapped ponytail elastics! For removable markers, you can use binder rings or carabiners!
---

All regular classes are currently on hold until we can safely seat up to 6 students in the classroom. We'll let y'all know when we can offer them again. Until then, we're offering most of our class material in private lessons.
To keep up with our efforts and real time announcements, please follow us on social media:
Facebook - https://www.facebook.com/yarnivoresa/
Instagram - https://www.instagram.com/yarnivoresa/
Twitter - https://twitter.com/YarnivoreSA

If you have a question for one of our teachers, you can email us at yarnivoresa@gmail.com.
You can also email Wendy with knitting or crochet questions at wendy.yarnivore@gmail.com or contact her through her Facebook page - https://www.facebook.com/Wendy.at.Yarnivore/
---
We absolutely do not EVER want to spam you. If you don't want to get this newsletter, then we will take you off the list. No problem. No questions asked. There's an unsubscribe link below, or you can just call us.