Skip Navigation
Website Accessibility
Can we needle ya a bit?

---
---
Darn It!!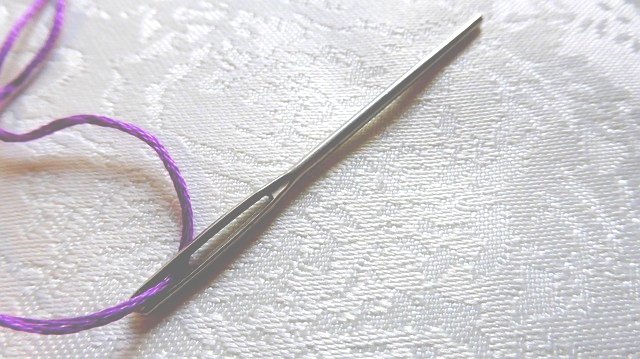 Darning needles! What are they?
Darning needles, sometimes referred to as tapestry or yarn needles, are a no-nonsense, must-have tool for all fiber artists who work with yarns, flosses or heavy threads. In the needle world, these are the heavy lifters.

Crochet, knitting, embroidery, counted cross stitch or sewing, they all have applications for darning needles. The more traditional use of darning needles centers around the repair of knitted items like socks, sweaters or scarves. Darning needles have also proven invaluable for construction projects requiring attaching knitted or crocheted seams or even more seemingly unconventional applications such as embroidery or counted cross stitch. These specialty needles are perfect for anything that requires precise fiber manipulation.

What are they, though? Darning needles are sewing needles with a large eye and a blunt point. They are used for thicker threads and yarns where you don't want to pierce the fibers of the fabric you're sewing into. They come in a variety of sizes, suitable for everything from sewing threads to bulky yarns and are constructed with either straight or bent tips. You'll want to select a darning needle with the right size for the weight of the yarn/floss you're using. Selection of either straight or bent tips is solely a matter of personal preference. Different applications will most likely present different requirements for comfort and utility, you choose! Darning needles all have relatively blunt tips that allow them to be maneuvered through more permeable knitted or woven fabrics without splitting the fibers. To accommodate these differing requirements for enumerable creative applications, Clover Needlecraft has provided a selection of darning needles.

Thanks to Clover and Steve Butler for this handy info!!

Be safe, be well, be kind!
-Caryn & the Yarnivore crew


---
Featured Pattern & Yarn
Here's a lovely quick crocheted cowl perfect for the transitional days of fall. The aptly named Autumnal Cowl by Loraine Burchall is £3 GPB (about $4.30 US) and available in-store or on Ravelry. This yarn makes the colors in Major (100% machine washable acrylic) show up beautifully!
Upcoming Trunk Show
Zorn Junction is coming to Yarnivore on Saturday, November 13! Mark your calendars!

Hours - We're open 7 days a week!
11-5 Monday-Saturday
Noon-5 Sunday

Private Lessons
In-store and online private lessons are available! Please call us at 210-979-8255 to schedule a lesson! Wendy, Dawn, Moses, and Nancy M. are all available to help you with your projects! Private Lessons can be scheduled outside of regular hours at the discretion of the teacher.


---

The Tip Jar

Okay, so we all love spit-splicing yarn* whenever possible to avoid weaving in more ends. But, in these Germ-Aware times, we would prefer not to have actual spit on our yarn. Luckily, we have found that you can also spit-splice with... HAND SANITIZER! Yup! And we all have THAT handy nowadays! YAY for germ-free splicing!

*wet both ends of a feltable yarn (usually wool) with saliva or water and rub them together hard and fast in your hands until they lock together, making a no-ends to weave join.

---

All regular classes are currently on hold until we can safely seat up to 6 students in the classroom. We'll let y'all know when we can offer them again. Until then, we're offering most of our class material in private lessons.
To keep up with our efforts and real time announcements, please follow us on social media:
Facebook - https://www.facebook.com/yarnivoresa/
Instagram - https://www.instagram.com/yarnivoresa/
Twitter - https://twitter.com/YarnivoreSA

If you have a question for one of our teachers, you can email us at yarnivoresa@gmail.com.
You can also email Wendy with knitting or crochet questions at wendy.yarnivore@gmail.com or contact her through her Facebook page - https://www.facebook.com/Wendy.at.Yarnivore/
---
We absolutely do not EVER want to spam you. If you don't want to get this newsletter, then we will take you off the list. No problem. No questions asked. There's an unsubscribe link below, or you can just call us.