End of Year Wishes and a SALE!

---
---
Very! Merry! Happy!

We wish you all a great 2022

We wish you a very, merry, happy!
No matter how you phrase it, we wish y'all joy and peace as we enter 2022. Yarnivore is our happy place and we appreciate that y'all think so too. Among the good tidings we've received, one stands out. Y'all know that we enjoy helping crafters learn and grow. One crafter, Carmen, wanted to make hats for the crew at her neighborhood fire station. Over several weeks, Carmen dropped in for a bit of help with her patterns. Last week, she dropped off a lovely card, thanking us for the help and wishing us joy this holiday season. Guess who else signed that card? Every firefighter! So, yes, we're very merry & happy.

Be safe, be well, be kind!
-Caryn & the Yarnivore crew

---
We Don't Want to Count It!
Our end-of-year superclearance is ON!

Have you been hoping to score a good deal on clearance yarns? Now's the time! We're taking an additional 30% off clearance yarns (30% off the orange tagged price, taken at register) and 30% off select Christmas themed items.

Come see us before the sale ends on December 31st!


---
Featured Pattern & Yarn
Welcome in the new year with this sweet 2022 New Year Cup Cozy - a FREE crochet pattern from Janet Pippin of Simply Hooked by Janet! This is a great way to do some scrap-busting, or if you'd rather, you can use Encore Worsted and Encore Colorspun. This will crochet up quickly, so you can use it for your first coffee of the new year!
Holiday Hours - We're open 7 days a week except for the main events!
11-5 Monday-Saturday
Noon-5 Sunday
11-3 New Year's Eve
Closed New Year's Day


Private Lessons
In-store and online private lessons are available! Please call 210-979-8255 to schedule a lesson! Wendy, Dawn, Moses, and Nancy M. are all available to help you with your projects! Private Lessons can be scheduled outside of regular hours at the discretion of the teacher.


---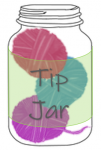 The Tip Jar

Here's a way to help with crafting clutter: make your own kits! Just take the pattern, yarn/thread, and needles and any other parts you'll need for a project and put it all together in an appropriately sized project bag or even a ziploc bag. This way, you can just grab a bag when you're ready to start something new!



---

All regular classes are currently on hold until we can safely seat up to 6 students in the classroom. We'll let y'all know when we can offer them again. Until then, we're offering most of our class material in private lessons.
To keep up with our efforts and real time announcements, please follow us on social media:
Facebook - https://www.facebook.com/yarnivoresa/
Instagram - https://www.instagram.com/yarnivoresa/
Twitter - https://twitter.com/YarnivoreSA

If you have a question for one of our teachers, you can email us at yarnivoresa@gmail.com.
You can also email Wendy with knitting or crochet questions at wendy.yarnivore@gmail.com or contact her through her Facebook page - https://www.facebook.com/Wendy.at.Yarnivore/
---
We absolutely do not EVER want to spam you. If you don't want to get this newsletter, then we will take you off the list. No problem. No questions asked. There's an unsubscribe link below, or you can just call us.