Do you like quizzes? We like quizzes!

---
---
Tell Us About YOU!
We made a fun little quiz for you!

Happy 2022! Click here to take the quiz!

Instead of making resolutions, we would rather get to know YOU better! Do you have a LOT of UFOs or only a few? Are you as organized as Marie Kondo or do you hide your stash from a significant other? Are you multicraftual or do you stick to just one? Is your favorite yarn a hardworking worsted wool, or a sensual silk laceweight?

We hope you'll enjoy our little quiz! It has no points, so you get an A+ just for playing! We'll share the results next week! Will there be surprises? Can't wait to see!

Be safe, be well, be kind!
-Caryn & the Yarnivore crew

---
Featured Pattern & Yarn
Here's a great stashbuster pattern from Ann Budd! The Mitered Stash Afghan is made from 2 sizes of mitered garter stitch squares, so it knits up easily! Make an elegant one like Ann's from multiple neutrals, or go nuts and make a crazy one with every color of the rainbow! Available for $6.50 in-store, on Ravelry, or at AnnBuddKnits.com!

Hours - We're open 7 days a week!
11-5 Monday-Saturday
Noon-5 Sunday
Private Lessons
In-store and online private lessons are available! Please call 210-979-8255 to schedule a lesson! Wendy, Dawn, Moses, and Nancy M. are all available to help you with your projects! Private Lessons can be scheduled outside of regular hours at the discretion of the teacher.


---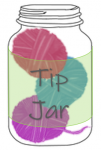 The Tip Jar

If you have a lot of frogging to do on your knit or crochet project, you can let your ball-winder help! Just secure the other end of the yarn in the ball winder and re-wind your ball from the other end, then once it gets to the live stitches, hold the project a little ways away and let the ball winder unravel the bad bit of your project! Once you've frogged as much as you need, you'll have a nice tidy ball all ready for the re-do!


---

All regular classes are currently on hold until we can safely seat up to 6 students in the classroom. We'll let y'all know when we can offer them again. Until then, we're offering most of our class material in private lessons.
To keep up with our efforts and real time announcements, please follow us on social media:
Facebook - https://www.facebook.com/yarnivoresa/
Instagram - https://www.instagram.com/yarnivoresa/
Twitter - https://twitter.com/YarnivoreSA

If you have a question for one of our teachers, you can email us at yarnivoresa@gmail.com.
You can also email Wendy with knitting or crochet questions at wendy.yarnivore@gmail.com or contact her through her Facebook page - https://www.facebook.com/Wendy.at.Yarnivore/
---
We absolutely do not EVER want to spam you. If you don't want to get this newsletter, then we will take you off the list. No problem. No questions asked. There's an unsubscribe link below, or you can just call us.