Skip Navigation
Website Accessibility
Do not go gently into this Hard Block...

---
---
Blocking Basics - Block it HARD!

Make that lace project open up

Knitted and crocheted lace and certain other fabrics need a little extra help becoming their most beautiful selves. They need Hard Blocking. This doesn't mean it's difficult, only that you're going to be stretching the work pretty hard. Sometimes cable and colorwork also benefits from a hard block, but be careful not to stretch it further than the desired size. The photo shows hard-blocked knitted lace clockwise from top: before blocking, during blocking, after blocking. Click links to see the full size versions.

Hard blocking is usually done together with wet-blocking, but if your yarn isn't wet-block-able*, you can use steam. You'll want to make sure your pinning surface is heat resistant if you plan to steam your piece.

There are a few ways to do hard blocking. The first is to build a wooden (or pvc) frame the same shape as the piece to be blocked and quite a bit bigger, then stitch the piece to the frame while spritzing it with water, stretching it evenly. This method is most commonly used for shetland lace shawls.

If you don't want to make a frame (we don't blame you), here are some other ways:

Hard Blocking with Pins
You will need a LOT of rust-proof pins and a surface to pin into. If you have a pinnable bed, you can use that. Generally, however, we find it better to use pinnable blocking mats, yoga mats, or kid's interlocking play mats big enough to hold the entire stretched project. T-pins are considered the best pins, as they're quite sturdy, but any rust-proof pins will work. You will need a LOT of pins! If you have a lot of straight edges, consider using blocking combs, too

1. Wash your project, if desired, as for regular wet blocking. If you don't want to wash it, you can use a spray bottle to thoroughly wet the piece.
2. Begin pinning where ever it makes sense for your project. You want to stretch as you go so that the lace is fully opened up!
-If it's rectangular, maybe start with the center of the short end, then the corners on that end, then the rest of that end, then straighten and do the other end, then the long sides.
-For a circle, pin the center first, then pin four points evenly around, then evenly around.
-For a square, do all four corners, then the edges.
-For other shapes, use your best judgment, referring to the pattern diagram.
3. Measure! Make sure that the corners are square, that all the pins in a circle are the same distance from the center, etc.
4. Make sure any points are pinned and that there aren't any scallops in the end that there shouldn't be. This will mean using a LOT of pins! It's not unusual to use a 200+ pins. For straight edges, blocking combs can help a lot!
5. Check that it's evenly damp, and spritz again if necessary.
6. Let it dry completely, then unpin and enjoy the gorgeousness!

Hard Blocking with Blocking Wires
If you'd rather not use hundreds of pins, you can use blocking wires instead! The blocking wires are threaded through the edge stitches, sort of like "sewing" with a really really really long weird needle.

1. You can wash/wet your fabric before or after inserting the blocking wires. If you are inserting wires into damp fabric, we suggest working somewhere comfy with a thick towel in your lap.
2. Insert blocking wires. In edges with points or scallops, "sew" just into the points or into the top curve of the scallop. On straight edges, "sew" the wire in and out of every stitch or row. If the edge is too long for just one wire, just start with a second wire.
3. Wet or re-wet if necessary.
4. Use the wires to stretch the project and secure the wires in place with t-pins.
5. Measure, even everything up, and let dry!

You'll be amazed at how much difference blocking makes! Next week, we'll talk about some other blocking topics.

Be safe, be well, be kind!
-Caryn & the Yarnivore crew

*Natural fibers and rayons can be wet blocked. Acrylic, polyester, and nylon need steam.
---
Featured Pattern & Yarn
The Cottage Hat by Dawn Henderson (Rav link) is a gorgeous textured beanie perfect for transitioning into the warmer days. We love the look of a beanie with a sleeveless top (bad hair? What's that?)! It's great for knitting on a budget, too, because it's a FREE pattern! It needs a yarn with great stitch definition, like Berroco's Ultra Wool.

Hours - We're open 7 days a week!
11-5 Monday-Saturday
Noon-5 Sunday
Private Lessons
In-store and online private lessons are available! Please call 210-979-8255 to schedule a lesson! Wendy, Dawn, Moses, and Nancy M. are all available to help you with your projects! Private Lessons can be scheduled outside of regular hours at the discretion of the teacher.


---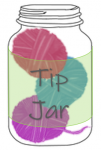 The Tip Jar

If you run across a knitting or crochet abbreviation that you don't recognize, don't panic, just go to www.craftyarncouncil.com/standards! They have lots of helpful information, including lists of Knitting Abbreviations and Crochet Abbreviations. They also include:
-Terms and Common Measurements for Knitting
-Different Knitting Terms for US and Canada
-Terms and Common Measurements for Crochet
-Tunisian Crochet Terms and Abbreviations
-Differences between US, UK, and Canadian Crochet terms
---

All regular classes are currently on hold until we can safely seat up to 6 students in the classroom. We'll let y'all know when we can offer them again. Until then, we're offering most of our class material in private lessons.
To keep up with our efforts and real time announcements, please follow us on social media:
Facebook - https://www.facebook.com/yarnivoresa/
Instagram - https://www.instagram.com/yarnivoresa/
Twitter - https://twitter.com/YarnivoreSA

If you have a question for one of our teachers, you can email us at yarnivoresa@gmail.com.
You can also email Wendy with knitting or crochet questions at wendy.yarnivore@gmail.com or contact her through her Facebook page - https://www.facebook.com/Wendy.at.Yarnivore/
---
We absolutely do not EVER want to spam you. If you don't want to get this newsletter, then we will take you off the list. No problem. No questions asked. There's an unsubscribe link below, or you can just call us.