Helping Hands for Ukraine

---
---
Helping Hands for Ukraine

Donate for Ukraine relief and win prizes



It all started as the seed of an idea, born from the hopeless feeling of being totally and utterly helpless in the face of disaster. While innocent people fought for their lives, all I could do was watch the atrocities unfold, one after the next. I wished that there was something I could do, some way to put my hands to use. And that's when it hit me.
HELPING HANDS for UKRAINE aims to put those hands to use, uniting crafters, artisans, musicians, and countless others in an effort to raise money for those in need right now. Partnering with the Canadian Red Cross, we are supporting the "Ukraine Humanitarian Crisis Appeal," which includes support for preparedness, immediate and ongoing relief efforts, long-term recovery, resiliency, and other critical humanitarian activities as needs arise, both in Ukraine and surrounding countries, including supporting populations displaced.


The artists featured have all graciously donated their time, materials, and skill in an unprecedented show of generosity. All of these creations are up for grabs, as long as you make at least one $10 donation using the links below each item.
Click HERE to view the prizes and donate!

Each donation of $10 = 1 raffle ticket$20 = 2 tickets$30 = 3 tickets, etc.

WHY CANADIAN RED CROSS?
Great question! Turns out, the Canadian Red Cross is actually quite efficient with their donations compared to other charities. And rather than contributing to a generic, blanket fund, the Canadian Red Cross has set up this specific Ukraine crisis appeal so that 100% of donations are earmarked to be used in this way. But wait, there's more: until MARCH 18th, the Canadian government will be matching all donations dollar-for-dollar, up to 10 million. Established charity, specific cause, and double the dollar power!

WHEN IS THIS THING HAPPENING?
Glad you asked. We're running this fundraising campaign from MARCH 1st - MARCH 18th to take full advantage of the Canadian Government's donation plan.
Yarnivore's contribution is Six Hours of private lessons with Our Wendy, along with a $25 gift certificate for yarn and supplies. Lessons can be held in person or over Zoom and can cover ANY knitting topic. It's enough time to get an absolute beginner from first stitches to finishing their first hat, or for an advanced knitter to complete a custom fit top-down raglan sweater.

Let's show 'em how awesome our Yarnivore peeps are!

Be safe, be well, be kind!
-Caryn & the Yarnivore crew

---
Featured Pattern & Yarn
Here's a gorgeous shawl to make with those gorgeous hand-dyed sock yarns...like the ones Zorn Junction will have here this weekend! The Shades of Peony shawl by Tamy Gore is a mix of garter stitch and simple lace for a stunning result. It's available for $6.50 in-store, on Ravelry, or on Etsy!

TRUNK SHOW!
Zorn Junction will be HERE at Yarnivore for a Trunk Show this Saturday, March 12!

Hours - We're open 7 days a week!
11-5 Monday-Saturday
Noon-5 Sunday
Private Lessons
In-store and online private lessons are available! Please call 210-979-8255 to schedule a lesson! Wendy, Dawn, Moses, and Nancy M. are all available to help you with your projects! Private Lessons can be scheduled outside of regular hours at the discretion of the teacher.


---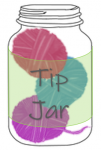 The Tip Jar

Magnetic bracelets are super helpful for holding metal-based stitch markers and other crafting tools like sewing pins or t-pins for blocking, embroidery or needlepoint needles, etc, but they have another use!

If you're putting together some flatpack furniture or doing household repairs, you can hold your screws and nails on your magnet bracelet for quick and easy access!
---
All regular classes are currently on hold until we can safely seat up to 6 students in the classroom. We'll let y'all know when we can offer them again. Until then, we're offering most of our class material in private lessons.
To keep up with our efforts and real time announcements, please follow us on social media:
Facebook - https://www.facebook.com/yarnivoresa/
Instagram - https://www.instagram.com/yarnivoresa/
Twitter - https://twitter.com/YarnivoreSA

If you have a question for one of our teachers, you can email us at yarnivoresa@gmail.com.
You can also email Wendy with knitting or crochet questions at wendy.yarnivore@gmail.com or contact her through her Facebook page - https://www.facebook.com/Wendy.at.Yarnivore/
---
We absolutely do not EVER want to spam you. If you don't want to get this newsletter, then we will take you off the list. No problem. No questions asked. There's an unsubscribe link below, or you can just call us.