Skip Navigation
Website Accessibility
Happy Pi(e) Day!

---
---
Happy Pi(e) Day

Celebrate with Pie — and Shawls!

Today is March 14, AKA 3/14. Which is PI DAY!

Why is it called Pi Day? Because the numerical date in American notation is 3/14, which is the same as pi,* the Greek letter used in mathematics to represent the ratio of a circle's circumference to its diameter.

How do you celebrate Pi Day? Traditionally, you celebrate by eating Pie, of course, which is a good enough reason for even non-math-geeks to enjoy Pi Day. You can go all in with quiche for breakfast, pizza for lunch, and shepherd's pie for dinner, with a lovely pie for dessert. Or eat round or spherical foods. Bonus points if you figure out the area of the circle or the volume of the sphere.

BUT! If you're a knitter or crocheter, there's another FABULOUS way to celebrate Pi Day! You can start a Pi Shawl!

The Pi Shawl concept was unvented (click to learn what that means) by the late Elizabeth Zimmerman, one of the greatest knitting minds of all time (Our Wendy's knitting hero!). She realized that the mathematical rule on which Pi is based could be used to make knitted circles. Later, some very smart crocheters (here's one we like) figured out that it would work with crochet as well, though with taller crochet stitches, it does need more intensive blocking.

What's the rule? Every time the diameter doubles, the circumference must also double. Substitute "rows/rounds" for diameter and "stitches" for circumference, and you've got it!

Pi Shawl Formula: Every time the number of rows/rounds double, you must double the number of stitches.

So you start with one round (or row if you're doing a half-circle), then double the stitches on row 2, double again on row 4, and row 8, row 16, row 32, row 64, row 128, and so on!

Start with 8 or 9 stitches and have fun!

Want to learn more? We highly encourage you to have a look at Elizabeth Zimmerman's book Knitter's Almanac (or look at its Goodreads page). Our Wendy considers this a Must-Have book for any knitter!
You may also want to look at this free EZ 100th Anniversary Pi Shawl pattern from Mwaa Knit: Ravelry Link, Direct PDF link (will start download)

Crocheters, check out this blog post by Michelle/DoraDoes!
Here's a full-circle Tunisian crochet Pi Shawl: Anansi Shawl ($5.50ish) on Yarntowers.com
Half-circle Pi: Bow-tie Pi by Cheri McEwan: FREE Ravelry link

We hope you enjoyed reading our happy geek-out over numbers and yarn! If you enjoy geeking out with yarn/fiber people, Wendy, Hannah, Moses, and Caryn all identify as Geeks/Nerds in best possible way and are here for all your Yarn Geek needs.


Be safe, be well, be kind!
-Caryn & the Yarnivore crew

*okay, so it's the same as the first three digits, but for most uses, the first three digits of π are close enough for most uses.
---
Helping Hands for Ukraine

Four more days to donate and win prizes


---
Featured Pattern & Yarn
In the spirit of Pi day, here's a fun Pi Day Pin pattern! The Pie Pin for Pi Day by Diane Trap is a FREE knitting pattern available on Ravelry (if Rav gives you eye problems, let us know and we'll print it for you. It takes small amounts of worsted weight yarn, plus a few beads and a pin back, so it's a great stash project!

Hours - We're open 7 days a week!
11-5 Monday-Saturday
Noon-5 Sunday
Private Lessons
In-store and online private lessons are available! Please call 210-979-8255 to schedule a lesson! Wendy, Dawn, Moses, and Nancy M. are all available to help you with your projects! Private Lessons can be scheduled outside of regular hours at the discretion of the teacher.


---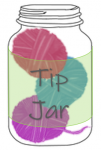 The Tip Jar

Take a hint from the nicer clothing retailers! When you make a sweater or other gift piece, wind up a bit of leftover yarn/thread and an extra button and put it in a ziplock bag to save just in case the piece ever gets a little hole or loses a button. Include the ziplock bag in with the gift! Or keep it in a "hope I never need this" drawer somewhere. Almost any damage can be fixed IF you have matching yarn. How much? 5-10 yards is a good amount.

---
All regular classes are currently on hold until we can safely seat up to 6 students in the classroom. We'll let y'all know when we can offer them again. Until then, we're offering most of our class material in private lessons.
To keep up with our efforts and real time announcements, please follow us on social media:
Facebook - https://www.facebook.com/yarnivoresa/
Instagram - https://www.instagram.com/yarnivoresa/
Twitter - https://twitter.com/YarnivoreSA

If you have a question for one of our teachers, you can email us at yarnivoresa@gmail.com.
You can also email Wendy with knitting or crochet questions at wendy.yarnivore@gmail.com or contact her through her Facebook page - https://www.facebook.com/Wendy.at.Yarnivore/
---
We absolutely do not EVER want to spam you. If you don't want to get this newsletter, then we will take you off the list. No problem. No questions asked. There's an unsubscribe link below, or you can just call us.