Repair stuff, but make it ART!

---
---
Don't Despair - Repair!

Saving the world one stitch at a time

Maybe our elders were on to something. Back when I was growing up, I often heard my grandparents say "make do and mend!" If my pantyhose got a run, one of my Grandma would fix it with some clear nail polish and sewing thread. They would darn socks so that the holes actually went away (unlike Dad who would hold them up and sternly say, "Darn You!" to any sock that dared to get a hole). They raised and lowered hems, took in side seams, and patched holes.

So many of us nowadays have forgotten those skills. We're used to throwing away socks with holes or jeans with broken zippers. But there's a new trend popping up - mending your clothes is fashionable again! And not just plain mending, but mending that's intended to be seen!

Visible Mending takes many forms: Patching with bits of pretty fabric sewn over holes with embroidery stitches, patches under a tear using sashiko style embroidery, knitting or crocheting new cuffs on a worn sweater, embroidering over an ink-stained shirt pocket, sewing old doilies over elbows, or patches cut from a worn-out purse to reinforce torn knees... What they all have in common is loving handwork, done without worry about perfection. The hashtag #visiblemending on Instagram has some inspiring examples! There are also Visible Mending groups on Reddit and Facebook (Modern Mending Club and Visible Mending are pretty active) that are super supportive!

What do you think? Are you ready to make do and mend your well-loved garments and textiles? If you do, we'd love to see your mends!

Happy Creating!!

-Caryn & the Yarnivore crew
---
New Needlework Books
We've just gotten in some sweet new embroidery books that would be great for some visible mending projects:

-Handy Pocket Guide to Embroidery Stitching - This one is little but powerful. It has guides to embroidery stitches, adding embellishments, and applique!

-Doodle Stitching: One-Hour Embroidery - This sweet book has over 135 adorable embroidery designs and several project ideas to go with them!

-The Stitches of Creative Embroidery - This TOME has pretty much anything any embroiderer would ever need! It's an encyclopedia, basically!


Hours - We're open 7 days a week!
11-5 Monday-Saturday
Noon-5 Sunday
Private Lessons
In-store and online private lessons are available! Please call 210-979-8255 to schedule a lesson! Wendy, Dawn, Moses, and Nancy are all available to help you with your projects! Private Lessons can be scheduled outside of regular hours at the discretion of the teacher.


---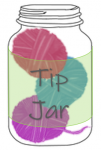 The Tip Jar

Do you find it overwhelming to have ALL THOSE ENDS to weave in at the end of a project? Make it easier on yourself by doing it as you go! Every time you pick up your project, just look it over to see if there are any ends you could take care of before you continue. Now you'll only have ONE to do when the project is finished!



---
All regular classes are currently on hold until we can safely seat up to 6 students in the classroom. We'll let y'all know when we can offer them again. Until then, we're offering most of our class material in private lessons.
To keep up with our efforts and real time announcements, please follow us on social media:
Facebook - https://www.facebook.com/yarnivoresa/
Instagram - https://www.instagram.com/yarnivoresa/
Twitter - https://twitter.com/YarnivoreSA

If you have a question for one of our teachers, you can email us at yarnivoresa@gmail.com.
You can also email Wendy with knitting or crochet questions at wendy.yarnivore@gmail.com or contact her through her Facebook page - https://www.facebook.com/Wendy.at.Yarnivore/
---
We absolutely do not EVER want to spam you. If you don't want to get this newsletter, then we will take you off the list. No problem. No questions asked. There's an unsubscribe link below, or you can just call us.