Skip Navigation
Website Accessibility
We love y'all THIS MUCH!

---
---
How Do We Love Thee?

To put it plainly, we love y'all LOTS and LOTS!

The last 2 years have been stressful for ev-er-y-bo-dy and your support has kept us going financially and spiritually. Y'all make it so easy to greet the day with a smile that we wanted to bring one to your faces, too.*

Local Yarn Shop day is Saturday, April 30th, and we have fun things planned! We have gifts for every shopper and prize drawings (no purchase needed). Please drop by to see all of the spring yarns and new doodads that we have!

We love y'all!!

-Caryn & the Yarnivore crew


* The wee pocket hug pictured is a free pattern available on Ravelry
---
---
Featured Yarn & Pattern
Not all wool is the same. Most of you know that Merino wool is the softest wool you can get. However, even Merino has different levels of fineness. For example, when you hear someone talk about microns, they're referring to the fiber's diameter. Smaller numbers are finer (softer); Merino is usually 24-18 microns.

What's the point of this fascinating information? ;) Yarnivore just received its first shipment of 16 Fingering from Urth Yarns and it's YUMMY! 16 Fingering is 16 microns, so it's very soft. It comes in a variety of colors (Yarnivore has 24) with beautiful tonal shades. We like this yarn for heirloom quality hats, mittens, shawls, and sweaters. The Abundance Cowl and Beanie by Yiğitcan Vatansever ($5 each in-store or on Ravelry), or The Sepet Shawl by Catherine Salter Bayar ($7 in-store or on Ravelry); both look and feel great in 16 Fingering!

Hours this week
11-5 Monday-Saturday
Closed Sunday for Easter!


Private Lessons
In-store and online private lessons are available! Please call 210-979-8255 to schedule a lesson! Wendy, Dawn, Moses, and Nancy are all available to help you with your projects! Private Lessons can be scheduled outside of regular hours at the discretion of the teacher.


---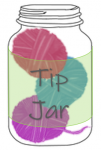 The Tip Jar

How do you know if your yarn needs to be wound into a ball or cake? Just look for the spiral! Yarns that are in round balls like Alba, in oval balls like Cascade 220 Superwash, in oblong pull-skeins like Cotton Fleece, or in cakes like Whirl, are all ready to work directly from. These do NOT need winding.

Yarns that are in hanks (aka twisted skeins), on the other hand, DO need to be wound before use! You can tell it's a hank because the whole thing is twisted in a spiral. Here are some examples: Chaos Whisper, Frenzy, Marled Madness.

If you have a spiraled hank of yarn that needs winding, we can help! We wind yarn bought here for free, and yarn bought elsewhere for 1¢ per yard.


---
All regular classes are currently on hold until we can safely seat up to 6 students in the classroom. We'll let y'all know when we can offer them again. Until then, we're offering most of our class material in private lessons.
To keep up with our efforts and real time announcements, please follow us on social media:
Facebook - https://www.facebook.com/yarnivoresa/
Instagram - https://www.instagram.com/yarnivoresa/
Twitter - https://twitter.com/YarnivoreSA

If you have a question for one of our teachers, you can email us at yarnivoresa@gmail.com.
You can also email Wendy with knitting or crochet questions at wendy.yarnivore@gmail.com or contact her through her Facebook page - https://www.facebook.com/Wendy.at.Yarnivore/
---
We absolutely do not EVER want to spam you. If you don't want to get this newsletter, then we will take you off the list. No problem. No questions asked. There's an unsubscribe link below, or you can just call us.