Skip Navigation
Website Accessibility
Button, button, use those buttons!

---
---
Button it Up!

Choosing and using buttons for your handmade projects

Buttons are so much fun! They come in every color of the rainbow, every material, and every theme. You can get gemstone buttons, plastic buttons, geeky buttons, elegant buttons, bone, horn, and shell buttons... You may even have a cookie tin full of buttons! But - do you USE your buttons?

It's sometimes scary to actually use the buttons on your handmade garments! First, there's the whole buttonhole thing, and then choosing the right size button, and then how do you even sew them on so they don't stretch out your fabric. So many things to worry about!

Avoid the worries by using these no-sew button methods:

1. Double-buttons-loose-fabric: Often with knitted or crocheted garments, the fabric itself is just loose enough to get a button through with a little stretching. If you have a button you like for that cardigan, try slipping it between some stitches. If the button fits, then get another bigger button for the back and sew them together back-to-back (with a matchstick between them to keep them separated a little. Then just push one of the two through both layers of fabric.

2. Button-magnet: Grab a button you like and use E6000 glue to secure a neodymium magnet at the back (if it's a sew-through button, sew a little into it first for the illusion of a sewn button. Then, when you want to "button" the garment, just hold the button-magnet in front and a stainless steel square or disc behind! You probably don't want to use this for something that needs to stay closed.

3. Button safety-pins: Just use these pins to secure the button in place. You may still need a buttonhole.

Have fun looking through your buttons!

-Caryn & the Yarnivore crew


---
Featured Yarn & Pattern
Berroco Vivo is a soft cotton DK-weight yarn in pretty summertime that flow in a long-color-change. It's great for warm weather tops and shawls!
Beryl, a short sleeve simple-intarsia top by Amy Christoffers is a great choice for this yarn. Using two different colorways creates a neat yoke effect! The pattern is $8 in-store, on Ravelry, or on the Berroco website.

Hours this week
11-5 Monday-Saturday
12-5 Sunday

Private Lessons
In-store and online private lessons are available! Please call 210-979-8255 to schedule a lesson! Wendy, Dawn, Moses, and Nancy are all available to help you with your projects! Private Lessons can be scheduled outside of regular hours at the discretion of the teacher.


---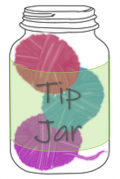 The Tip Jar

Need to wash something handmade without damaging it? You will often see recommendations to use Dreft or Ivory Snow soap powder, since they're gentle and natural. BUT! If you live the in the San Antonio area (or somewhere else with very hard water) and you don't have a water softener, you should not use these! Soap reacts to the calcium in hard water and can create a grey film on fabrics. Not pretty.*

Instead, use Dawn dish liquid for really dirty pieces, or for refreshing something that's not too dirty, use a no-rinse wool/delicate wash like Soak or Eucalan.

*We also recommend you avoid Woolite, as it can cause long-term fiber damage.
---
All regular classes are currently on hold until we can safely seat up to 6 students in the classroom. We'll let y'all know when we can offer them again. Until then, we're offering most of our class material in private lessons.
To keep up with our efforts and real time announcements, please follow us on social media:
Facebook - https://www.facebook.com/yarnivoresa/
Instagram - https://www.instagram.com/yarnivoresa/
Twitter - https://twitter.com/YarnivoreSA

If you have a question for one of our teachers, you can email us at yarnivoresa@gmail.com.
You can also email Wendy with knitting or crochet questions at wendy.yarnivore@gmail.com or contact her through her Facebook page - https://www.facebook.com/Wendy.at.Yarnivore/
---
We absolutely do not EVER want to spam you. If you don't want to get this newsletter, then we will take you off the list. No problem. No questions asked. There's an unsubscribe link below, or you can just call us.