Skip Navigation
Website Accessibility
What size is that mystery yarn?

---
---
Identifying Mystery Yarn, part 2

What size is this yarn? Worsted? DK?

Last week we talked about figuring out the fiber content of a Mystery Yarn. This week, we're going to figure out how thicc the yarn is, and even how to figure out how much yardage you have.

Yarn weight or size refers to the thickness of the strand of yarn, and it is one of the most important characteristics of a yarn. Yarn weight can be listed by it's name (Fingering, Sport, DK, Worsted, Bulky/Chunky, etc), by ply number (common in the UK, New Zealand, and Australia and having nothing to do with the actual number of plies in a strand of yarn), or by Yarn Standards Number (sizes 0-7).

If you look on google for instructions to figure out your yarn's weight, you'll see lots of people telling you to measure its Wraps Per Inch (WPI), and we'll tell you, too, but before we do, you need to be aware that WPI is not always terribly accurate, so you don't want to rely on it alone. Why isn't it accurate? Because almost all yarns have some amount of stretch, and because some people wrap tighter than others.

Here are the four steps Our Wendy suggests to figure out a yarn's weight:
1. Visual comparison - compare your mystery yarn to other yarns in your stash to see what it seems similar to. Check it against other yarns both stretched and unstretched.
2. Touch test - hold your mystery yarn and a comparison yarn next to each other between thumb and forefinger and roll them back and forth between your fingers. Fingers are really smart and you'll be able to tell if they're the same size pretty quickly.
3. WPI test - use this only for confirmation or if you don't have any yarn to compare the mystery yarn to. See the Tip Jar, below, for how to do the WPI test.
4. Swatch test - make a standard gauge swatch with your mystery yarn for a final confirmation. Using the knit or crochet gauge range in the chart below to choose needle size and stitch number, make a 4" swatch of your mystery yarn and see if you can get gauge without the swatch being overly loose/lacy or stiff/board-like.

Have fun playing with your yarn!


-Caryn & the Yarnivore crew


---
Featured Yarn & Pattern
Who doesn't love a gorgeous bag? We sure do! The Mykonos bag by AlyseCrochet ($5 in-store, on Ravelry, or on Etsy) is one of the most beautiful we've seen in ages! It uses mosaic crochet to make a stunning greek-inspired design. You really need to click to the Etsy or Ravelry page for this beauty to see how pretty the bottom is!
We suggest using Coastal Cotton for a washable bag perfect for all your summer adventures!

Hours this week
11-5 Monday-Saturday
12-5 Sunday

Private Lessons
In-store and online private lessons are available! Please call 210-979-8255 to schedule a lesson! Wendy, Dawn, Moses, and Nancy are all available to help you with your projects! Private Lessons can be scheduled outside of regular hours at the discretion of the teacher.


---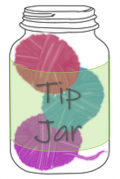 The Tip Jar

Measuring WPI (wraps per inch) with the greatest accuracy:
Grab a large knitting needle or a pencil and wrap your yarn around it without stretching the yarn and wrapping it by turning the needle or pencil so that it winds straight with each wrap completely touching the wrap next to it but not overlapping. Wrap for at least 2 inches, then secure the wrapped yarn by taping down the ends of the yarn. Hold a ruler up to the wrapped yarn and count how many wraps are in 2 inches, then divide by 2 to get WPI. Compare your results to this chart to see what size it is.
---
All regular classes are currently on hold until we can safely seat up to 6 students in the classroom. We'll let y'all know when we can offer them again. Until then, we're offering most of our class material in private lessons.
To keep up with our efforts and real time announcements, please follow us on social media:
Facebook - https://www.facebook.com/yarnivoresa/
Instagram - https://www.instagram.com/yarnivoresa/
Twitter - https://twitter.com/YarnivoreSA

If you have a question for one of our teachers, you can email us at yarnivoresa@gmail.com.
You can also email Wendy with knitting or crochet questions at wendy.yarnivore@gmail.com or contact her through her Facebook page - https://www.facebook.com/Wendy.at.Yarnivore/
---
We absolutely do not EVER want to spam you. If you don't want to get this newsletter, then we will take you off the list. No problem. No questions asked. There's an unsubscribe link below, or you can just call us.