Figuring out Mystery Yard Yardage!

---
---
Identifying Mystery Yarn, part 3

Do I have enough yarn for my project?

We've figured out the fiber content of our mystery yarn, and its weight. So now, how much of it do we have? Is it enough for a hat? A scarf? A sweater? Let's find out!

Below, we show three ways to estimate the yardage of your mystery yarn. None of them are 100% accurate, but then, neither is the yardage listed on a ball of yarn. Yarn mills use winding machines under tension to measure their yarn, but we knit and crochet with much less tension, so yardage can be a little shorter. With that in mind, let's figure out our Mystery Yarn's yardage!

The easiest and least accurate way is to estimate yardage based on the yarn size (worsted, bulky, fingering) and the yarn's weight in pounds. First, figure out your Mystery Yarn's size as we showed you last week, then weigh your yarn in pounds. If you have pounds and ounces, convert the ounces to decimals (this converter is the easiest way), then MULTIPLY the number of pounds times the Average Yards Per Pound in the chart below. For example, if you have a yarn that is worsted weight and it weighs 3 oz total, that is a little less than a fourth of a pound - 0.1875 lb. Multiply 1000 (avg worsted yards) x 0.1875 lb, and you have an estimated 187 yards. But that is only an average so you could be off by as much as 10%.




Want a slightly more accurate measurement? Measure and cut off 10 yards of yarn and weigh it. (We usually use grams because most kitchen scales are more accurate in metric.) Now weigh the remaining yarn. Divide the weight of the remaining yarn by the weight of the 10 yard sample, then multiply the result times 10.
Example: 10 yd = 7 g. Remaining ball is 68 g.
68 g ÷ 7 g per 10 yds = 9.7 sets of 10 yds.
9.7 x 10 yds = 97 yards

The most accurate way? Wind your entire ball of Mystery Yarn onto something with a fixed circumference, then count the number of strands of yarn and multiply it by the circumference of the winding tool. There are tools made for exactly this purpose - a NON-collapsible skein winder or a niddy-noddy are both made to be able to measure full yards. If you don't have those, you can use anything with a circumference you can measure, but if it's not an exact yard, you'll measure in inches, then divide by 36 to get the yardage.
If you use a 2 yard skein winder and have 98 strands, then that's 98 x 2, which means your ball has 196 yards.
Maybe instead you use a large USPS flat rate box that measures 12.25" by 12" - that's a 48.5" circumference. After winding your yarn around the box, you count the strands and there are 145 strands. 145 x 48.5 is 7032 INCHES. To get yards, divide 7032 by 36, which is 195 yards.

Don't like all the math? Then ignore the yardage and just weigh your yarn. In general, 100 grams of yarn will knit or crochet to pretty much the same size no matter how much actual yardage there is. More on that in a future newsletter.

May you always win at Yarn Chicken!*


-Caryn & the Yarnivore crew

*Yarn Chicken - A game in which you work the last row, hoping you don't run out of yarn before the end. You win if you are able to complete the final row without buying more yarn or having to undo a few rows.
---
Featured Yarn & Pattern
Here's a unique warm-weather knit: The Crazy Stripes Tee by Alfa Knits! This pullover is knit seamlessly from the top down, with diagonal stripes formed by short rows. Because it's knit in Fingering weight yarn, it will be comfortable even in very warm weather! Available only on Ravelry for €6.90 Euros (about $7.74).
We think it's a great pattern for Urth Yarn's 16 Fingering - a collection of fun tonal yarns in 100% superwash merino.

Hours this week
11-5 Monday-Saturday
12-5 Sunday

Private Lessons
In-store and online private lessons are available! Please call 210-979-8255 to schedule a lesson! Wendy, Dawn, Moses, and Nancy are all available to help you with your projects! Private Lessons can be scheduled outside of regular hours at the discretion of the teacher.


---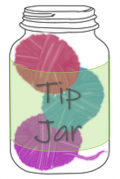 The Tip Jar

Need to measure something and you don't have a tape measure or ruler handy? Throw some money at the problem! A US dollar bill (or a $100 bill, for that matter) is 6.14" long and 2.61" wide. So you can measure how many dollars wide or tall the thing is, and multiply that times 6.14 or 2.61!

You can also use printer paper (11" high, 8.5" long) for bigger things, and credit cards (3.375" wide, 2.125" high) for smaller things.
---
All regular classes are currently on hold until we can safely seat up to 6 students in the classroom. We'll let y'all know when we can offer them again. Until then, we're offering most of our class material in private lessons.
To keep up with our efforts and real time announcements, please follow us on social media:
Facebook - https://www.facebook.com/yarnivoresa/
Instagram - https://www.instagram.com/yarnivoresa/
Twitter - https://twitter.com/YarnivoreSA

If you have a question for one of our teachers, you can email us at yarnivoresa@gmail.com.
You can also email Wendy with knitting or crochet questions at wendy.yarnivore@gmail.com or contact her through her Facebook page - https://www.facebook.com/Wendy.at.Yarnivore/
---
We absolutely do not EVER want to spam you. If you don't want to get this newsletter, then we will take you off the list. No problem. No questions asked. There's an unsubscribe link below, or you can just call us.