But Is It Machine Washable?

---
---
Identifying Mystery Yarn, part 4

But can I machine wash it?

So we figured out the fiber content, size, and yardage of our mystery yarn, but now, the most important question:

"Can I machine wash and dry it?"*

You got your first clues when you figured out the fiber content. If the yarn is 100% plant fiber or man-made fiber, it's almost certainly machine washable. There are exceptions, though, so a washability test may still be important.

If it's animal fiber, it's far less likely to be machine washable, but you may get lucky and find that it's a superwash yarn! Keep reading for the washability tests.

Spit-splice test
This test is the first one to do with animal fiber yarn.
1. Break off (or cut) a small piece of yarn.
2. Fluff the broken (or cut) end of the newly-removed piece and the original yarn.
3. Get both ends thoroughly wet for about an inch - yes, as the name implies, the best fluid to use is, uh, saliva. Yes, it's gross. If you don't want to, you can use water or hand sanitizer, but it will take longer.
4. Overlap the two wet ends in the palm of your hand (as if to reattach them) and place your other hand on top, sandwiching the ends in a hand-sandwich.
5. Rub your hands together hard and fast as if they're really cold and you're trying to heat them up. Keep rubbing until your hands are warm and dry! It may take a few minutes! If your hands are too soft and smooth (as can sometimes happen with aging), rub against a piece of denim or canvas instead.
6. Check if it's spliced! If the yarn ends are now felted and joined together, no further testing is necessary - that yarn is hand-wash only. If it didn't join, then it's probably machine washable, but double check with one more little test.

The AbrasionTest
This two-part test works to check washability for any type of yarn.
Start by making a swatch of your yarn (you're going to do one for gauge anyway, right? RIGHT?!)
When you are pretty sure you've gotten gauge (by swatching, washing, and blocking your swatch), and your swatch is dry again, you're ready to test it.
1. Check for dry abrasion: Take your dry swatch, lay it on a cushioned surface, and vigorously rub it with your fingertips for a minute. If it pills up immediately or if lots of fibers pull away from the surface, then it should not go in the washing machine! (It also should not be used for a sweater or socks or anything else that gets much rubbing).
2. Check for wet abrasion: Fill a sink or bowl with lukewarm water and plunge your swatch inside. Grab a couple of corners and rub the swatch against itself (as if you were trying to get a stain out) for a full minute, then remove it, squeeze the excess water out and lay it flat to dry. Again, if fibers are pulling away from the surface, if it breaks at all, or if it looks damaged, then don't machine wash it! You may want to check again once it's dry.

Test Wash the Swatch
Lastly, give the swatch itself a ride through the washer (and the dryer if you may want to machine dry it)! Put it in with the load you would want to use - usually delicate, but if you're thinking of making baby things, you may want to try a normal load. If it still looks good after that, then you're perfectly safe machine washing anything you make from that yarn!

"But can I machine-dry it?" No. Just no. The dryer is a fabric destruction machine. All that lint? Is your clothes falling apart. Most of us don't mind a t-shirt or jeans wearing down a bit, but why do that to your handmade items when all you really need to do is lay them down somewhere reasonably flat to dry?

Have fun solving your yarn mysteries!


-Caryn & the Yarnivore crew

*Not that we're all against handwashing. We don't mind, really, but it's nice if you can just throw it in the machine.
---
Featured Yarn & Pattern
We got a new sample cardigan in the shop this week - Sapphire by Åsa Buchta - and it's SO CUTE, Y'ALL!! The official pattern photos do NOT do it justice at all! This slightly cropped 3/4-sleeve cardi is a true dolman shape, so it has a very forgiving fit at the bust, and it creates a beautiful shape on nearly every body. This pattern also has the largest size range we've ever seen! It's sized by waist measurement and goes from 32½ to 72½ inches! Sapphire is $8 in-store, on Ravelry, or on Berroco.com.
The deeply textured stitch pattern makes the most of the stripes in Berroco Vivo, a summery 100% cotton yarn that comes in four beautiful colorways.

Hours this week
11-5 Monday-Saturday
12-5 Sunday

Private Lessons
In-store and online private lessons are available! Please call 210-979-8255 to schedule a lesson! Wendy, Dawn, Moses, and Nancy are all available to help you with your projects! Private Lessons can be scheduled outside of regular hours at the discretion of the teacher.


---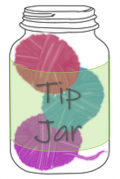 The Tip Jar

Today's tip is a What NOT To Do! When you're putting away your needles, hooks, or other fiber/yarn tools, please do not store them wrapped in rubber bands or in cellophane/scotch tape! Over time, rubber hardens and can fuse to the surface of your tools, and the adhesive on scotch tape (and most adhesive tape) almost always leaves a difficult-to-remove sticky film on most surfaces.

What to use instead? Covered hair elastics can do everything rubber bands can do, but without leaving any residue or causing any damage. If you absolutely MUST use a rubber band, put some scrap fabric or paper around the item first, so that the rubber doesn't cause damage. If you must tape something, use painter's tape if you'll remove the tape within a week, or (more expensive) gaffer's tape for longer periods, but we don't recommend taping anything permanently.
---
All regular classes are currently on hold until we can safely seat up to 6 students in the classroom. We'll let y'all know when we can offer them again. Until then, we're offering most of our class material in private lessons.
To keep up with our efforts and real time announcements, please follow us on social media:
Facebook - https://www.facebook.com/yarnivoresa/
Instagram - https://www.instagram.com/yarnivoresa/
Twitter - https://twitter.com/YarnivoreSA

If you have a question for one of our teachers, you can email us at yarnivoresa@gmail.com.
You can also email Wendy with knitting or crochet questions at wendy.yarnivore@gmail.com or contact her through her Facebook page - https://www.facebook.com/Wendy.at.Yarnivore/
---
We absolutely do not EVER want to spam you. If you don't want to get this newsletter, then we will take you off the list. No problem. No questions asked. There's an unsubscribe link below, or you can just call us.