Yarn Chicken is No Fun!

---
---
How to Win at Yarn Chicken
Making sure you have enough yarn for that last row

Ugh! You got halfway across the bind off row (or last crochet row) and ran out of yarn - AGAIN! Why does this keep happening and how can you prevent it?

Here at Yarnivore, we call that "Yarn Chicken" (after the very dangerous road game that we very much hope you don't EVER play). We hardly ever play yarn chicken on purpose. It usually happens in one of the following circumstances:
-We want to make our scarf/shawl/sweater as long as possible.
-We want to use every inch of the yarn because we love it so much.
-We knew we didn't have quite enough yarn but we were overly hopeful.
-Our gauge was off.
-We were trying to make the color-runs match.
-Mercury was in retrograde.

To keep from finding yourself in an unwanted game of Yarn Chicken, we very highly suggest buying an extra skein or ball of yarn for your project. If you don't end up needing it, you can return it for a head start* on the next project.

But what if you were trying to get the project as long as possible or to use every inch of the beautiful and precious yarn? Time for the Kitchen Scale to come to your rescue!

When you're getting close to the end of your project, but still at least 10 rows from the end, weigh your yarn in grams, without the ball band. Now work five rows and weigh the yarn again. Subtract the second number from the first, and that will tell you how many grams of yarn it takes to work 5 rows. Divide that by 5 and that tells you how much yarn you need for each row.

If you're crocheting, you need to have at least one row worth of yarn left to finish the last row. If you are working a pattern that takes multiple rows, you need that many rows worth to finish.

If you're knitting, it's best to assume that the bind-off row will take 1½ to 2 rows worth of yarn. If you're working a pattern that takes multiple rows, you need that many rows worth PLUS 2 rows more to finish.

If you're working a pattern that increases, like a triangular or wedge-shaped shawl, you can do a little bit more math. You'll have to add the number of extra stitches you'll be working on each row. Every stitch you increase is also added to the stitch count of every row thereafter, so it adds up fast! The most common increase rate is 2 stitches every right-side row, which adds 4 stitches on the first two rows, another 8 for the next two, another 12 for the next two, etc. - so that 10 rows adds 60 more stitches total. Just count on needing a lot more than you think!

Hoping you always have enough yarn to bind off,


-Caryn & the Yarnivore crew

*All unused yarn bought at Yarnivore can be returned for store credit within 90 days.
---
Featured Yarn & Pattern
Flax/Linen is the MOST comfortable fiber in the heat. Add a pattern that's mostly air, like the Jordan Sleeveless Pineapple Top by Vicky Chan (Ravelry Link), and you've got the ultimate warm weather crocheted top! The pattern goes up to a 52" chest, and is very forgiving. Pineapple designs are mostly chain, so they go very quickly!

Hours this week
11-5 Monday-Saturday
12-5 Sunday

Private Lessons
In-store and online private lessons are available! Please call 210-979-8255 to schedule a lesson! Wendy, Dawn, Moses, and Nancy are all available to help you with your projects! Private Lessons can be scheduled outside of regular hours at the discretion of the teacher.


---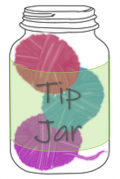 The Tip Jar

Keep a nail file in your notions case! Firstly, it helps keep you from snagging your yarn on a badly behaved fingernail! But it's also great for smoothing down rough spots on a wooden needle, or on plastic tools like cable needles or yarn needles!

Don't have one? Yarnivore is giving away FREE emery boards while supplies last! Stop in and grab yours!



---
All regular classes are currently on hold until we can safely seat up to 6 students in the classroom. We'll let y'all know when we can offer them again. Until then, we're offering most of our class material in private lessons.
To keep up with our efforts and real time announcements, please follow us on social media:
Facebook - https://www.facebook.com/yarnivoresa/
Instagram - https://www.instagram.com/yarnivoresa/
Twitter - https://twitter.com/YarnivoreSA

If you have a question for one of our teachers, you can email us at yarnivoresa@gmail.com.
You can also email Wendy with knitting or crochet questions at wendy.yarnivore@gmail.com or contact her through her Facebook page - https://www.facebook.com/Wendy.at.Yarnivore/
---
We absolutely do not EVER want to spam you. If you don't want to get this newsletter, then we will take you off the list. No problem. No questions asked. There's an unsubscribe link below, or you can just call us.