Let us throw you a LIFELINE!

---
---
How to Use Lifelines
They are not just for lace - and not just for knitting, either

Lifelines are one of the most underused tools in the knitting world! Many people think they're just for lace knitting, but they are not. They're for anything that you're worried about making mistakes and want a safe place to rip back. And you can use the life-line idea with crochet, too. Today we'll tell you how to use lifelines the easiest way!

What is a lifeline? It's a smooth, contrasting-color thread that's strung through all the live stitches on the knitting needle to mark the stitches of one row, when you know that all the knitting up to that point is correct, or if you want to mark a certain row to measure from later. We usually use dental floss for lifelines, since it's quite smooth, leaves no residue, and comes in a few colors.

Inserting lifelines can be done it two ways. The most common is to string your thread or floss onto a darning/yarn needle, then carefully sew through all the open loops on the knitting needle without removing them from the knitting needle. Even easier is to use a knitting needle with a built-in lifeline hole - most interchangeables with a tightening hold work, and others, like Addi interchangeables, have a slit in the cord for holding a lifeline. To use those, thread your life-line cord through the hole or slit with enough of a tail so that it won't fall out and then just knit as normal.

On the next row, knit as normal, but taking care not to catch the lifeline in any new stitches - it's much easier than it sounds.

Where some people get in to trouble is when they make a mistake and have to rip back to the lifeline. What you don't want to do is just pull the knitting off the needle and rip back to the lifeline. That soft thread is not strong enough to hold your loops open. It's only a marker!

If you have to rip back, do this instead:
Use the lifeline as a guide to insert a much smaller knitting needle* along the path the lifeline takes. If the lifeline goes over or under a strand, so does your "break" needle! Carefully follow where the lifeline goes. Once the needle is fully inserted, then you can pull the knitting off the original needles and rip back to your inserted break needle.

Now you can reknit your project from there, knitting the next row directly off the break needle.

So how about crochet? Well, you don't need a lifeline, but you can use a thread marker to mark either a stitch or a row where you know everything below that point is correct, or to mark a measuring point. To mark a stitch, just tie a loose loop of dental floss or smooth thread around the stitch you want to mark. To mark a row, use a darning needle to stitch through the posts of the row you want to mark.

For Tunisian crochet, you can insert a lifeline through the open loops of a row before working the return row.

Have fun with your lifelines!


-Caryn & the Yarnivore crew

*We suggest keeping a US size 1 or 0 circular needle in a 40" length in your toolkit, just for fixing mistakes.

---


Yarnivore will be closed next Monday for the Fourth of July

We wish you all a happy and meaningful holiday!




---
Featured Yarn & Pattern
We love an interesting pattern! This one is one of the most beautiful and interesting we've seen: Wear With Pride is a beautiful circular-to-triangle knitted shawl by Christin Kimsey. This fingering-weight shawl uses mini-skeins or leftovers of 7 accent colors, plus 2 skeins of main color, and another skein of accent color. It's a perfect project for Dream In Color Minis or Urth 16 Fingering, along with Malabrigo Sock or Tosh Sock for the Main color - or use some of the gorgeous tonal yarns from the Stash! The pattern is £3.50 (about $4.30 US) and available in-store, on Ravelry, or on LoveCrafts.com.

Hours this week
11-5 Monday-Saturday
12-5 Sunday
CLOSED next Monday for Fourth of July!
Private Lessons
In-store and online private lessons are available! Please call 210-979-8255 to schedule a lesson! Wendy, Dawn, Moses, and Nancy are all available to help you with your projects! Private Lessons can be scheduled outside of regular hours at the discretion of the teacher.


---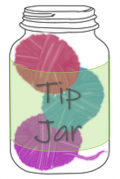 The Tip Jar

It came up again in the shop today, so we thought it would be a good idea to remind you of the rules for pulling yarn from the inside or outside of the ball/cake/skein.

Most yarns can be pulled from the inside of the ball or skein, and we usually do because it keeps them from rolling off and under the couch and making friends with the dust bunnies. BUT! Yarns that are slippery/silky like a lot of rayons, and yarns that are fuzzy/furry like angora and faux fur MUST be pulled from the outside!


---
All regular classes are currently on hold until we can safely seat up to 6 students in the classroom. We'll let y'all know when we can offer them again. Until then, we're offering most of our class material in private lessons.
To keep up with our efforts and real time announcements, please follow us on social media:
Facebook - https://www.facebook.com/yarnivoresa/
Instagram - https://www.instagram.com/yarnivoresa/
Twitter - https://twitter.com/YarnivoreSA

If you have a question for one of our teachers, you can email us at yarnivoresa@gmail.com.
You can also email Wendy with knitting or crochet questions at wendy.yarnivore@gmail.com or contact her through her Facebook page - https://www.facebook.com/Wendy.at.Yarnivore/
---
We absolutely do not EVER want to spam you. If you don't want to get this newsletter, then we will take you off the list. No problem. No questions asked. There's an unsubscribe link below, or you can just call us.