You are gonna like this news!

---
---
Heads Up - Classes Are Coming Back Soon!
We're making plans and we hope you like them!

It has been a long, loong, looooooong time! We have all been through a lot the last few years. It sometimes felt like we would never return to "normal" and we have all suffered losses and life has changed for many in ways we could never have predicted. The old normal is probably gone forever, but we're preparing to take a step towards a new normal.

What will our new normal look like?

We will have group classes with up to four students per class, with evening, daytime, and weekend sessions available. Classes will still require full masks covering nose and mouth, and we will require registration at least a week ahead of time.

We'll also be expanding hours and staying open later one or two days a week.

When will this happen? We're aiming for the beginning of September.

Please continue to watch this space for further announcements as our plans solidify!

We hope you're as excited as we are!
-Caryn & the Yarnivore crew
---
Featured Yarns & Patterns
Need to think cool thoughts during the heat wave? How about some Christmas-in-July and Hanukkah-in-July crafting kits?
-Holiday Needlepoint
-Holiday Cross stitch
-Christmas & Hanukkah Sock Kits
-Punch Needle Ornaments
-Holiday Crochet Amigurumi
-Christmas Needle Felting
-Christmas String Art

Hours this week
11-5 Monday-Saturday
12-5 Sunday

Private Lessons
In-store and online private lessons are available! Please call 210-979-8255 to schedule a lesson! Wendy, Dawn, Moses, and Nancy are all available to help you with your projects! Private Lessons can be scheduled outside of regular hours at the discretion of the teacher.


---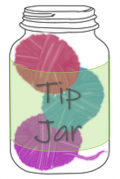 The Tip Jar

Printer ink is super expensive, and color ink even more than black & white, so most of us try to print things in black & white whenever possible, and most of the time that works out great.

BUT!

If you're doing a project with colorwork, we highly suggest printing any charts in color - even if it means going to a copy shop. It will save your sanity!


---
All regular classes are currently on hold until we can safely seat up to 6 students in the classroom. We'll let y'all know when we can offer them again. Until then, we're offering most of our class material in private lessons.
To keep up with our efforts and real time announcements, please follow us on social media:
Facebook - https://www.facebook.com/yarnivoresa/
Instagram - https://www.instagram.com/yarnivoresa/
Twitter - https://twitter.com/YarnivoreSA

If you have a question for one of our teachers, you can email us at yarnivoresa@gmail.com.
You can also email Wendy with knitting or crochet questions at wendy.yarnivore@gmail.com or contact her through her Facebook page - https://www.facebook.com/Wendy.at.Yarnivore/
---
We absolutely do not EVER want to spam you. If you don't want to get this newsletter, then we will take you off the list. No problem. No questions asked. There's an unsubscribe link below, or you can just call us.