Disability Pride Month!

---
---
Happy Disability Pride Month!

The Americans With Disabilities Act was passed 32 years ago

Disability. It can be an uncomfortable topic, but avoiding it can negatively impact the people who live with disability every day. How many people? About 1 in 4 adults in the US have a disability.

There are many types of disabilities, with the most common involving mobility, cognition, independent living, and vision. Many disabilities are invisible (which is why you should never judge the person who parks in the accessible space), so you would never know that person was disabled if they didn't tell you!

Does disability ruin people's lives? NO! Here at Yarnivore, we have multiple disabled staff members, and while they absolutely do have greater challenges than able-bodied people, they still live meaningful and happy lives.

What does this have to do with a yarn shop? Well, first of all, many many disabled people are crafters and love exercising their creativity! And many crafters have disabled people in their lives that they love and want to make things for!

What should you make for people with disabilities? Same things you'd make for people without disabilities, but keeping in mind the limitations of your loved one's disability. If you are a Ravelry member, the pattern search has a category for "medical" which includes all sorts of useful items.

Want to learn more about Disability Pride Month? Here's a great place to start!

Be well, be safe, be kind!
-Caryn & the Yarnivore crew
---
Featured Yarns & Patterns
The most commonly used mobility aid is a cane, and most people start out with a pretty basic medical-looking one. It can get a little boring, honestly. If you or a loved one uses a cane, you can jazz it up a bit with this FREE pattern! My Cane Didn't Want to Be Naked by C.C. Almon of JavaPurl Designs is written for Magic Loop, and would work great with self-striping yarns or any sport weight yarn. We suggest Regia 6-ply Autumn Walk Color.

Hours this week
11-5 Monday-Saturday
12-5 Sunday

Private Lessons
In-store and online private lessons are available! Please call 210-979-8255 to schedule a lesson! Wendy, Dawn, Moses, and Nancy are all available to help you with your projects! Private Lessons can be scheduled outside of regular hours at the discretion of the teacher.


---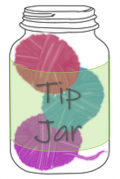 The Tip Jar

Need a really large stitch marker that will fit on US 17 or larger knitting needles? Use covered hair elastics! They slide easily, won't catch on yarn or needles, and come in all sorts of colors! Perfect!





---
All regular classes are currently on hold until we can safely seat up to 6 students in the classroom. We'll let y'all know when we can offer them again. Until then, we're offering most of our class material in private lessons.
To keep up with our efforts and real time announcements, please follow us on social media:
Facebook - https://www.facebook.com/yarnivoresa/
Instagram - https://www.instagram.com/yarnivoresa/
Twitter - https://twitter.com/YarnivoreSA

If you have a question for one of our teachers, you can email us at yarnivoresa@gmail.com.
You can also email Wendy with knitting or crochet questions at wendy.yarnivore@gmail.com or contact her through her Facebook page - https://www.facebook.com/Wendy.at.Yarnivore/
---
We absolutely do not EVER want to spam you. If you don't want to get this newsletter, then we will take you off the list. No problem. No questions asked. There's an unsubscribe link below, or you can just call us.