Knit School Starts Soon!

---
---
Knitting Class Sign-Ups Are OPEN!
Are you ready for Knit School to start?

Are you ready!? Our first group knitting classes since the pandemic began are ready for sign-ups! Knit School starts after Labor Day - in about a month!

Here are the details:
-Knit School starts the Thursday after Labor Day.
-Weekend Knit School is every other Sunday at 2 pm
-Weekday Knit School is every Monday at 1 pm
-Evening Knit School is every Thursday at 5:30 pm
-Pricing is $20 for a one-session class, $35 for a two-session class, and $50 for a three-session class.
-Sessions are 1½ hours with up to 30 minutes for questions afterwards.
-Sign ups are open until one week before class begins.
-There is a two student minimum for a class to "make" with a maximum (for now) of four students in class.
-Masks fully covering nose and mouth are REQUIRED for class, as the instructor (Wendy) is immunocompromised.

Click the links in purple to sign up!

Evening Knit School - Thursdays at 5:30 pm
-Fixing Mistakes Class on Thursday, Sept. 8, with a second session on Sept. 15.
-Knitting Workshop with Wendy, one session on Sept. 22
-Intro to Lace Knitting, two sessions on Sept. 29 & Oct. 6

Weekday Knit School - Mondays at 1 pm
-Beginning Knitting, 3 sessions, Sept. 12, 19, & 26

Weekend Knit School - Every other Sunday at 2 pm
-My First Socks, 3 sessions, Sept. 11, Sept. 25, & Oct. 9

Want crochet, weaving, needlepoint or other classes? We're working on it! We hope to have news on these within the next couple of weeks!

Happy Learning!
-Caryn & the Yarnivore crew
---
Featured Yarn & Pattern
This week, we have a cute crochet pattern for you that's perfect for this steamy summer weather: The Crocheted Dress with Full Skirt by Ulrikke Hennenin is so cute! It features a criss-cross back with instructions on making the bust fit you exactly. It's $7.02 on the HighInFibreCrochet Shop on Etsy. In the photo at right, Our Wendy's cousin Rhianna models her own version (photo used with permission). Rhianna lives in Florida, so she's no stranger to heat and humidity!

What yarns to use? We think Summer Sesame, Medina, or Bamboo Pop will work up beautifully!


Hours this week
11-5 Monday-Saturday
12-5 Sunday


Private Lessons
In-store and online private lessons are available! Please call 210-979-8255 to schedule a lesson! Wendy, Dawn, Moses, and Nancy are all available to help you with your projects! Private Lessons can also be scheduled outside of regular hours at the discretion of the teacher.


---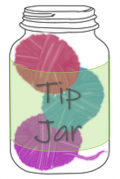 The Tip Jar

Do you have pieces you really love but you don't get to wear as often as you'd like? Try turning it into home decor!

Shawls often look stunning laid over the foot of a bed, draped across a piano, or on the back of a sofa.

You can use scarves as curtain tie-backs, or even drape several over a curtain rod to make a unique window-treatment.



---
To keep up with our activities and real time announcements, please follow us on social media:
Facebook - https://www.facebook.com/yarnivoresa/
Instagram - https://www.instagram.com/yarnivoresa/
Twitter - https://twitter.com/YarnivoreSA

If you have a question for one of our teachers, you can email us at yarnivoresa@gmail.com.
You can also email Wendy with knitting or crochet questions at wendy.yarnivore@gmail.com or contact her through her Facebook page - https://www.facebook.com/Wendy.at.Yarnivore/
---
We absolutely do not EVER want to spam you. If you don't want to get this newsletter, then we will take you off the list. No problem. No questions asked. There's an unsubscribe link below, or you can just call us.