Skip Navigation
Website Accessibility
Measure your clothes

---
---
How to choose a sweater size
S, M, L, XL, etc are meaningless...

Sometimes it feels like the hardest part of starting a new project is deciding what size to make. That's especially true if the pattern is for a garment! Too big and too small are both BAD. So how do you choose!?

Here's the best way we've found: Measure the a garment you already own that fits you the way you like. You want to make sure that the garment you measure has a similar thickness and drape to the garment you want to make, but it doesn't need to be exactly the same.

For example - you want to make a thick sweater? Measure your favorite sweatshirt!
Making a light sweater? Measure a tee that fits comfortably.
Working with heavy, drapy yarn? Measure a similarly heavy top or dress.
If you're making a skirt, measure at the hip for straight skirts or at the waist for full skirts.

The reason this matters is that your clothes are usually bigger than you are (unless they're skin tight). The difference in size between you and the garment is called ease. Different fabrics have different ease requirements depending mostly on their stiffness, so that stiffer fabrics are usually made into more fitted garments, and softer drapier fabrics into looser garments.

BUT - everyone likes their clothes to fit differently. So the best way to ensure that your sweater fits the way YOU like to wear clothes is to make it the size of garments you already love!

May you love everything you make!
-Caryn & the Yarnivore crew
---
Classes Start in September!
We are excited and a little nervous...

Upcoming classes are listed below. Click the class name to learn more and to register. Space is limited and sign-ups close a week before class begins, so sign up now!
Fixing Mistakes
For knitters at any level who want to learn to fix mistakes instead of just ripping out.
Two sessions - Thursday, Sept. 8 & 15 at 5:30 pm
$40 (includes all materials, plus a FREE Handi-tool!)
My First Socks
Learn to knit basic socks from the cuff to the toe!
Three sessions - Sunday, Sept. 11, Sept. 25, & Oct. 9 at 2 pm
$50 (use your own supplies or buy them at Yarnivore for 10% off)
Beginning Knitting
It all starts here! You'll be knitting with confidence in no time!
Three sessions - Monday, Sept. 12, 19, & 26 at 1 pm
$50 (use your own supplies or buy them at Yarnivore for 10% off)
Knitting Workshop with Wendy
Bring your projects and problems and we'll find solutions!
One session - Thursday, Sept. 22 at 5:30 pm
$20 (use your own supplies or buy them at Yarnivore for 10% off)
Intro to Lace Knitting
Learn to make holes in your knitting on purpose!
Two sessions - Thursday, Sept. 29 and Oct. 6
$35(use your own supplies or buy them at Yarnivore for 10% off)
---
Featured Yarn & Pattern
Garter stitch does not get enough love. It's got such a beautiful texture and it works beautifully in modular knitting, like the Travel Mode 2.0 Shawl by Susanne Sommer! This shawl (available for about $6.50 in-store or on Ravelry) is made with fingering weight yarns in modular blocks. It would be beautiful worked in multiple colors of Gusto! This affordable ($14/hank) merino/nylon sock yarn comes in Gusto Core (solids), Gusto Carmen (solid & speckle), Gusto Echoes (multicolor), and Gusto Speckle (speckled & tonal), and you can mix and match them for a beautiful modular project!

Hours this week
11-5 Monday-Saturday
12-5 Sunday

Upcoming Events
Spinners & Weavers Meet Up - Saturday, August 20
Euphoria Knits Trunk Show - Saturday, August 27
Private Lessons
In-store and online private lessons are available! Please call 210-979-8255 to schedule a lesson! Wendy, Dawn, Moses, and Nancy are all available to help you with your projects! Private Lessons can also be scheduled outside of regular hours at the discretion of the teacher.


---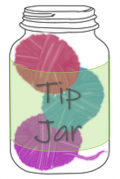 The Tip Jar

If you have a circular knitting needle with a hole in it, you can use that hole to automatically insert a lifeline! Don't have a hole? Use a little bit of Teflon tape (the kind you use to put on a new showerhead) to attach your lifeline yarn to your needle!

Want to know more about what lifelines are and how to insert them? We had whole issue about lifelines recently, read it here!



---
To keep up with our activities and real time announcements, please follow us on social media:
Facebook - https://www.facebook.com/yarnivoresa/
Instagram - https://www.instagram.com/yarnivoresa/
Twitter - https://twitter.com/YarnivoreSA

If you have a question for one of our teachers, you can email us at yarnivoresa@gmail.com.
You can also email Wendy with knitting or crochet questions at wendy.yarnivore@gmail.com or contact her through her Facebook page - https://www.facebook.com/Wendy.at.Yarnivore/
---
We absolutely do not EVER want to spam you. If you don't want to get this newsletter, then we will take you off the list. No problem. No questions asked. There's an unsubscribe link below, or you can just call us.