Skip Navigation
Website Accessibility
Are you Craving some Sit & Stitch Time?

---
---
Friday Night Cravings Returns
And other schedule changes...

Are you missing social time with your fiber friends? Not any more! Starting on Sept. 9, we'll be staying open until 7 pm on every 2nd Friday for our Friday Night Cravings Sit & Stitch!

There will be a few changes: We won't be serving snacks, out of an abundance of caution. You are welcome to bring your own covered drinks. Bring any craft you like and sit and stitch. Masks are encouraged but not required.

As well as staying open late one Friday a month, we will also be remaining open until 7 pm EVERY Thursday, for classes and shopping!

May you love everything you make!
-Caryn & the Yarnivore crew
---
Classes - Including Crochet!
We now have KNIT and CROCHET classes back!

Upcoming classes are listed below. Click the class name to learn more and to register. Space is limited and sign-ups close a week before class begins, so sign up now!

Beginning Crochet - 4 seats available*
For complete crochet newbies (or those who need a refresher)
Two session - Saturday, Sept. 3 & 17 at 1 pm
$35 (

use your own supplies or buy them at Yarnivore for 10% off)
Fixing Mistakes - 3 seats available*
For knitters at any level who want to learn to fix mistakes instead of just ripping out.
Two sessions - Thursday, Sept. 8 & 15 at 5:30 pm
$40 (includes all materials, plus a FREE Handi-tool!)
My First Socks - only 1 seat left!*
Learn to knit basic socks from the cuff to the toe!
Three sessions - Sunday, Sept. 11, Sept. 25, & Oct. 9 at 2 pm
$50 (use your own supplies or buy them at Yarnivore for 10% off)
Beginning Knitting - 2 seats available*
It all starts here! You'll be knitting with confidence in no time!
Three sessions - Monday, Sept. 12, 19, & 26 at 1 pm
$50 (use your own supplies or buy them at Yarnivore for 10% off)
Knitting Workshop with Wendy - 3 seats available*
Bring your projects and problems and we'll find solutions!
One session - Thursday, Sept. 22 at 5:30 pm
$20 (use your own supplies or buy them at Yarnivore for 10% off)
Intro to Lace Knitting - 3 seats available*
Learn to make holes in your knitting on purpose!
Two sessions - Thursday, Sept. 29 and Oct. 6
$35(use your own supplies or buy them at Yarnivore for 10% off)


*Available seats are correct at the time of publishing, but are subject to change.
---
Featured Yarn & Pattern
Here's a cute Tee pattern for gradient yarns like Scheepjes Whirl:
The Wilson Top by Allyson Dykhuizen (Ravelry Link) is knit in one piece from the top down, with yarnover increases in the yoke and concentric ridges of purl highlighting both the construction and the color changes of this cute top! All sizes (34¼"- 57¼" bust circumference) use only ONE cake of Whirl! The pattern is available for $6 in-store or on Ravelry!

Hours this week
11-5 Monday-Saturday
12-5 Sunday

Upcoming Events
Spinners & Weavers Meet Up - Saturday, August 20
Euphoria Knits Trunk Show - Saturday, August 27
Private Lessons
In-store and online private lessons are available! Please call 210-979-8255 to schedule a lesson! Wendy, Dawn, Moses, and Nancy are all available to help you with your projects! Private Lessons can also be scheduled outside of regular hours at the discretion of the teacher.


---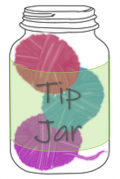 The Tip Jar

Do you make stuffed animals? Do you get frustrated when their heads are too floppy?

Try making a "spine" of stuffing: Using regular fabric, sew a tube a little narrower than the neck opening, and long enough to reach from the center of the head to the center of the back. Stuff this tube VERY FIRMLY. Insert this "spine" so that it goes up halfway into the head and down halfway into the body, and the fill in the rest of the head and body with the regular amount of stuffing. Now the head won't wobble!



---
To keep up with our activities and real time announcements, please follow us on social media:
Facebook - https://www.facebook.com/yarnivoresa/
Instagram - https://www.instagram.com/yarnivoresa/
Twitter - https://twitter.com/YarnivoreSA

If you have a question for one of our teachers, you can email us at yarnivoresa@gmail.com.
You can also email Wendy with knitting or crochet questions at wendy.yarnivore@gmail.com or contact her through her Facebook page - https://www.facebook.com/Wendy.at.Yarnivore/
---
We absolutely do not EVER want to spam you. If you don't want to get this newsletter, then we will take you off the list. No problem. No questions asked. There's an unsubscribe link below, or you can just call us.