The Granny Square Issue & LABOR DAY SALE!

---
---
Granny Squares

They're classics for a good reason!

Did you grow up with a granny square blanket draped over the back of the couch? Many of us did! They were ubiquitous in the 1960s and 70s, then fell out of fashion for a while, but they're BACK, baby!

The first granny square to appear in print (to our knowledge) was in a book called The Art of Crocheting in 1891. It didn't have a pattern, only the image (shown at right) of a square that most modern crocheters would recognize. It wasn't called a granny square at the time, but a "Block For A Slumber Robe." It was assumed that the crocheter would be able to reproduce this from the illustration.

How did it get the name "Granny Square"? Probably because lots of grannies made it, since it was a great way to use up scraps. Over time, creative crocheters figured out ways to use the same idea - clusters of double crochets worked into chain spaces - to make other shapes, so that we now have Granny Circles, Hexagons, Squares, and other shapes!

The basic idea is simple: Granny clusters (each cluster is 3 dc) separated by chains (usually 1 or 2 at the sides, and 3 at corners). Each cluster is worked into a chain space from a previous row.

Here are some of our favorite Granny Square tutorials online:
-Beginner Granny Square Tutorial - best for absolute granny beginners, and for working Granny Squares with the same yarn throughout.
-Granny Square that doesn't twist - best for Granny Squares with a different color on each round.
-Granny Shapes - how to work all sorts of Granny Shapes: circle, hexagon, pentagon, rectangle, triangle, etc!

If you want to learn more about Granny Square history, we highly recommend this post from HanJanCrochet!

Lots and lots of Granny Love!
-Caryn & the Yarnivore crew
---
Upcoming Classes
Click the class name to learn more and to register

!

Upcoming classes with available openings are listed below. Click the class name to learn more and to register or call us at 210-979-8255. Space is limited and sign-ups close a week before class begins, so sign up now!

Beginning Knitting - 1 seat available
It all starts here! You'll be knitting with confidence in no time!
Three sessions - Monday, Sept. 12, 19, & 26 at 1 pm
$50 (use your own supplies or buy them at Yarnivore for 10% off)
Knitting Workshop with Wendy - 2 seats available
Bring your projects and problems and we'll find solutions!
One session - Thursday, Sept. 22 at 5:30 pm
$20 (use your own supplies or buy them at Yarnivore for 10% off)
Intro to Lace Knitting - 2 seats available
Learn to make holes in your knitting on purpose!
Two sessions - Thursday, Sept. 29 and Oct. 6
$35(use your own supplies or buy them at Yarnivore for 10% off)

---
---
Featured Yarn & Pattern
How about a nice granny square duster perfect for a Texas winter? The Long Granny Square Cardigan by Moody Goose fits the bill perfectly! It's currently on sale for $3.60 on Ribblr.com. Make the squares now while the weather is hot, so that you don't have a lot of yarn in your lap, then put them together and add the hood and sleeves when it starts to cool off. We suggest Galway Worsted, Cascade 220 for the main color and a color changing yarn like Gina or for the squares, or use scraps for the squares!

Hours this week
11-5 Monday-Saturday
12-5 Sunday
We ARE open on Labor Day!

Upcoming Events
Spinners & Weavers Meet Up - Saturday, August 20
Euphoria Knits Trunk Show - Saturday, August 27
Private Lessons
In-store and online private lessons are available! Please call 210-979-8255 to schedule a lesson! Wendy, Dawn, Moses, and Nancy are all available to help you with your projects! Private Lessons can also be scheduled outside of regular hours at the discretion of the teacher.


---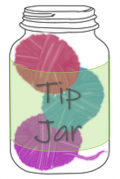 The Tip Jar

Love multicolored granny squares, but hate weaving in the ends? Do the initial chain-3 of a new row with working yarn AND the tail held together, then just snip off the tail.

That's all it needs!



---
To keep up with our activities and real time announcements, please follow us on social media:
Facebook - https://www.facebook.com/yarnivoresa/
Instagram - https://www.instagram.com/yarnivoresa/
Twitter - https://twitter.com/YarnivoreSA

If you have a question for one of our teachers, you can email us at yarnivoresa@gmail.com.
You can also email Wendy with knitting or crochet questions at wendy.yarnivore@gmail.com or contact her through her Facebook page - https://www.facebook.com/Wendy.at.Yarnivore/
---
We absolutely do not EVER want to spam you. If you don't want to get this newsletter, then we will take you off the list. No problem. No questions asked. There's an unsubscribe link below, or you can just call us.