Are they worthy?

---
---
Who NOT to make gifts for
Your time and skills are valuable

Have you ever heard the word "knitworthy?" It's one of our favorite concepts and it doesn't just apply to knitting.

A knitworthy is a person who values the time and skills of the knitters in their life and shows it! They are always happy to receive handknit gifts, they wear and use the things we make them, and they show them off to others with obvious joy.

We think this applies to all crafts - weaving, crochet, woodworking, needlepoint, sewing, quilting... If you make a handmade gift for someone, you deserve to have your time and skills praised and shown off. It's okay to decide if the people on your gift list are craftworthy or not!

If you've made someone a gift (or you've seen others do so), and the recipient was blasé about it? Get them a storebought gift and save your crafting skills for a person who will appreciate it!*

*Little ones are exceptions, of course.
---
Holiday Countdown 2022
There are...
55 crafting days until Christmas and
47 crafting days until the beginning of Hanukkah

---
Upcoming Classes
Click the class name to learn more and to register

!

Upcoming classes with available openings are listed below. Click the class name to learn more and to register or call us at 210-979-8255. Space is limited and sign-ups close a week before class begins, so sign up now!



Fair Isle Christmas Stocking - Class is full
Learn stranded colorwork and make a family heirloom!


Three sessions - Sunday, Nov. 6, Nov. 20, and Dec. 11 at 2 pm




$50 (use your own supplies or buy them at Yarnivore for 10% off)
Knitting Workshop with Wendy - 3 seats available
Bring your projects and problems and we'll find solutions!
One session - Monday, Nov. 7 at 1 pm
$20 (use your own supplies or buy them at Yarnivore for 10% off)



Beginning Knitting - 3 seats available
Learn the basics and get started knitting!


Three sessions - Thursday, Nov. 10, 17, & 24 at 5:30 pm


$50 (use your own supplies or buy them at Yarnivore for 10% off)



My First Fingerless Gloves - 2 seats available
Warm your own hands or make them for gifts!
Two sessions - Monday, Nov. 14 & 21 at 1 pm
$20 (use your own supplies or buy them at Yarnivore for 10% off)
---
Featured Book
Making Marls by Cecelia Campochiaro
If you love beautiful yarns and you love color, you will love this book!
A marled yarn is one with multiple strands of different colors twisted or held together. When knitted, crocheted, or woven, these yarns produce a marbled effect.
In this book, Cecelia Campochiaro teaches how to create your own marled color effects to create different effects, including making your own gradient yarns. There's also discussion of yarn textures and weights and their effects when held together, and a large helping of color theory - all in a gorgeous book full of beautiful photos and inspiring projects.
See patterns from Making Marls on Ravelry or on the author's website.
Hours this week
12-5 Sunday
11-5 Monday-Wednesday
11-7 Thursday
11-5 Friday
11-5 Saturday

Upcoming Events
Friday Night Cravings (sit-n-stitch) - Friday, Nov. 11 from 5-7 pm
Bashful Armadillo Trunk Show - Saturday, Nov. 12 from noon-4 pm
Spinners & Weavers Meet-Up - Saturday, Nov. 19 from noon-4 pm
Closing at 3 pm the day before Thanksgiving - Wednesday, Nov. 23
Closed on Thanksgiving Day - Thursday, Nov. 24
Black Friday Trunk Show with Zorn Junction - Friday, Nov. 25

Private Lessons
In-store and online private lessons are available! Please call 210-979-8255 to schedule a lesson! Wendy, Dawn, Moses, and Nancy are all available to help you with your projects! Private Lessons can also be scheduled outside of regular hours at the discretion of the teacher.


---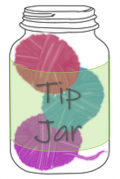 The Tip Jar

Remember the rule - fancy yarns get simple textures, fancy textures get simple yarns.

If you do lace or cable patterns with busy or multicolored yarn, all your hard work creating those textures will be hidden by the yarn. Do cool textured work with simple, plain, smooth yarn and you'll be much happier with the final project.



---
To keep up with our activities and real time announcements, please follow us on social media:
Facebook - https://www.facebook.com/yarnivoresa/
Instagram - https://www.instagram.com/yarnivoresa/
Twitter - https://twitter.com/YarnivoreSA

If you have a question for one of our teachers, you can email us at yarnivoresa@gmail.com.
You can also email Wendy with knitting or crochet questions at wendy.yarnivore@gmail.com or contact her through her Facebook page - https://www.facebook.com/Wendy.at.Yarnivore/
---
We absolutely do not EVER want to spam you. If you don't want to get this newsletter, then we will take you off the list. No problem. No questions asked. There's an unsubscribe link below, or you can just call us.