Go Speed Stitcher!

---
---
Speeding Up Your Stitching
Let go of perfectionism - 30 seconds at a time.

Do you want to stitch faster? Knit faster? Crochet faster? Weave, stitch, spin faster? There is a secret to it, but you have to let go of perfectionism first.

The secret is... timed challenges. Set a timer for 30 seconds and go as fast as you can for that whole time! Then relax, and go back to your regular pace for a while.

Repeat these sprints regularly, every 15 minutes or so (or whenever you think of it), and eventually your body will start going faster naturally without you noticing.

Why does perfectionism come into it? Because when you push to get faster at anything, the first thing that will happen is that you will make mistakes. The brain and hands have a speed they're used to, and once you have been doing your craft for a while, they can start working on autopilot - until you ask them to speed up. So you'll have to be prepared to take some stitches out.

So what do you do if you want to speed up, but you don't want to screw up your projects? Do your speed sprints on a project you don't care so much about. For knitters or crocheters, this mean keeping a dishcloth on the needles or hook near your favorite chair. For needlepointers or cross stitchers, you could so some speed stitching on a sampler or scrap of fabric/canvas. Spinners can keep a spindle or bobbin just for purposely imperfect yarn.

Do you have to try to speed up? NO! There is no such thing as stitching too slowly! If you're enjoying your craft, then you don't have to change a single thing!


---
Holiday Countdown 2022
There are...
41 crafting days until Christmas and
37 crafting days until the beginning of Hanukkah

---
Upcoming Classes & Events

Click the title or thumbnail to learn more and to register

!

Upcoming classes with available openings are listed below. Click the class name to learn more and to register or call us at 210-979-8255. Space is limited and sign-ups close a week before class begins, so sign up now!

Beginning Knitting - 2 seats available
Learn the basics and get started knitting!


Three sessions - Thursday, Nov. 17, Dec. 1 & 15 at 5:30 pm


$50 (use your own supplies or buy them at Yarnivore for 10% off)



Weaving in Ends Invisibly - 3 seats available
Finish those projects beautifully!
One session - Monday, Nov. 28 at 1 pm
$20 (use your own

supplies or buy them at Yarnivore for 10% off)




Knitting Workshop with Wendy - 4 seats available both sessions
Bring your projects and problems and we'll find solutions!
We're doing extra sessions to help get your holiday projects done:
Mon. Dec. 5 at 1 pm — Thur. Dec. 8 at 5:50 pm — Sun. Dec. 18 at 2 pm
$20/session(use your own supplies or buy them at Yarnivore for 10% off)


---
Featured Notion
Have you ever worked on a project until your hands or shoulders started hurting? Us, too! We've just gotten in a remedy that may give you relief. Knitter's Relief Balm by Chiki is all-natural, with two formulations, one with CBD and one without. Both contain arnica oil and other essential oils known to help with pain relief. Available in a twist-up stick, or in a small travel size (great if you want to give it a trial run).

Hours this week
12-5 Sunday
11-5 Monday-Wednesday
11-7 Thursday
11-5 Friday
11-5 Saturday

Upcoming Events
Spinners & Weavers Meet-Up - Saturday, Nov. 19 from noon-4 pm
Closing at 3 pm the day before Thanksgiving - Wednesday, Nov. 23
Closed on Thanksgiving Day - Thursday, Nov. 24
Black Friday Trunk Show with Zorn Junction - Friday, Nov. 25

Private Lessons
In-store and online private lessons are available! Please call 210-979-8255 to schedule a lesson! Wendy, Dawn, Moses, and Nancy are all available to help you with your projects! Private Lessons can also be scheduled outside of regular hours at the discretion of the teacher.


---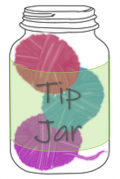 The Tip Jar

If you want to try speed-sprint stitching, but you forget to set a timer, no worries! Just do it during the ad break while you're watching your favorite show or listening to your favorite podcast!





---
To keep up with our activities and real time announcements, please follow us on social media:
Facebook - https://www.facebook.com/yarnivoresa/
Instagram - https://www.instagram.com/yarnivoresa/
Twitter - https://twitter.com/YarnivoreSA

If you have a question for one of our teachers, you can email us at yarnivoresa@gmail.com.
You can also email Wendy with knitting or crochet questions at wendy.yarnivore@gmail.com or contact her through her Facebook page - https://www.facebook.com/Wendy.at.Yarnivore/
---
We absolutely do not EVER want to spam you. If you don't want to get this newsletter, then we will take you off the list. No problem. No questions asked. There's an unsubscribe link below, or you can just call us.