Happy Thanksgiving!

---
---
Black Friday Trunk Show

Zorn Junction will be here this Friday!

When you get over your turkey coma, head on over to Yarnivore to for some soft and colorful yarn therapy from Zorn Junction!



---
---
Holiday Countdown 2022
There are...
34 crafting days until Christmas and
27 crafting days until the beginning of Hanukkah

---
Upcoming Classes & Events

Click the title or thumbnail to learn more and to register

!

Upcoming classes with available openings are listed below. Click the class name to learn more and to register or call us at 210-979-8255. Space is limited and sign-ups close a week before class begins, so sign up now!
Weaving in Ends Invisibly

- 2 seats available
Finish those projects beautifully!
One session - Monday, Nov. 28 at 1 pm
$20 (use your own

supplies or buy them at Yarnivore for 10% off)




Knitting Workshop with Wendy - See below for availability
Bring your projects and problems and we'll find solutions!
We're doing extra sessions to help get your holiday projects done:
Mon. Dec. 5 at 1 pm — 3 seats available
Thur. Dec. 8 at 5:50 pm — 4 seats available
Sun. Dec. 18 at 2 pm — 4 seats available
$20/session(use your own supplies or buy them at Yarnivore for 10% off)


Knit a Brioche Hat (great for a quick holiday gift) - 4 seats open
This pattern is actually easier to do with 2 colors than with just one!
Two sessions - Mon. Dec. 12 & 19 at 1 pm
$35 (

(use your own

supplies or buy them at Yarnivore for 10% off)





---
Featured Pattern & Yarn
The holidays are upon us and that means it's time to get serious about the gifts! Hats are one of the best quick and easy gifts, and the Sidewinder Beanie from Aspen Leaf Knits is one of the best! Available in-store, on Ravelry, or on Etsy, the Sidewinder calls for super-bulky yarn and big needles to make a very cool looking unisex hat! Malabrigo Rasta (shown at right) is our suggestion. A faux fur pom-pom (or real rabbit fur) adds the perfect finishing touch!

Hours this week
12-5 Sunday
11-5 Monday-Tuesday
11-3 Wednesday the 23rd
Closed Thursday for Thanksgiving
11-5 on Black Friday!
11-5 Saturday

Upcoming Events
Black Friday Trunk Show with Zorn Junction - Friday, Nov. 25

Private Lessons
In-store and online private lessons are available! Please call 210-979-8255 to schedule a lesson! Wendy, Dawn, Moses, and Nancy are all available to help you with your projects! Private Lessons can also be scheduled outside of regular hours at the discretion of the teacher.


---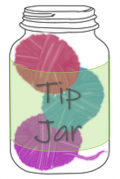 The Tip Jar

If you have stubborn ends that refuse to stay woven in, try adding extra security with a little needle felting. Felting needles work by pushing fibers through each other to lock them together. To secure ends, start by weaving the ends in as normal, then turn your piece right side up and place a piece of foam or a felting brush underneath. Use a felting needle to poke the into the woven in area 10-20 times until the end is secure. This WILL make the back look fuzzy, so you must do it from the right-side only.


---
To keep up with our activities and real time announcements, please follow us on social media:
Facebook - https://www.facebook.com/yarnivoresa/
Instagram - https://www.instagram.com/yarnivoresa/
Twitter - https://twitter.com/YarnivoreSA

If you have a question for one of our teachers, you can email us at yarnivoresa@gmail.com.
You can also email Wendy with knitting or crochet questions at wendy.yarnivore@gmail.com or contact her through her Facebook page - https://www.facebook.com/Wendy.at.Yarnivore/
---
We absolutely do not EVER want to spam you. If you don't want to get this newsletter, then we will take you off the list. No problem. No questions asked. There's an unsubscribe link below, or you can just call us.