Skip Navigation
Website Accessibility
Silk!

---
---
The Good Moths
Which ones are good? The ones that make silk!

Moths. Some are super annoying, some are just pretty, but our favorites are the ones that make silk fiber!

There are two basic types of silk moths: traditional domesticated silk moths and "wild" silk moths. All silk moths make cocoons out of silk, which is then harvested and processed into various types of threads and yarns.

Domesticated silk moths, scientifically named Bombyx Mori, have been bred specifically for their fiber production. They eat only mulberry leaves, which is why their silk is sometimes called "mulberry silk." They depend 100% on humans, as they won't even move a single step to get food, but have to have the leaves placed directly on their heads. The highest quality silk is made from cocoons that are unwound, each producing a single fiber over 1000 meters long. The downside? The moths don't survive the process. In order to keep the silk intact, the moth pupae are "stifled" before they emerge. There are some facilities producing "ethical silk" in which the moths are allowed to mature.

Tussah silk is made from "wild" silkworms. While they can be found in the wild, Tussah moths are also commonly raised by humans. Their silk is harvested after the moth emerges, and is usually darker in color than Mulberry silk - usually a pale tan color.

All types of silk take dye beautifully, and make absolutely luxurious fiber. It's stronger than steel and insulates better than wool.


---
Holiday Countdown 2022
There are...
27 crafting days until Christmas and
20 crafting days until the beginning of Hanukkah

---
Upcoming Classes & Events
Click the title or thumbnail to learn more and to register

!

Upcoming classes with available openings are listed below. Click the class name to learn more and to register or call us at 210-979-8255. Space is limited and sign-ups close a week before class begins, so sign up now!
Knitting Workshop with Wendy

- See below for availability
Bring your projects and problems and we'll find solutions!
We're doing extra sessions to help get your holiday projects done:
Mon. Dec. 5 at 1 pm — 1 seat available
Thur. Dec. 8 at 5:50 pm — 3 seats available
Sun. Dec. 18 at 2 pm — 4 seats available
$20/session(use your own supplies or buy them at Yarnivore for 10% off)


Knit a Brioche Hat (great for a quick holiday gift)

- class is full


This pattern is actually easier to do with 2 colors than with just one!
Two sessions - Mon. Dec. 12 & 19 at 1 pm
$35 (

(use your own

supplies or buy them at Yarnivore for 10% off)





---
Featured Yarn & Pattern
Malabrigo yarns are always to-die-for, and this one is even more luxurious! Malabrigo Mora is a 100% Bombyx/Mulberry Silk dyed in gorgeous tonal colorways (including perennial favorite "Archangel"). This fingering weight yarn is perfect for lace projects, like the Mora Feather (Ravelry link) cowl shown in the "Teal Feather" colorway at right. Mora Feather by Virginia Sattler-Reimer is available for $5.95 in-store or on Ravelry.

Hours this week
12-5 Sunday
11-5 Monday-Wednesday
11-7 Thursday
11-5 Friday
11-5 Saturday

Upcoming Events
Friday Night Cravings - Friday, Dec. 9 from 5-7 pm
Spinners & Weavers Meet-Up - Saturday, Nov. 17 from noon-4 pm
Christmas Eve, Saturday, Dec. 24 - Open from 11 am-3 pm
Christmas Day, Sunday, Dec. 25 - Closed
New Years Eve, Saturday, Dec. 31 - Open from 11 am-3 pm
New Years Day, Sunday, Jan. 1 - Closed

Private Lessons
In-store and online private lessons are available! Please call 210-979-8255 to schedule a lesson! Wendy, Dawn, Moses, and Nancy are all available to help you with your projects! Private Lessons can also be scheduled outside of regular hours at the discretion of the teacher.


---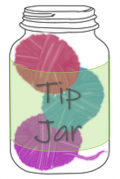 The Tip Jar

We love using highlighter tape to keep track of our place when working charted designs! Sometimes, though, especially on patterns printed on regular paper, a tiny amount of ink sticks to the tape, making the tape look a bit muddy.
There is a simple solution - just put your printout inside a page-protector, then stick the highlighter tape to the plastic! Now you have your rows highlighted with no mess and no muddiness!



---
To keep up with our activities and real time announcements, please follow us on social media:
Facebook - https://www.facebook.com/yarnivoresa/
Instagram - https://www.instagram.com/yarnivoresa/
Twitter - https://twitter.com/YarnivoreSA

If you have a question for one of our teachers, you can email us at yarnivoresa@gmail.com.
You can also email Wendy with knitting or crochet questions at wendy.yarnivore@gmail.com or contact her through her Facebook page - https://www.facebook.com/Wendy.at.Yarnivore/
---
We absolutely do not EVER want to spam you. If you don't want to get this newsletter, then we will take you off the list. No problem. No questions asked. There's an unsubscribe link below, or you can just call us.