Skip Navigation
Website Accessibility
FREE Printable Care Guides for Gifts

---
---
Tell Them How to Treat Their Gifts
Including free printable handwashing instructions


You spend a lot of time and energy making handmade gifts for your loved ones. They're going to want to take care of those handmade items! Here are some ideas to help them.

1. Include a ball band from the yarn or thread (or send them a photo of it). This way they can learn whether their gift can be machine washed or is hand wash only.

2. If the ball band uses international care symbols, send them to this page (or print it for them) to see what the symbols mean.

3. Tell them if the item you made is meant to be used regularly or if it's for occasional heirloom use. No fair getting your feelings hurt if you don't say something. If you're okay with the baby blanket getting spit up on and you consider grass stains a badge of honor, or if you would rather it just be used for decoration and kept away from pets and children, you have to say so.

4. For hand wash only items, include instructions. You can print out the following handouts (both written by our Wendy) to include in your handmade gifts:
-Handwashing Instructions for Handmade Gifts
-How to Handwash in a Top-Load Washer

Happy Holiday Gifting!


---
Holiday Countdown 2022
There are...
20 crafting days until Christmas and
13 crafting days until the beginning of Hanukkah

---
Upcoming Classes & Events
Click the title or thumbnail to learn more and to register

!

Upcoming classes with available openings are listed below. Click the class name to learn more and to register or call us at 210-979-8255. Space is limited and sign-ups close a week before class begins, so sign up now!
Knitting Workshop with Wendy

- See below for availability
Bring your projects and problems and we'll find solutions!
We're doing extra sessions to help get your holiday projects done:
Thur. Dec. 8 at 5:50 pm — 2 seats available
Sun. Dec. 18 at 2 pm — 3 seats available
$20/session(use your own supplies or buy them at Yarnivore for 10% off)


Knit a Brioche Hat (great for a quick holiday gift)

- class is full


This pattern is actually easier to do with 2 colors than with just one!
Two sessions - Mon. Dec. 12 & 19 at 1 pm
$35 (

use your own

supplies or buy them at Yarnivore for 10% off)





Knitting Your First Top-Down Sweater
- 4 seats available
The best fitting sweater with the least sewing - fits everyone!!
Four sessions - Thurs. Jan. 5, 12, 19, & 26 at 5:30 pm
$65
(use your own
supplies or buy them at Yarnivore for 10% off)
---
Featured Yarn & Pattern
Today's featured pattern is based on one of the most popular Christmas stocking designs ever. It seems to have been first published sometime in the early 1960s and has become many family's go-to stocking pattern. We first came across it years ago when a customer brought in the photocopied original and asked for help making it. We've seen it 2 or a 3 times a year since. The original is out of print, but Ravelry user Kathleen Horning has created a pattern based on it, with the pattern centered and rewritten to be easier to use for modern knitters. If you choose to make The Vintage Santa Pattern ($6 on Ravelry) for your family, Wendy recommends using 100% wool yarn, like Cascade 220 or Plymouth Galway so that you can "spit splice" as needed.

Hours this week
12-5 Sunday
11-5 Monday-Wednesday
11-7 Thursday
11-7 Friday
11-5 Saturday

Upcoming Events
Friday Night Cravings - Friday, Dec. 9 from 5-7 pm
Spinners & Weavers Meet-Up - Saturday, Nov. 17 from noon-4 pm
Christmas Eve, Saturday, Dec. 24 - Open from 11 am-3 pm
Christmas Day, Sunday, Dec. 25 - Closed
New Years Eve, Saturday, Dec. 31 - Open from 11 am-3 pm
New Years Day, Sunday, Jan. 1 - Closed

Private Lessons
In-store and online private lessons are available! Please call 210-979-8255 to schedule a lesson! Wendy, Dawn, Moses, and Nancy are all available to help you with your projects! Private Lessons can also be scheduled outside of regular hours at the discretion of the teacher.


---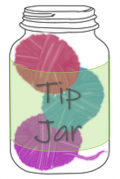 The Tip Jar

Needlepointers - Even if you have a lot of stitches to do, cut your threads no longer than 18". This way, all the stitching will go faster, and your thread won't wear out as fast.

This is also true for any hand-sewing, even if you're sewing seams on a sweater. Shorter lengths make for faster, less-annoying seams, and the tails can be easily woven in.



---
To keep up with our activities and real time announcements, please follow us on social media:
Facebook - https://www.facebook.com/yarnivoresa/
Instagram - https://www.instagram.com/yarnivoresa/
Twitter - https://twitter.com/YarnivoreSA

If you have a question for one of our teachers, you can email us at yarnivoresa@gmail.com.
You can also email Wendy with knitting or crochet questions at wendy.yarnivore@gmail.com or contact her through her Facebook page - https://www.facebook.com/Wendy.at.Yarnivore/
---
We absolutely do not EVER want to spam you. If you don't want to get this newsletter, then we will take you off the list. No problem. No questions asked. There's an unsubscribe link below, or you can just call us.