Skip Navigation
Website Accessibility
Store Stuff Safely!

---
---
Storing Your Handmade Items Safely
Keep them looking new year after year

A sad story from Wendy, Yarnivore's knitting guru:
"I had made handknitted Christmas stocking for each of my three children, and loved hanging them on the mantel each year. One year, I got out the boxes of Christmas decor, and discovered that two of the three stockings had been badly snacked on and had big holes in them. I repaired them as well as I could, but they've never been the same since."

Don't let this happen to you! If you follow the tips below, your handmade items should last a very long time.

1. Put them away CLEAN! If there are any oils, sweat, or spilled food on your finished items, these can cause discoloration and attract insects. Prevent damage by washing your handmade items prior to storage.

2. Air them out! Any trapped moisture can allow mold or mildew to grow. Make sure to dry items completely so no icky mold can take hold.

3. Give them a little bit of sun! Direct sunlight can help with getting rid of excess moisture, and can kill some molds and bacterias. A couple of hours in the sun is all you need.

4. Store them in the dark! You don't want to leave things in the sun long term, because the sun can also cause major color fading and damage fibers. If you're storing things long term, keep them in a shady place.

5. Pad them! When folding items to put them away, use some clean white fabric or acid-free tissue to pad the folds so that they don't crease and get holes.

6. Freeze the bugs out! Once completely clean and dry, place folded items in a ziploc back that fits them well, seal them up, and put them in the freezer for at least 3 days. This will kill any moth (or other insect eggs) that may have been laid, so they don't hatch and start chewing.

7. Store them bagged! Keep them in the bags they were frozen in, so bugs have no chance to get in. This works far better than cedar chests or chips, and doesn't cause health issues like mothballs do.

Happy No-Hole Holidays!


---

Holiday Countdown 2022
There are...
13 crafting days until Christmas and
6 crafting days until the beginning of Hanukkah


---
Upcoming Classes & Events
Click the title or thumbnail to learn more and to register

!

Upcoming classes with available openings are listed below. Click the class name to learn more and to register or call us at 210-979-8255. Space is limited and sign-ups close a week before class begins, so sign up now!
Knitting Workshop with Wendy

- 2 seats available
Bring your projects and problems and we'll find solutions!
We're doing extra sessions to help get your holiday projects done:
Sun. Dec. 18 at 2 pm — 3 seats available
$20/session(use your own supplies or buy them at Yarnivore for 10% off)


Knitting Your First Top-Down Sweater
- 2 seats available
The best fitting sweater with the least sewing - fits everyone!!
Four sessions - Thurs. Jan. 5, 12, 19, & 26 at 5:30 pm
$65
(use your own
supplies or buy them at Yarnivore for 10% off)
---
Featured Yarn & Pattern
Are you a sock knitter who really loves truly identical socks? Have we got a yarn for you! Regia 4-ply Pairfect is made with a bright yellow marker yarn at the beginning and end of the repeat. Just begin your cast on right after the yellow marker yarn, and your socks will be completely identical. Want to knit them both at the same time? No problem! We will happily wind your Pairfect yarn into two balls for free.
Not a sock knitter? That's okay! Pairfect also makes great matching gloves, leg warmers, or anything else you want to match perfectly.
The Pairfect Pants pattern by Stichfest is a great example! These baby pants end up with perfectly matching legs thanks to Pairfect, and only take one ball of yarn! The pattern is €4.50 Euros (about $5) in-store or on Ravelry.
Hours this week
12-5 Sunday
11-5 Monday-Wednesday
11-7 Thursday
11-5 Friday
11-5 Saturday

Upcoming Events
Christmas Eve, Saturday, Dec. 24 - Open from 11 am-3 pm
Christmas Day, Sunday, Dec. 25 - Closed
New Years Eve, Saturday, Dec. 31 - Open from 11 am-3 pm
New Years Day, Sunday, Jan. 1 - Closed
Friday Night Cravings - Friday, Jan. 13 from 5-7 pm

Private Lessons
In-store and online private lessons are available! Please call 210-979-8255 to schedule a lesson! Wendy, Dawn, Moses, and Nancy are all available to help you with your projects! Private Lessons can also be scheduled outside of regular hours at the discretion of the teacher.


---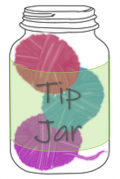 The Tip Jar

This tip comes from Nancy, Yarnivore's needlepoint teacher, but it applies to almost every craft, including needlepoint, knitting, crochet, cross- stitch, and weaving:

Don't carry yarn or thread across to a new color section, if it's a long ways away.

What's a long ways? For needlepoint, cross-stitch, and embroidery, don't go longer than 1/2 inch, and don't try to catch the thread/yarn in the back of the work.

For most knitting, crochet, and weaving, don't go longer than 1 inch for thicker yarns, or 1/2 inch for thinner yarns. (There are exceptions for Stranded/Fair Isle knitting, and for Tapestry crochet, which we'll address in another newsletter)

---
To keep up with our activities and real time announcements, please follow us on social media:
Facebook - https://www.facebook.com/yarnivoresa/
Instagram - https://www.instagram.com/yarnivoresa/
Twitter - https://twitter.com/YarnivoreSA

If you have a question for one of our teachers, you can email us at yarnivoresa@gmail.com.
You can also email Wendy with knitting or crochet questions at wendy.yarnivore@gmail.com or contact her through her Facebook page - https://www.facebook.com/Wendy.at.Yarnivore/
---
We absolutely do not EVER want to spam you. If you don't want to get this newsletter, then we will take you off the list. No problem. No questions asked. There's an unsubscribe link below, or you can just call us.