It's End-of-Year Sale Time!

---
---
Ending 2022 With Savings For YOU!
It's YEAR-END Sale Time! Today through Saturday, all orange tagged items are 20% off!
---
Holiday Hours!
New Years Eve (next Saturday): open from 10 am-3 pm
New Years Day (next Sunday): CLOSED
---

Upcoming Classes & Events
Click the title or thumbnail to learn more and to register!

Upcoming classes with available openings are listed below. Click the class name to learn more and to register or call us at 210-979-8255. Space is limited and sign-ups close a week before class begins, so sign up now!



Knitting Your First Top-Down Sweater - click to join waitlist
The best fitting sweater with the least sewing - fits everyone!!
Four sessions - Thurs. Jan. 5, 12, 19, & 26 at 5:30 pm
$65 (use your own supplies or buy them at Yarnivore for 10% off)


Knitting Workshop with Wendy - 4 seats available
Bring your projects and problems and we'll find solutions!
Mon. Jan. 9 at 1 pm
$20/session(use your own supplies or buy them at Yarnivore for 10% off)



Beginning Crochet - click to join waitlist
Fire up the hooks in this beginner class taught by Moses!
Two sessions - Sat. Jan 14 & 28 at 1 pm
$35 (use your own supplies or buy them at Yarnivore for 10% off)



Intermediate Knitting - 2 seats available
Increase, decrease, knit in the round - and end up with a brand new beanie!
Three sessions - Sun. Jan. 15 & 29, and Feb. 12 at 2 pm
$50 (use your own supplies or buy them at Yarnivore for 10% off)
---
Featured Yarn & Pattern
The beginning of a new year is the perfect time to start thinking about a Temperature Project. Temperature Blankets are pretty cool for those who can keep up with them, temperature Scarves are a little less time consuming, but we just found the coolest version ever - the Temperature Snake! This crocheted one, by Carrey Reynolds, is FREE. Check out the Instagram hashtag #temperaturesnake2022 to see other cool versions. Another great thing about these is that you can stuff them with something heavy and use it as a draft stopper at the bottom of doors to keep the outside weather OUT.
You can use this as a scrap-buster project or buy worsted weight yarn in solid colors - Plymouth Encore has a great range of colors and is completely washable.
Hours this week
11-5 Monday-Wednesday
11-7 Thursday
11-5 Friday
11-3 Saturday (New Years Eve)
Closed - Sunday (New Years Day)

Upcoming Events
New Years Eve, Saturday, Dec. 31 - Open from 11 am-3 pm
New Years Day, Sunday, Jan. 1 - Closed
Friday Night Cravings - Friday, Jan. 13 from 5-7 pm
Spinners & Weavers Meet-Up - Saturday, Jan. 21 from noon-4 pm

Private Lessons
In-store and online private lessons are available! Please call 210-979-8255 to schedule a lesson! Wendy, Dawn, Moses, and Nancy are all available to help you with your projects! Private Lessons can also be scheduled outside of regular hours at the discretion of the teacher.

---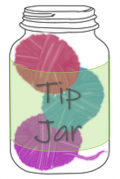 The Tip Jar
Want to keep label info with leftover yarns?
If you have leftovers big enough to ball up, you can label them using cocktail/catering forks! We suggest weighing the leftovers so you know about how much there is, writing that on the original label, then stick the label into the tines on a bamboo fork (we found perfect 3-prong ones at Bio & Chic) and put the handle into the ball - or just wind the yarn around the handle!

---
To keep up with our activities and real time announcements, please follow us on social media:
Facebook - https://www.facebook.com/yarnivoresa/
Instagram - https://www.instagram.com/yarnivoresa/
Twitter - https://twitter.com/YarnivoreSA

If you have a question for one of our teachers, you can email us at yarnivoresa@gmail.com.
You can also email Wendy with knitting or crochet questions at wendy.yarnivore@gmail.com or contact her through her Facebook page - https://www.facebook.com/Wendy.at.Yarnivore/
---
We absolutely do not EVER want to spam you. If you don't want to get this newsletter, then we will take you off the list. No problem. No questions asked. There's an unsubscribe link below, or you can just call us.