Skip Navigation
Website Accessibility
Needles and Hooks and Stitches!

---
---
Knitting ♥ Crochet!
Two sticks + one hook = FABULOUS
Do you know that there are parts of the world where they don't have separate words for knitting and crochet? It's all "yarning". That makes a lot of sense, because knitting and crochet work together really well!
In general, knitting is stretchier, and crochet is more stable. This means that knitting is great for adding stretch to crochet projects, and crochet is great for adding stability to knitted ones. A standard knit bind-off even looks like a row of crochet!
Their different tools can also help each other. If you are having a hard time getting your crochet hook into a tight spot, you can insert the point of a knitting needle in there to open it up and even to provide some leverage to tease reluctant yarn through. And it's really common for knitters to use crochet hooks to fix mistakes and to help pick up stitches.
You do need to be aware, however, that most people knit and crochet at different gauges. We have found that usually, knitting needs a larger needle to get the same gauge, but that isn't always the case. It is worth the time to do a couple of swatches - one knit and one crocheted - to see if you can use the same size for hook and needles, of if you'll need to use different ones. If you do a garter stitch knitted swatch and a single crochet swatch, both with 20 stitches, you'll easily see the difference in gauge. Like always, if you need your finished item to be a specific size, you will need to swatch again for each project, and you'll have to wash your swatch.
Try adding a single crochet edge next time you have a too-loose knitted neckline, or knitting the ribbing of a crocheted sweater! Let these two yarny friends have some time together!
---

Upcoming Classes & Events
Click the title or thumbnail to learn more and to register!

Upcoming classes with available openings are listed below. Click the class name to learn more and to register or call us at 210-979-8255. Space is limited and sign-ups close a week before class begins, so sign up now!

Beginning Crochet - class is full
Fire up the hooks in this beginner class taught by Moses!
Two sessions - Sat. Jan 14 & 28 at 1 pm
$35 (use your own supplies or buy them at Yarnivore for 10% off)



Intermediate Knitting - 2 seats available
Increase, decrease, knit in the round - and end up with a brand new beanie!
Three sessions - Sun. Jan. 15 & 29, and Feb. 12 at 2 pm
$50 (use your own supplies or buy them at Yarnivore for 10% off)
Knit a Brioche Hat - 3 seats available
Increase, decrease, knit in the round - and end up with a brand new beanie!
Two sessions - Mon. Jan. 16 & 23 at 1 pm
$35 (use your own supplies or buy them at Yarnivore for 10% off)
Knitting Workshop with Wendy - 4 seats available
Bring your projects and problems and we'll find solutions!
Thurs. Feb. 2 at 5:30 pm
$20/session(use your own supplies or buy them at Yarnivore for 10% off)

---
Featured Yarn & Pattern
Noro Restock Alert! This is not a drill!
In addition to new colors of Silk Garden and Kureyon, we have two new worsted weight Noro yarns:
Kashirukuru is a cashmere/silk/wool/nylon blend in tonal solids. It has to be touched! In addition to being super soft, it has a beautiful sheen.
Akari is a silk/cotton/mohair/wool/poly blend in gorgeous colorways that blend slowly through a range of colors. It feels cottony but very luxurious!
What to make with them? Because most Noro yarns are slow color change, they look best in patterns that aren't too busy, but can handle a little bit of lace or cables. We think they look their best in designs that have angles and curves, which the waves of striping can highlight.
The Gusty Cowl by Laura Aylor is perfect for Akari. This pattern is all garter stitch, but worked in one piece, with KFB shaping that makes the gentle striping look amazing. Gusty is $6 in-store, on Ravelry, or on Payhip.
Hours this week
11-5 Monday-Wednesday
11-7 Thursday
11-5 Friday
11-3 Saturday (New Years Eve)
Closed - Sunday (New Years Day)

Upcoming Events
Friday Night Cravings - Friday, Jan. 13 from 5-7 pm
Spinners & Weavers Meet-Up - Saturday, Jan. 21 from noon-4 pm

Private Lessons
In-store and online private lessons are available! Please call 210-979-8255 to schedule a lesson! Wendy, Dawn, Moses, and Nancy are all available to help you with your projects! Private Lessons can also be scheduled outside of regular hours at the discretion of the teacher.

---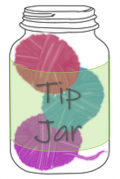 The Tip Jar
Crocheters, do you hate it when you change colors and the change looks messy? This happens because the final loop that's on the hook will actually lay on top of the next stitch.
The solution? Use the new color to pull through the last 2 loops of the stitch! This way the final loop will be in the new color and the color change will be nice and clean.

---
To keep up with our activities and real time announcements, please follow us on social media:
Facebook - https://www.facebook.com/yarnivoresa/
Instagram - https://www.instagram.com/yarnivoresa/
Twitter - https://twitter.com/YarnivoreSA

If you have a question for one of our teachers, you can email us at yarnivoresa@gmail.com.
You can also email Wendy with knitting or crochet questions at wendy.yarnivore@gmail.com or contact her through her Facebook page - https://www.facebook.com/Wendy.at.Yarnivore/
---
We absolutely do not EVER want to spam you. If you don't want to get this newsletter, then we will take you off the list. No problem. No questions asked. There's an unsubscribe link below, or you can just call us.