Skip Navigation
Website Accessibility
Crafting for others in honor of Dr. King

---
---
Serving Others With Yarn Crafts
Martin Luther King Jr Day - a day of service
Happy MLK day! Did you know that the Martin Luther King Jr. Day is designated by Congress as the only federal holiday designated as a day of service? Knitters and crocheters have always been a part of the civil rights movement, and are also some of the most service-minded people.
If you want to use your craft skills to help others, here are some charities you may want to look into:
---

Upcoming Classes & Events
Click the title or thumbnail to learn more and to register!

Upcoming classes with available openings are listed below. Click the class name to learn more and to register or call us at 210-979-8255. Space is limited and sign-ups close a week before class begins, so sign up now!


Knitting Workshop with Wendy - 2 upcoming sessions
Bring your projects and problems and we'll find solutions!
Two upcoming sessions:
Mon. Jan. 30 at 1 pm | Thurs. Feb. 9 at 5:30 pm
$20/session(use your own supplies or buy them at Yarnivore for 10% off)



My First Socks - 2 seats available
Learn to knit basic socks from the cuff down!
Three sessions - Sun. Feb. 26, Mar. 12, & Mar. 26 at 2 pm
$50 (use your own supplies or buy them at Yarnivore for 10% off

---
Featured Yarn & Pattern
The Winston Shawl by Shay Johnson is a gorgeous shawl pattern! The honeycomb bands are made with a slip stitch pattern, so they're much easier than they look. Shown at right is the small size, but the pattern includes a large size perfect for those who like a more dramatic look. The pattern is $7 and available in-store or on Ravelry.
Shawls like this look best with solid or tonal yarns, so we would suggest yarns like Gusto Core, Heritage Silk, or Malabrigo Mechita.
Hours this week
11-5 Monday-Wednesday
11-7 Thursday
11-5 Friday

Upcoming Events
Mari's Miscellany Trunk Show - Saturday, January 28 from noon-5pm
Spinners & Weavers Meet-Up - Saturday, Jan. 21 from noon-4 pm
Friday Night Cravings - Friday, Feb. 10 from 5-7 pm

Private Lessons
In-store and online private lessons are available! Please call 210-979-8255 to schedule a lesson! Wendy, Dawn, Moses, and Nancy are all available to help you with your projects! Private Lessons can also be scheduled outside of regular hours at the discretion of the teacher.
---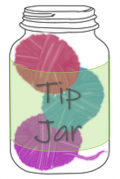 The Tip Jar
If you are winding the tails around a ball of yarn and you want to be able to tell at a glance which is the outside strand and which is the inside strand, here's an easy way to tell them apart: Just wind them in different directions. Wind the outside strand horizontally around the ball or cake (like a belt), but wind the inside strand vertically. This way you can always tell which is which, and you help avoid the tangles that can happen when inside and outside strand get wrapped around each other.
---
To keep up with our activities and real time announcements, please follow us on social media:
Facebook - https://www.facebook.com/yarnivoresa/
Instagram - https://www.instagram.com/yarnivoresa/
Twitter - https://twitter.com/YarnivoreSA

If you have a question for one of our teachers, you can email us at yarnivoresa@gmail.com.
You can also email Wendy with knitting or crochet questions at wendy.yarnivore@gmail.com or contact her through her Facebook page - https://www.facebook.com/Wendy.at.Yarnivore/
---
We absolutely do not EVER want to spam you. If you don't want to get this newsletter, then we will take you off the list. No problem. No questions asked. There's an unsubscribe link below, or you can just call us.