Skip Navigation
Website Accessibility
Bleeding Dye? Why?

---
---
Why Do Some Yarns Bleed?

Talk to Mari's Miscellany about her dye process this Saturday!
Dyeing is an art, but it's also a science. In the world of textile dyes, there are several types of dyes, including acid dyes, disperse dyes, fiber-reactive dyes, natural dyes (with or without mordants), and more!
When talking about bleeding, though, there are two main categories that matter - dyes that discharge completely, and dyes that don't.
Discharge dyes (like the acid dyes used by many indie yarn dyers) are almost completely absorbed by the fiber, and any remaining color in the dye water is easily rinsed away, so these yarns rarely bleed. This blog post from Mari's Miscellany (who has a trunk show at Yarnivore this Saturday!) describes her process for making sure that her dyes discharge completely and look the way she wants them to in the finished yarn.
Dyes that don't discharge, like the fiber-reactive dyes often used for plant fibers (think tie-dye and batik), need to be rinsed A LOT to get rid of dye remaining in the fiber, and if they're not rinsed enough, the dye can bleed out and color other light-colored areas.
How can you tell which type was used for your yarn? You really can't, unless you can ask the dyer or you have advanced lab equipment at home. You can check for colorfastness by swishing a bit of the yarn in warm soapy water to see if the color runs, and you can protect from most dye disasters by using a Color Catcher sheet the first few times you wash an item.

---

Upcoming Classes & Events
Click the title or thumbnail to learn more and to register!

Upcoming classes with available openings are listed below. Click the class name to learn more and to register or call us at 210-979-8255. Space is limited and sign-ups close a week before class begins, so sign up now!


Knitting Workshop with Wendy - 2 upcoming sessions
Bring your projects and problems and we'll find solutions!
Two upcoming sessions:
Mon. Jan. 30 at 1 pm | Thurs. Feb. 9 at 5:30 pm
$20 per session (use your own supplies or buy them at Yarnivore for 10% off)

Beginning Crochet - 3 seats available
Moses will get you hooked on crochet!
Two sessions - Sat. Feb. 4 & 11 at 1 pm
$35 (use your own supplies or buy them at Yarnivore for 10% off)



My First Socks - 1 seat available
Learn to knit basic socks from the cuff down!
Three sessions - Sun. Feb. 26, Mar. 12, & Mar. 26 at 2 pm
$50 (use your own supplies or buy them at Yarnivore for 10% off
---
Featured Yarn & Pattern
Mohair yarns are so beautiful and ethereal looking, and when they're also hand-dyed? The effect can be breathtaking. Especially if it's in fabulous Malabrigo colorways, like Malabrigo Mohair
The best patterns for yarns this special are really simple ones, worked loosely to allow the yarn to fully bloom. One skein will make a knitted scarflette like the Sophie Scarf by PetiteKnit (approx. $5 in-store or on Ravelry) or a crocheted cowl like the Moebius Cowl by Churchmouse Yarns ($6 in-store or on Ravelry). Want something with a little more interest (and make the yarn go further?), how about the Exoskeleton Cowl by Shana S. Cohen (knitted, $7 in-store or on Ravelry)?
Hours this week
11-5 Monday-Wednesday
11-7 Thursday
11-5 Friday

Upcoming Events
Mari's Miscellay Trunk Show - Saturday, Jan. 28 from 11am-4 pm
Friday Night Cravings - Friday, Feb. 10 from 5-7 pm
Spinners & Weavers Meet-Up - Saturday, Feb. 18 from noon-4 pm

Private Lessons
In-store and online private lessons are available! Please call 210-979-8255 to schedule a lesson! Wendy, Dawn, Moses, and Nancy are all available to help you with your projects! Private Lessons can also be scheduled outside of regular hours at the discretion of the teacher.
---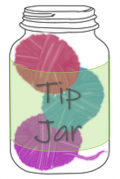 The Tip Jar
Did you know that Yarnivore has a handy-dandy laundry symbol guide on our website? Click here to see what all those symbols mean!
---
To keep up with our activities and real time announcements, please follow us on social media:
Facebook - https://www.facebook.com/yarnivoresa/
Instagram - https://www.instagram.com/yarnivoresa/
Twitter - https://twitter.com/YarnivoreSA

If you have a question for one of our teachers, you can email us at yarnivoresa@gmail.com.
You can also email Wendy with knitting or crochet questions at wendy.yarnivore@gmail.com or contact her through her Facebook page - https://www.facebook.com/Wendy.at.Yarnivore/
---
We absolutely do not EVER want to spam you. If you don't want to get this newsletter, then we will take you off the list. No problem. No questions asked. There's an unsubscribe link below, or you can just call us.