A square is always a rectangle...

---
---
DIY - Design It Yourself!
Rectangles are especially easy to DIY
Last week we talked about the math of stitch multiples. This week - how to make up your own rectangular patterns using those multiples! Lots of things are entirely rectangular - blankets, some shawls, dischcloths, pillow tops, etc. On top of that, lots of other things can be made from rectangles, like boxy sweaters, hats, and ponchos. More on that next week...
Need a refresher on multiples? Click here for last week's newsletter.
First - Swatch!
Okay, swatching isn't quite first. You do need to choose what you're making and what yarn you want to make it with, but after that? Swatching is next. Swatching to design your own pattern isn't quite the same as swatching to make someone else's pattern. Swatching will tell you which needles to use, how many stitches you'll need to chain or cast on, and will give you a chance to get comfortable with your chosen stitch pattern.
To make your swatch, cast on or chain enough stitches to do your stitch pattern at least twice (unless it's a really wide stitch pattern of 20 stitches or more), so that your swatch will be about 4 inches wide. Now work at least 2 repeats of your stitch pattern, or until your swatch is about square. Make sure you keep track of how many stitches you started with!
A Note on Curling for Knitters
If your swatch is curling, or if you think it might curl, add an extra 2 or 3 stitches to each edge so that you'll be able to lay it flat.
Step 2 - Laundry
All swatches need to be washed and blocked when they're done. If you skip this step, you may end up with an unhappy surprise when your finished piece gets its first bath and changes size.
Step 3 - Measure
After washing and blocking, measure your swatch and divide it by the number of repeats you worked. This will tell you how big your repeats are. If you just did a basic stitch like garter stitch or double-crochet, you'll divide the width by the number of stitches.
Step 4 - Math
Now play with those numbers to see what will work for your pattern. Decide approximately how big you want your finished item to be, then divide that width by the the size of your repeats, then add the PLUS number of stitches (see last week's newsletter).
Need an example? Let's say you want to make a 45-inch wide baby blanket. You've chosen the Feather & Fan stitch pattern which has an 18 stitch repeat and no "plus." You make a swatch with 36 stitches (2 repeats of Feather & Fan), which came out to be 6.5 inches wide. This means that each multiple of the pattern will be 3.25 inches wide. Divide the 45 inches you want by 3.25 and you'll learn that you need about 14 repeats. Each repeat will need 18 stitches, so you'll need a total of 14 x 18. So you cast on 252 stitches and go to town!
See? You just designed a blanket pattern! Go you!
---

Upcoming Classes & Events
Click the title or thumbnail to learn more and to register
Upcoming classes with available openings are listed below. Click the class name to learn more and to register or call us at 210-979-8255. Space is limited and sign-ups close a week before class begins, so sign up now! Note: masks are required for all our classes and private lessons.
Hooker Helpdesk - 4 seats available
Knit and fit the foot first - no picking up stitches and no grafting!
Three sessions - Sun. Feb. 26, Mar. 12, & Mar. 26 at 2 pm
$50 (use your own supplies or buy them at Yarnivore for 10% off)

My First Socks - class is full
Learn to knit basic socks from the cuff down!
Three sessions - Sun. Feb. 26, Mar. 12, & Mar. 26 at 2 pm
$50 (use your own supplies or buy them at Yarnivore for 10% off)

Knitting My First Top-Down Sweater - 3 seats available
Make a perfectly fitted raglan sweater with no seams!
Four sessions - Mon. Mar. 6, 13, 20, & 27 at 1 pm
$65 (use your own supplies or buy them at Yarnivore for 10% off)
Knitting Workshop with Wendy - 4 seats available
Bring your projects and problems and we'll find solutions!
One upcoming session - Thurs. Mar. 9 at 5:30 pm
$20 per session (use your own supplies or buy them at Yarnivore for 10% off)
Beginning Knitting - 4 seats available
You'll be knitting 1 and purling 2 in no time!
Three sessions - Thurs. Mar. 16, 23, & 30 at 5:30 pm
$50 (use your own supplies or buy them at Yarnivore for 10% off)
---
Featured Yarn & Pattern
St. Patrick's Day is less than a month away, so we're already thinking of shamrocks (well, McD's shamrock shakes, anyway), and then we get this lovely merino tweed yarn in? Seems pretty lucky... Lucky Tweed that is! 100% merino in very rustic colors and made in actual Ireland!
So of course we need to make the Shamrock Cowl by Courtney Kelley! This cowl has garter stitch cables for a really cool looking texture that will show off tweedy yarns beautifully, as well as keeping your neck warm. It's $5 in-store, on Ravelry, or on the Kelbourne Woolens website.
Wander Luck Fibers Trunk Show!
Come on by to see Wander Luck Fibers in person here at Yarnivore this Saturday, Feb. 25 from noon-4 pm!
Hours this week
11-5 Monday-Wednesday
11-7 Thursday
11-5 Friday & Saturday
12-5 Sunday

Upcoming Events
Wander Luck Fibers Trunk Show - Saturday, Feb. 25 from noon-4 pm
Friday Night Cravings - Friday, Mar. 10 from 5-7 pm
Spinners & Weavers Meet-Up - Saturday, Mar. 18 from noon-4 pm

Private Lessons
In-store and online private lessons are available! Please call 210-979-8255 to schedule a lesson! Wendy, Dawn, Moses, and Nancy are all available to help you with your projects! Private Lessons can also be scheduled outside of regular hours at the discretion of the teacher.
---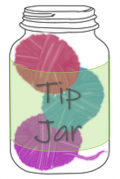 The Tip Jar
If you want to add beads to your work, but you are having a hard time stringing them, try using floss threaders. Whether you are prestringing beads or placing them one stitch at a time, floss threaders can make the process much easier!
To pre-string, tie the soft end of the floss threader into a loop, then put your yarn/thread into the loop and use the floss threader to pick up beads and push them onto the yarn.
To place on a single stitch, take the "needle" end of the floss threader through the bead, then through the stitch, then back through the bead. Now just push the bead down onto your stitch!
---
To keep up with our activities and real time announcements, please follow us on social media:
Facebook - https://www.facebook.com/yarnivoresa/
Instagram - https://www.instagram.com/yarnivoresa/
Twitter - https://twitter.com/YarnivoreSA

If you have a question for one of our teachers, you can email us at yarnivoresa@gmail.com.
You can also email Wendy with knitting or crochet questions at wendy.yarnivore@gmail.com or contact her through her Facebook page - https://www.facebook.com/Wendy.at.Yarnivore/
---
We absolutely do not EVER want to spam you. If you don't want to get this newsletter, then we will take you off the list. No problem. No questions asked. There's an unsubscribe link below, or you can just call us.