Skip Navigation
Website Accessibility
Don't Sleep On These...

---
---
The Two Yarnivore Classes You Didn't Know You Needed
Wendy & Moses are here for ya!
Are you a knitter or crocheter who wants to learn more and get better at your craft? Do you also like saving money and making friends? There are two very special classes we teach here at Yarnivore that will help you with all of those goals, but these two classes often fly under the radar and don't get the attention they deserve.
What are these magical classes? Knitting Workshop and Hooker's Helpdesk!
These two classes are a little different because they don't teach a specific project, but are instead based on what attendees want to work on that day. You can bring in anything you're working on, or just come with questions or ideas about projects you want to try. You can also bring in projects that combine knit and crochet, because both teachers, Wendy & Moses, are expert at both crafts.
If you have a question that applies only to your project, you'll get help with that, of course! But what if there's a question that many knitters or crocheters could learn from? Everyone in class can learn from each others projects! Best of all - both classes give you two hours of help for about the same price as a one hour private lesson.
You want to learn how to sew up your sweater or stitch up your blanket squares? Make your stitches look neater? Learn how to join new yarn? Do that one weird technique from that one pattern? Want to figure out your own pattern? Workshop and Helpdesk have got you covered!
No matter what your knit or crochet question, Wendy or Moses will have the answer!
---

Upcoming Classes & Events
Click the title or thumbnail to learn more and to register
Upcoming classes with available openings are listed below. Click the class name to learn more and to register or call us at 210-979-8255. Space is limited and sign-ups close a week before class begins, so sign up now! Note: masks are required for all our classes and private lessons.
Knitting Workshop with Wendy - 2 seats available
Bring your projects and problems and we'll find solutions together!
One upcoming session - Thurs. Mar. 9 at 5:30 pm
$20 per session (use your own supplies or buy them at Yarnivore for 10% off)
Hooker Helpdesk - 4 seats available
Stuck on your crochet project and Youtube's not helping? Moses to the rescue!
One sessions - Sat. Mar. 11 at 1 pm
$65 (use your own supplies or buy them at Yarnivore for 10% off)
Beginning Knitting - 4 seats available
You'll be knitting and purling in no time!
Three sessions - Thurs. Mar. 16, 23, & 30 at 5:30 pm
$50 (use your own supplies or buy them at Yarnivore for 10% off)
---
Featured Yarn & Pattern
Get it while you can!
Circulo, a Brazilian Yarn company, sent us all of their remaining stock of Ternura, a DK-weight poly chenille yarn that has been discontinued. This is a lusciously soft yarn perfect for stuffed animals, baby things, shawls - basically anything that you want to be super smooshy and soft! We have quite a bit of it right now, in lots of beautiful colors, but once it's gone, it's gone!
Since it's almost Easter, how about using it for a cute crocheted bunny like Lucia the Bunny by Khanh Phung! Only $5 on Ravelry.com.
Hours this week
11-5 Monday-Wednesday
11-7 Thursday
11-7 Friday
11-5 Saturday
12-5 Sunday

Upcoming Events
Friday Night Cravings - Friday, Mar. 10 from 5-7 pm
Spinners & Weavers Meet-Up - Saturday, Mar. 18 from noon-4 pm

Private Lessons
In-store and online private lessons are available! Please call 210-979-8255 to schedule a lesson! Wendy, Dawn, Moses, and Nancy are all available to help you with your projects! Private Lessons can also be scheduled outside of regular hours at the discretion of the teacher.
---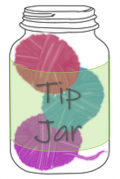 The Tip Jar
Is your phone super distracting and keeping you from crafting? Try getting a super-short charging cord for it. That way, you will have to keep it within 6-8 inches of the charger, which means you won't be able to pick it up every time it buzzes - at least not until it's charged up a bit.
---
To keep up with our activities and real time announcements, please follow us on social media:
Facebook - https://www.facebook.com/yarnivoresa/
Instagram - https://www.instagram.com/yarnivoresa/
Twitter - https://twitter.com/YarnivoreSA

If you have a question for one of our teachers, you can email us at yarnivoresa@gmail.com.
You can also email Wendy with knitting or crochet questions at wendy.yarnivore@gmail.com or contact her through her Facebook page - https://www.facebook.com/Wendy.at.Yarnivore/
---
We absolutely do not EVER want to spam you. If you don't want to get this newsletter, then we will take you off the list. No problem. No questions asked. There's an unsubscribe link below, or you can just call us.