Snuggly Soft Mosaic!

---
---
Mosiac - Not Just For Tiles!
Knit or crochet fancy-looking colorwork with only one color at a time
According to the Macmillan dictionary, mosaic is "picture made of many small coloured pieces." Usually, we think of it as being done with tile, glass, or stone - hard, not-at-all-snuggly materials. But knit and crochet stitches are small, and we can definitely make them in different colors, so can we do mosaic with yarn? Sort of, yes!
Mosaic knitting and mosaic crochet use special techniques to allow the color from a previous row to show through the succeeding row so that you can make designs that look like they're made using two-color-per-row techniques, like stranded/fair isle knitting, or tapestry crochet. There are two different types of mosaic crochet - overlay mosaic and interlocking mosaic. In both knit and crochet mosaic, the pattern is created by using only one color per row, and patterns often use only two colors for the entire project, though you can use a different color in each row!
Mosaic Knitting
Mosaic knitting uses contrasting colors (one dark, one light) and slip stitches to create its patterns. You change colors every 2 rows, and always knit or purl the first and last stitch of each row. The first (right-side) row of each color is always knitted, and pattern stitches are slipped as if to purl with the yarn in back. The second row can be knitted or purled, and any stitches that were slipped on the right-side row are slipped again on the wrong-side row, this time with yarn in front.
Here are some really cool mosaic knitting patterns on Ravelry (click to go to pattern page):
Overlay Mosaic Crochet
Overlay mosaic crochet is done working only from the right side, either working in the round or cutting the yarn at the end of each row and joining again at the beginning of the next row. The pattern is worked with single crochet stitches worked in the back loops, and double crochet into the frtont loops of stitches in the row below, thus creating an "overlaid" mosaic pattern that shows only on the right side. The wrong side will show only horizontal stripes.
Here are some overlay mosaic crochet designs we love (click to go to pattern page):
Interlocking Mosaic Crochet
Interlocking mosaic crochet shows the design on both sides, but with the colors reversed. A new color is used every other row. Each right-side row is worked with double crochet and single crochet stitches making the pattern stitch and chain-2 to "skip" a stitch. On the wrong-side row, all the skipped stitches are skipped again, and all pattern stitches are worked in single crochet.
It sounds really complicated, but once you get the hang of it, it's easier than you'd expect.
Here are some interesting interlocking mosaic crochet examples (click to go to pattern page):
---

Upcoming Classes & Events
Click the title or thumbnail to learn more and to register
Upcoming events and classes with available openings are listed below. Click the class name to learn more and to register or call us at 210-979-8255. Space is limited and sign-ups close a week before class begins, so sign up now! Note: masks are required for all our classes and private lessons.
Local Yarn Store Day
LYS Day is coming up on April 29. This is a day for us to celebrate YOU, because without our customers, we would not be here! Here's what you'll get:
Free gift with purchase, including samples of knitters balm, hand fans, and other surprises!

Prize drawing - No purchase necessary to enter, just come by and say hello!
---
CLASSES!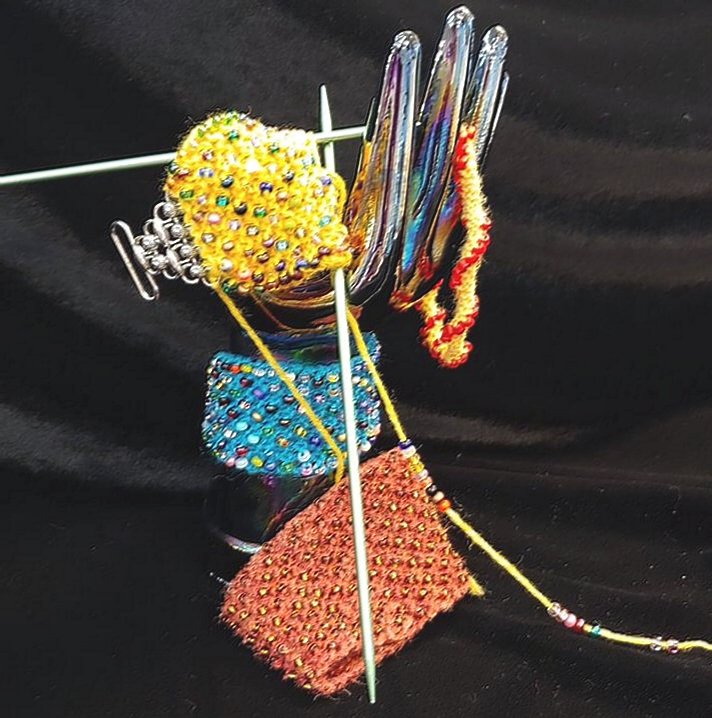 Knit Beaded Jewelry - 4 seats available
Make your knitting sparkle with two different ways of applying beads!
One session - Sun. April 23 at 2 pm
$20 (use your own supplies or buy them at Yarnivore for 10%)
Knitting Workshop with Wendy - 4 seats available
Bring your projects and problems and we'll find solutions together!
One session - Mon. April 8 at 1 pm
$20 (bring your projects - if you need supplies, you'll get the 10% discount)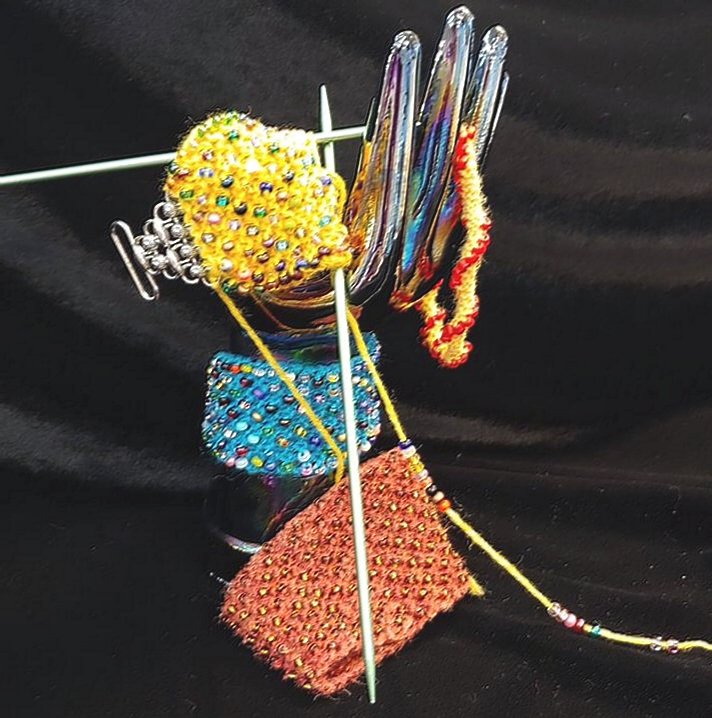 Intermediate Knitting - 4 seats available
Increases! Decreases! Knitting our own hat in the round!
Three sessions - Thurs. April 27, May 4 & 11 at 5:30 pm
$50 (use your own supplies or buy them at Yarnivore for 10%)


My First Socks - 4 seats available
Knit Basic Socks from the top down!
Three sessions - Mon. May 1, 8, & 15 at 1 pm
$50 (use your own supplies or buy them at Yarnivore for 10%)
---
Featured Yarn & Patterns
Ready for some warm weather projects? The Sand & Sky Tank by Rachel Brockman is a pattern FREE on Universal Yarns' website, and it's super cute! It's knit in the round from the bottom up, then separately when you divide for the armholes. It alternates two colorways of Bamboo Pop Sock for really interesting color contrasts!
Hours this week
11-5 Monday-Wednesday
11-7 Thursday
11-5 Friday
11-5 Saturday
12-5 Sunday

Upcoming Events
Spinners & Weavers Meet-Up - Saturday, Apr. 15 from noon-4 pm
Friday Night Cravings - Friday, Apr. 14 from 5-7 pm

Private Lessons
In-store and online private lessons are available! Please call 210-979-8255 to schedule a lesson! Wendy, Dawn, Moses, and Nancy are all available to help you with your projects! Private Lessons can also be scheduled outside of regular hours at the discretion of the teacher.
---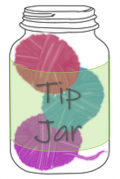 The Tip Jar
If you're doing needlepoint, consider doing the small detailed areas first, and then filling in the background when those are all done. This way, the background stitching can help cover up any thread/yarn tails left hanging, and it leaves the easy part to the end.
---
To keep up with our activities and real time announcements, please follow us on social media:
Facebook - https://www.facebook.com/yarnivoresa/
Instagram - https://www.instagram.com/yarnivoresa/
Twitter - https://twitter.com/YarnivoreSA

If you have a question for one of our teachers, you can email us at yarnivoresa@gmail.com.
You can also email Wendy with knitting or crochet questions at wendy.yarnivore@gmail.com or contact her through her Facebook page - https://www.facebook.com/Wendy.at.Yarnivore/
---
We absolutely do not EVER want to spam you. If you don't want to get this newsletter, then we will take you off the list. No problem. No questions asked. There's an unsubscribe link below, or you can just call us.