A Thank You Note to all the Yarnivores!

---
---
Local Yarn Shop Day - Celebrating YOU!

Come by this Saturday, April 29 for gifts and prizes!
We want to say thank you to all our Yarnivores:
To the expert crafters - Thank you for pushing us creatively and sharing your amazing ideas and beautiful work with us, and for letting us be a part of your art!
To the beginners - Thank you for letting us help you learn. It's such a joy to see others take up crafts we love!
To those who are working on getting better - Thank you for bringing us your questions and trusting us to help fix your mistakes!
To the sit-and-stitchers - Thank you for hanging out with us and becoming our friends!
To the spouses and partners of Yarnivores - Thank you for picking up tools and yarn and for your patience while your loved ones get lost in the yarn!
To all the Yarnivores - Thank you for shopping local and for trusting us with your craft needs!
We really hope all of you will stop by this Saturday, April 29 for our special LYS Day Event. This is a day for us to celebrate YOU, because without our customers, we would not be here! Here's what you'll get:
Free gift with purchase, including samples of knitters balm, hand fans, and other surprises!

Prize drawing - No purchase necessary to enter, just come by and say hello!
---

Upcoming Classes & Events
Click the title or thumbnail to learn more and to register
Upcoming events and classes with available openings are listed below. Click the class name to learn more and to register or call us at 210-979-8255. Space is limited and sign-ups close a week before class begins, so sign up now! Note: masks are required for all our classes and private lessons.

Intermediate Knitting - 3 seats available
Increases! Decreases! Knitting your own hat in the round!
Three sessions - Thurs. April 27, May 4 & 11 at 5:30 pm
$50 (use your own supplies or buy them at Yarnivore for 10%)


My First Socks - 3 seats available
Knit Basic Socks from the top down!
Three sessions - Mon. May 1, 8, & 15 at 1 pm
$50 (use your own supplies or buy them at Yarnivore for 10%)

Beginning Knitting - 4 seats available
Learn the basics of knitting, including the 5 most common stitch patterns!
Three sessions - Sun. May 7, May 21, & June 4 at 2 pm
$50 (use your own supplies or buy them at Yarnivore for 10%)


Beginning Crochet - 4 seats available
Moses will get you hooked on crochet!
Two sessions - Sat. May 13 & 20 at 1 pm
$35 (use your own supplies or buy them at Yarnivore for 10%)
---
Featured Yarn & Patterns
We absolutely love the adorable amigurumi kits from Hoooked Yarn! There's a unicorn (shown at right), a duckling, puppy, llama, seahorse - and much more. All the Hoooked critter kits come with a crochet hook, pattern, and all the yarn you'll need to complete the project - all you need is stuffing!
Speaking of stuffing, if you prefer natural fibers, Hoooked Yarn also offers a 100% recycled cotton stuffing in both off-white (pearl) and dark grey (storm) colors. It's machine washable and perfect for stuffies for the kiddos (or for yourself).
Hours this week
11-5 Monday-Wednesday
11-7 Thursday
11-5 Friday & Saturday
12-5 Sunday

Upcoming Events
LYS Day - This Saturday, Apr. 29, from 11-5
Friday Night Cravings - Friday, May 12 from 5-7 pm
Spinners & Weavers Meet-Up - Saturday, May 20 from noon-4 pm


Private Lessons
In-store and online private lessons are available! Please call 210-979-8255 to schedule a lesson! Wendy, Dawn, Moses, and Nancy are all available to help you with your projects! Private Lessons can also be scheduled outside of regular hours at the discretion of the teacher.
---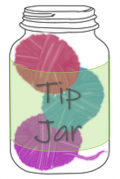 The Tip Jar
Are you a book person, as well as a yarn person, with a lot of craft-related books? Do you want to organize your non-fiction books like the library does, by Dewey Decimal number?
If so, we've found a website for you! The OCLC (formerly known as the Online Computer Library Center) has a website called Classify that will let you enter the ISBN number (usually found right above the barcode) of a book and get a suggested Dewey classification. While the Classify project is still experimental, we found it worked quite well! We typed in the ISBN of one of Wendy's favorite knitting books (Elizabeth Zimmerman's Knitter's Almanac) and got a Dewey number of 746.432.
Yay! Another rabbit hole to fall into!
---
To keep up with our activities and real time announcements, please follow us on social media:
Facebook - https://www.facebook.com/yarnivoresa/
Instagram - https://www.instagram.com/yarnivoresa/
Twitter - https://twitter.com/YarnivoreSA

If you have a question for one of our teachers, you can email us at yarnivoresa@gmail.com.
You can also email Wendy with knitting or crochet questions at wendy.yarnivore@gmail.com or contact her through her Facebook page - https://www.facebook.com/Wendy.at.Yarnivore/
---
We absolutely do not EVER want to spam you. If you don't want to get this newsletter, then we will take you off the list. No problem. No questions asked. There's an unsubscribe link below, or you can just call us.