Skip Navigation
Website Accessibility
Wishing You a Very Merry Month of May!

---
---
¡Viva FASA!
The Fiber Artists of San Antonio Juried Exhibit is open for submissions
FASA, aka Fiber Artists of San Antonio, is a group of creative people who want to learn and promote fiber crafts. They meet monthly to learn about a variety of fiber arts. This month's program features Linda Rael, a figurative fiber sculpture artist.
FASA also hosts annual events like fashion shows and competitions. This year's competition is TEXtiles: A celebration of Texas fiber art. The annual juried FASA exhibition will be held September 10 through October 20 at the Kelso Art Center, University of Incarnate Word. The theme of the exhibition, TEXtiles: A Celebration of Texas Fiber Art, showcases the innovation and diversity of Texas artists who create and communicate with fiber.
Textiles have traditionally played an important role in the cultural identity of this vast state, and fiber art has emerged as a powerful contemporary reflection of this heritage. Through art quilts, framed fiber art, sculptural pieces, vessels/basketry, paper art forms, art-to-wear garments or accessories, art dolls, woven textiles, mixed media work, jewelry and adornment, and conceptual work that defies categorization, Texas fiber artists are bringing textiles and fibers of every definition into new contexts and exploring social and conceptual implications of their usage.
Artists who live and work in Texas can submit their entries starting today and must be submitted by August 4, 2023. You do not need to be a FASA member to enter - just a Texan who makes art with fiber.
---
Upcoming Classes & Events
Click the title or thumbnail to learn more and to register
Upcoming events and classes with available openings are listed below. Click the class name to learn more and to register or call us at 210-979-8255. Space is limited and sign-ups close a week before class begins, so sign up now! Note: masks are required for all our classes and private lessons.
Beginning Knitting - 3 seats available
Learn the basics of knitting, including the 5 most common stitch patterns!
Three sessions - Sun. May 7, May 21, & June 4 at 2 pm
$50 (use your own supplies or buy them at Yarnivore for 10%)


Beginning Crochet - 1 seat available
Moses will get you hooked on crochet!
Two sessions - Sat. May 13 & 20 at 1 pm
$35 (use your own supplies or buy them at Yarnivore for 10%)

Knitting Workshop with Wendy - 4 seats available each session
Learning and solving knit problems together with Wendy
Two upcoming sessions - Thurs. May 18 at 5:30 pm - Mon. May 22 at 1 pm
$20 per session (use your own supplies or buy them at Yarnivore for 10%)

Intermediate Crochet - 4 seats available
Take the next step in your crochet journey!
One 2½ hour session - Sat. May 27 at 1 pm
$25 (use your own supplies or buy them at Yarnivore for 10%)
---
Featured Yarn & Patterns
We found a circular shawl pattern that looks absolutely dreamy! The Planispiral Shawl by Nick Davis (Rav link) is knit from the center out using fingering/sock weight yarn. The increases spiral out from the center, creating an effect similar to a zen sand garden. The pattern is $6 and available in-store or on Ravelry.
It would be beautiful knitted in Cascade Heritage Silk Paints, and we have also seen really beautiful versions on Ravelry using Bamboo Pop, Feza Baby Gradient kits, and lots of different Indie-Dyed yarns!
Hours this week
11-5 Monday-Wednesday
11-7 Thursday
11-5 Friday & Saturday
12-5 Sunday

Upcoming Events
Friday Night Cravings - Friday, May 12 from 5-7 pm
Mother's Day - Yarnivore will be closed
Spinners & Weavers Meet-Up - Saturday, May 20 from noon-4 pm

Private Lessons
In-store and online private lessons are available! Please call 210-979-8255 to schedule a lesson! Wendy, Dawn, Moses, and Nancy are all available to help you with your projects! Private Lessons can also be scheduled outside of regular hours at the discretion of the teacher.
---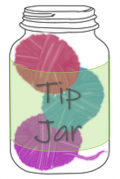 The Tip Jar
Here are some easy ways to block a hat:
1. Use a balloon as a substitute head - blow it up until it measures a little smaller than the desired head circumference, and block your hat over it!
2. Wig form - styrofoam wig stands are super cheap and waterproof, so you can block all your hats on them!
3. Dinner plate or charger - for berets and tam-o-shanter's (big colorwork berets), just stretch the widest part of the hat over a dinner plate, or a charger or round platter if the dinner plate isn't big enough. Balance the whole thing on an overturned bowl to keep the ribbing from flattening.
---
To keep up with our activities and real time announcements, please follow us on social media:
Facebook - https://www.facebook.com/yarnivoresa/
Instagram - https://www.instagram.com/yarnivoresa/
Twitter - https://twitter.com/YarnivoreSA

If you have a question for one of our teachers, you can email us at yarnivoresa@gmail.com.
You can also email Wendy with knitting or crochet questions at wendy.yarnivore@gmail.com or contact her through her Facebook page - https://www.facebook.com/Wendy.at.Yarnivore/
---
We absolutely do not EVER want to spam you. If you don't want to get this newsletter, then we will take you off the list. No problem. No questions asked. There's an unsubscribe link below, or you can just call us.