Knitting Freeform! (and Zorn Fiber Trunk Show)

---
---
Can You Knit Freeform?

Of course, you know the answer is yes...
Freeform knitting sounds almost like an oxymoron. After all, you have to know how many stitches to cast on, right? And then you have to knit ALL of those stitches every row, right?
Wrong. Well, you do need to decide how many stitches to start with, but you can make any changes you want after that! You can increase, decrease, do textures, change colors, work short-rows... There's no end to the shapes you can create or the colors you can use. You can even pick up stitches along the edges to create more shapes in more directions! You can also do motifs of all types - squares, hexagons, center-start circles - the sky is the limit!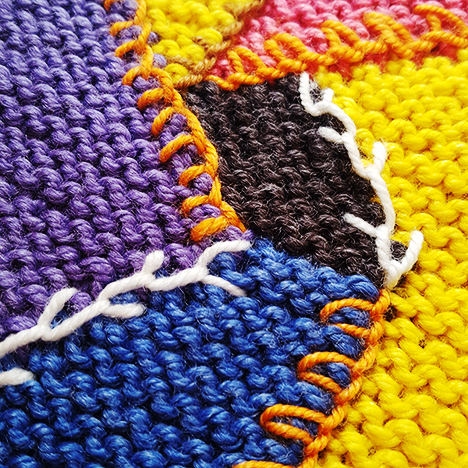 The part that's a little harder in knitting is that the needles constrain their stitches and hold them in a straight line, even if they would curve or bend once they're off the needles. That problem is easily solved by using circular needles, where you can push the work off the needles and see its true shape.
Just like freeform crochet, freeform knitting can be anything you want it to be - wild and crazy scumbles of color and texture, squares or rectangles with colors changing freely, multidirectional pieces where stitches build off each other. You can make art pieces, garments, blankets, scarves, and more!
Freeform also doesn't have to mean random or shapeless. The floral pattern shown above right (Knitted Scarf Sakura by Svetlana Gordon on Ravelry) uses patterned leaves and flowers, but in random colors and joined to make the knitter's desired shape. The crazy quilt by Franklin Habit (shown above left) is another form of freeform knitting, this time adding embroidered details to the freeform intarsia design.
Freeform knitting and freeform crochet also work really well together, as in the Prudence Mapstone piece shown at right!
Learn more:
---
Zorn Junction Trunk Show
This Saturday, May 27 from 11-4!
Zorn Junction is a south Texas indie dyer specializing in boutique batches of unique colors and combinations that should inspire fiber lovers! Carolyn, the Zorn Junction dyer, will be at Yarnivore this Saturday, the 27th, from 11 am-4 pm.Come see her yarns and pattern inspirations featuring her most popular Hippie Girl Sock yarn, Tumbleweed Alpaca Ultra Fine & Bulky, Suri Alpaca Fuzzy Cloud, and her newest Slub in Merino.
---
Upcoming Classes
Click the title or thumbnail to learn more and to register
Upcoming events and classes with available openings are listed below. Click the class name to learn more and to register or call us at 210-979-8255. Space is limited and sign-ups close a week before class begins, so sign up now! Note: masks are required for all our classes and private lessons.
Intermediate Crochet - 4 seats available
Take the next step in your crochet journey!
One 2½ hour session - Sat. May 27 at 1 pm
$25 (use your own supplies or buy them at Yarnivore for 10%)

Fair Isle Hat: Learn to Knit Stranded Colorwork - 4 seats available
Learn to work with 2 colors per row, and end up with a cute hat!
Two sessions - Thurs. May 25 & June 1 at 5:30 pm
$35 (use your own supplies or buy them at Yarnivore for 10%)


Toe Up Socks: Knit & Fit the Foot First - 4 seats available
Make toe-up socks with circular needles and magic loop
Three sessions - Mon. May 29, June 5 & 12 at 1 pm
$50 (use your own supplies or buy them at Yarnivore for 10%)


Knitting Workshop with Wendy - 4 seats available each session
Learning and solving knit problems together with Wendy
Two upcoming sessions - Thurs. June 8 at 5:30 pm - Mon. June 19 at 1 pm
$20 per session (use your own supplies or buy them at Yarnivore for 10%)

Knitting: Baby Surprise Jacket - 4 seats available
Make a sweater all in one piece with no purling and only one seam!
Three sessions - Thurs. June 15, 22, & 29 at 5:40 pm
$50 (use your own supplies or buy them at Yarnivore for 10%)
---
Featured Yarn & Pattern
There is one fiber that beats all the rest when it comes to comfort in the summer heat - linen! Linen is made from the stem fibers of the flax plant (which has a really pretty blue fiber and grows beautifully in South Texas). Linen has been worn as the comfy next-to-skin layer since before the earliest recorded history. It is easy to clean, and feels smooth and cool to the touch. Linen will feel a little stiff when you're first working with it, but it softens up the more you work with it, and it even does really well in the dryer!
Check out the linens and linen blend yarns available at Yarnivore!
Want to try a linen project? How about this gorgeous crocheted shawl - Stitch Music by C.J. Brady (shown at right) with Flax DK? Available for $4 on Ravelry, Lovecrafts, or here in-store, this shawl features a wedge shape and an easy-to-memorize stitch pattern, with a rhythm that feels almost...musical!
Rather knit? Have a look at Herald by Janina Kallio (approx $9.50 in-store, on Lovecrafts, or on Ravelry)!
Hours this week
11-5 Monday-Wednesday
11-7 Thursday
11-5 Friday & Saturday
12-5 Sunday

Upcoming Events
Friday Night Cravings - Friday, June 9 from 5-7 pm
Zorn Junction Trunk Show - Saturday, May 27 from 11 am-4 pm
Spinners & Weavers Meet-Up - Saturday, June 17 from noon-4 pm

Private Lessons
In-store and online private lessons are available! Please call 210-979-8255 to schedule a lesson! Wendy, Dawn, Moses, and Nancy are all available to help you with your projects! Private Lessons can also be scheduled outside of regular hours at the discretion of the teacher.
---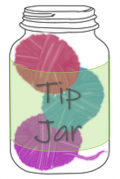 The Tip Jar
You know that loose stitch right under the final bind-off stitch? It's so annoying and no amount of pulling on the yarn will tidy it up. That's because it's actually the first stitch of the row below the bind-off. Here's an easy way to keep that stitch from getting so loose:
When working the last row before binding off, knit the first 3 or 4 stitches with a much smaller needle - 3 or 4 sizes smaller. Then change to your regular needle to finish that row, and to work the bind-off. Now the last stitch will end up just the right size!
---
To keep up with our activities and real time announcements, please follow us on social media:
Facebook - https://www.facebook.com/yarnivoresa/
Instagram - https://www.instagram.com/yarnivoresa/
Twitter - https://twitter.com/YarnivoreSA

If you have a question for one of our teachers, you can email us at yarnivoresa@gmail.com.
You can also email Wendy with knitting or crochet questions at wendy.yarnivore@gmail.com or contact her through her Facebook page - https://www.facebook.com/Wendy.at.Yarnivore/
---
We absolutely do not EVER want to spam you. If you don't want to get this newsletter, then we will take you off the list. No problem. No questions asked. There's an unsubscribe link below, or you can just call us.