Do you know what WWKIP stands for?

---
---
World Wide Knit in Public Day!

(or crochet, spin, weave, stitch)...
This Saturday, June 10 is Worldwide Knit in Public Day - a day to show people that handicrafts are not dead, but fully alive!
How do you celebrate? It's easy! Go somewhere public and knit! You can go alone, or bring a few friends.
Where to go? Anywhere! Coffee shops, libraries, & bookstores are all popular, as they usually have seating and don't mind people hanging out for a while. You could go to the park and hike while knitting, or set up in a comfy spot at the beach.
You can also go to the yarn shop! Yarnivore is hosting a WWKIP Day sit-and-stitch, and so are many other yarn shops. Want to find a KIP group close to you (assuming you're not coming to Yarnivore)? Click here to go to the official WWKIP Day Website!
Is WWKIP Day only for knitters? Of course not! Many official WWKIP Day events are open to anyone, whether they are knitting, crocheting, weaving - or just non-yarn-folk along for the company.
---
Upcoming Classes
Click the title or thumbnail to learn more and to register
Upcoming events and classes with available openings are listed below. Click the class name to learn more and to register or call us at 210-979-8255. Space is limited and sign-ups close a week before class begins, so sign up now! Note: masks are required for all our classes and private lessons.

Knitting Workshop with Wendy - 2 upcoming sessions
Bring your projects for individualized help and learning
Thurs. June 8 at 5:30 pm - 1 seat available
Mon. June 19 at 1 pm - 3 seats available
$20 per session (use your own supplies or buy them at Yarnivore for 10%)


Knitting: Baby Surprise Jacket - 2 seats available
Make a sweater all in one piece with no purling and only one seam!
Three sessions - Thurs. June 15, 22, & 29 at 5:40 pm
$50 (use your own supplies or buy them at Yarnivore for 10%)

Beginning Crochet - class is full
Get started crocheting with Moses!
Two sessions - Sat. June 17& 23 at 1 pm
$35 (use your own supplies or buy them at Yarnivore for 10%)
Knitting: Fair Isle Christmas Stocking - 3 seats available
Christmas in July! Get a start on your holiday decor!
Three sessions - Mon. July 10, 17, & 24 at 1 pm
$50 (use your own supplies or buy them at Yarnivore for 10%)
---
Featured Article
We found a really cool article about the handknitter who made all the sweaters (called "jumpers" in the UK) for the Oscar-nominated film The Banshees of Inisherin. Yes, they were all made by one lady! Read all about it in this article at Craftfix.com!
If you want to learn more about Gansey sweaters, you will enjoy this post at sistermountain.com.
If you want to make your own Gansey-style sweater, check out these patterns on Ravelry!
Hours this week
11-5 Monday-Wednesday
11-7 Thursday
11-7 Friday
11-5 Saturday
12-5 Sunday

Upcoming Events
Friday Night Cravings - Friday, June 9 from 5-7 pm
Spinners & Weavers Meet-Up - Saturday, June 17 from noon-4 pm

Private Lessons
In-store and online private lessons are available! Please call 210-979-8255 to schedule a lesson! Wendy, Dawn, Moses, and Nancy are all available to help you with your projects! Private Lessons can also be scheduled outside of regular hours at the discretion of the teacher.
---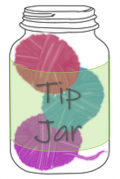 The Tip Jar
You probably already know that you can sand away rough spots on wooden or bamboo needles & hooks with an emery board or sandpaper, but did you know that there's a nail file that can smooth a rough edge on a metal one!? What you'll need is a glass nail file!
Glass nail files are really popular because they're easier on the nails than sand-covered emery boards (you can even file back & forth safely), but because glass is harder than steel or aluminum, they can also file metal knitting needles and crochet hooks. Of course, this will also take any finish or paint off the needles, but if it stops it catching on your yarn, that seems like a worthwhile trade-off.
---
To keep up with our activities and real time announcements, please follow us on social media:
Facebook - https://www.facebook.com/yarnivoresa/
Instagram - https://www.instagram.com/yarnivoresa/
Twitter - https://twitter.com/YarnivoreSA

If you have a question for one of our teachers, you can email us at yarnivoresa@gmail.com.
You can also email Wendy with knitting or crochet questions at wendy.yarnivore@gmail.com or contact her through her Facebook page - https://www.facebook.com/Wendy.at.Yarnivore/
---
We absolutely do not EVER want to spam you. If you don't want to get this newsletter, then we will take you off the list. No problem. No questions asked. There's an unsubscribe link below, or you can just call us.