Moving Forward!

---
---
Paraphrased from the Smithsonian's National Institute of African American History:
"Juneteenth marks our country's second independence day, when African Americans were inspired and empowered to transform their lives and their country. The historical legacy of this monumental event shows the value of never giving up hope in uncertain times."
We celebrate the freedom represented by this joyful day. We hope that every new project you begin gives you hope and reminds you of the resiliency of the human spirit.
-Caryn & the Yarnivore Crew
---
Upcoming Classes
Click the title or thumbnail to learn more and to register
Upcoming events and classes with available openings are listed below. Click the class name to learn more and to register or call us at 210-979-8255. Space is limited and sign-ups close a week before class begins, so sign up now! Note: masks are required for all our classes and private lessons.


Knit: Weaving In Ends - 4 seats available
Hide your ends the most secure way— with NO KNOTS!
This class does have homework to do before class
One session - Mon. June 16 at 1 pm
$20 (use your own supplies or buy them at Yarnivore for 10%)


Knitting Workshop with Wendy - 2 upcoming sessions
Bring your projects for individualized help and learning
Thurs. July 6 at 5:30 pm - 3 seats available
$20 per session (use your own supplies or buy them at Yarnivore for 10%)

Intermediate Knitting - 2 seats available
Increase, decrease, knit in the round, and more - includes free patterns
Three sessions - Sun. July 2, 16, & 30 at 2 pm
$50 (use your own supplies or buy them at Yarnivore for 10%)

Knitting: Fair Isle Christmas Stocking - 3 seats available
Christmas in July! Get a start on your holiday decor!
Three sessions - Mon. July 10, 17, & 24 at 1 pm
$50 (use your own supplies or buy them at Yarnivore for 10%)
---
Featured Yarn & Pattern
Today's featured pattern is a gorgeous knitted wrap shaped like a large arrow, appropriately named the Moving Forward Wrap by Denise Bayron ($10 in-store or on Ravelry). It has areas of lacy texture that highlight the directional knitting. To show off the stitches best, use a solid colored yarn like Vintage Sock. Rather do something colorful? Try an ombre yarn like Whirl to emphase the directional nature of the Moving Forward Wrap!
The designer also has a YouTube video where she discusses this pattern and its inspiration.
Hours this week
11-5 Monday-Wednesday
11-7 Thursday
11-5 Friday & Saturday
12-5 Sunday

Upcoming Events
Closed for 4th of July - Tuesday, July 4
Friday Night Cravings - Friday, July 14 from 5-7 pm
Spinners & Weavers Meet-Up - Saturday, July 15 from noon-4 pm

Private Lessons
In-store and online private lessons are available! Please call 210-979-8255 to schedule a lesson! Wendy, Dawn, Moses, and Nancy are all available to help you with your projects! Private Lessons can also be scheduled outside of regular hours at the discretion of the teacher.
---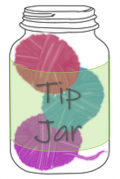 The Tip Jar
Knitters Do you have a hard time seeing whether or not your stitches are sitting on the needle correctly? The easiest way to see their slant is to stretch the stitches apart and then look at them directly from the top. This enables you to see the slant, without the other stitches confusing things.
Here's a blog post with a good description of Western Style stitch mount.
---
To keep up with our activities and real time announcements, please follow us on social media:
Facebook - https://www.facebook.com/yarnivoresa/
Instagram - https://www.instagram.com/yarnivoresa/
Twitter - https://twitter.com/YarnivoreSA

If you have a question for one of our teachers, you can email us at yarnivoresa@gmail.com.
You can also email Wendy with knitting or crochet questions at wendy.yarnivore@gmail.com or contact her through her Facebook page - https://www.facebook.com/Wendy.at.Yarnivore/
---
We absolutely do not EVER want to spam you. If you don't want to get this newsletter, then we will take you off the list. No problem. No questions asked. There's an unsubscribe link below, or you can just call us.